Download the Manual for Our Curb roller
The Curb Roller: The best concrete curb machine, period!
If you know concrete, then you know just how difficult it can be to properly shape a concrete curb. With the uniform shape that it requires combined with a lack of sharp edges, it can be near to impossible with anyone less than an experienced concrete worker, a person that is not always available when you need them. So if this problem sounds familiar to you, then you need to know that there is a different way. Curb Roller Manufacturing is proud to offer the best concrete curb machine on the market.
With its innovative design and easy to grasp design, the Curb Roller is the roller screed that anyone can operate. Its form guaranteed a uniform, smooth curb shape every time without the need of an experienced operator. In fact, with minimal training, anyone who can lift the Curb Roller can start forming perfect curbs in no time flat. That is what makes us confident that you will not find a better screed machine anywhere, guaranteed!
So if the thought of shaping a curb has you down and you don't feel like searching high and low for an expert that charges expert prices, give the Curb Roller a try today
Testimonials
It really does a great job finishing and saves labor by simply taking the hand work out of it. We really end up with great looking curb and gutter. Doug Strahm - Liberal, Missouri

The Curb Roller provides me with 3 things: mobility, efficiency and high quality finish. Les Boeckner - ADVANTAGE CONCRETE - Hiawatha, Kansas

The Curb Roller is great for small to medium sized projects. It increases efficiency and consolidation. Mike Henstein - Ground Tech - Minnesota

Our company has owned a Curb Roller for more than 4 years. It is a very critical tool for our company. The thing that we like most is uniformity (consistency). It is a machine that we can take a 5 man crew to a job and pour 800 ft in one day. Tim Chesnut - Falls City, Nebraska

CurbRoller is a tested and proven product. The first one I own has been used for 5 years and has done between 45,000 and 48,000 lineal ft of curbs. I am now the proud owner of 3 CurbRollers. I would recommend it to anyone, even if you have a slip form machine, in tight areas and radius. Roni Steed - Gillette, WY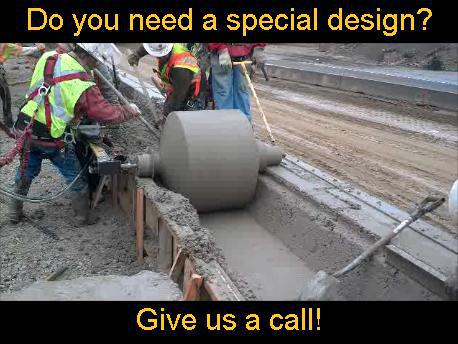 With the need for both precision and reliability, it can often be difficult to create quality concrete curbs without the services of an experienced concrete worker. Between the need for uniform slopes, smooth corners, and the general amount of work, it can often be a nightmare when you are trying to get a job done on time and under budget. Fortunately we've created the perfect screed machine that can only be found at Curb Roller Manufacturing!
Our top of the line roller screed, the Curb Roller is a revolution of design. Featuring a lightweight drum and chassis that is easily transported and used. The Curb Roller can create perfect curbs without any prior training needed, saving you time and money. In addition we are proud to offer other fine products such as the Hydra-Pack hydraulic power system which provides easily transportable power solutions, and the Hydra-Screed, the roller screed that is adjustable so it can fit any job.
There are currently fifteen standard drum designs for the Curb Roller. Drawings with specifications for each drum can be viewed at the bottom of this page. Additionally, we can design and build custom profiles to meet the specific needs of any concrete contractor.
Your job is hard, so why not let us try and make it easier. With our fine line up of concrete products we will have you and your crew getting things done quicker and cheaper than you would have ever thought possible. Call us today and let us show you what we mean!
Click image below to enlarge
Drum 1
Comparable to the Montana,
Kansas, and Arkansas Curb Detail
Drum 2
Comparable to the Colorado Curb Detail

Drum 3

Drum 4

Drum 5

Drum 6

Drum 7

Drum 8
Comparable to the North Carolina
and Wisconsin Curb Detail

Drum 9

Drum 10

Drum 11

Drum 12

Drum 13
This style is designed off the
Florida F style crub spec
Drum 14
This style is designed off the
Illinois Dot B-6 crub spec
Comparable to Washington State Curb Spec

Drum 15