11116 Wilton Classic Series F-Clamp Kit includes 4 clamps: Two Mini Clamps (4 and 8 in) and two regular duty clamps (8 and 12 in). 11116
CLASSIC SERIES F-CLAMP KIT, MADE IN TAIWAN, WGT = 14 LBS, SHIPS BEST WAY
Mfg. item #: 11116
WMH11116
Call for freight quote on this item or we will confirm freight charges before shipping.1
Classic Series F-Clamp Kit
has a
Lifetime warranty
Black oxide spindle resists wear and tear while impeding rust.
Drop forged arm provides minimal flex under heavy workloads.
Sturdy tommy bar is engineered for durability and comfort
Swivel pad centers on work piece for a sturdy hold.
The Mini F-Clamps are built tough and are small enough to tackle smaller, more intricate jobs where a standard clamp is just too big.
Built on the same platform as the Classic Series F-clamps that has been trusted for decades.
| | |
| --- | --- |
| Clamping Force (lbs) | 400 to 1,800 |
| Throat Depth (In.) | 2-1/4 to 5-1/2 |
| Nominal Opening Capacity (in.) | 4 to 12 |
| Weight | 14.0000 |
| Width | 9.6000 |
| Height | 2.6000 |
| Length | 17.7000 |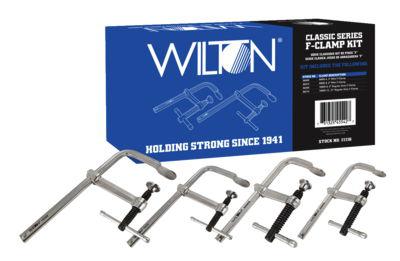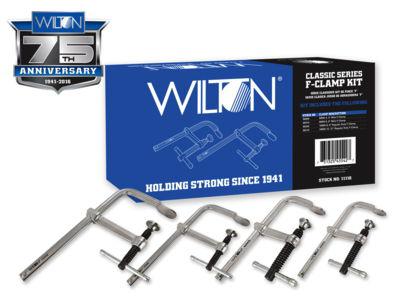 Copyright © 2022 Smith-Hamilton, Inc