321357A GHB-1340A Gear Head Bench Lathe features enclosed gearbox for smooth, quiet operation. Precision roller bearings and ground spindle. 321357A
GHB-1340A, GEAR HEAD BENCH LATHE - MADE IN CHINA **SHIPS LTL - COMMERCIAL TRUCK TO DOCK ONLY & WEIGHT = 1236 LBS $$-SOUTHERN TOOL PROMO: FREE CABINET STAND 321443AK. A $649.00 VALUE!
Mfg. item #: 321357A
WMH321357A
lease to own for as little as:$177 per month!
FREE expedited shipping Plus FREE residential, liftgate and call ahead service. 4
GHB-1340A, Gear Head Bench Lathe
has a
2 Year warranty
6" 3-jaw direct mount chuck with top reversing jaw
Compound and cross slide have backlash elimination
D1-4 spindle is precision ground for accuracy and supported by high quality tapered roller bearings
Gearbox gives wide inch threading and feed capabiltites with no gear changes
Hardened and ground gears are featured in the headstock and gearbox
Image shown with optional bench, p/n 321443AK
Independent lead screw and feed rod
Spindle actuation control is apron mounted
Tailstock may be offset for turning taper
Tolerance test certificate included
| | |
| --- | --- |
| Size | 13 x 40 |
| Style (Type) | Bench - Geared Head |
| Swing Over Bed (In.) | 13 |
| Number of Spindle Speeds | 8 |
| Swing Over Cross Slide (In.) | 7-25/32 |
| Swing Through Gap (In.) | 18-3/4 |
| Length of Gap (In.) | 8 |
| Spindle Bore (In.) | 1-3/8 |
| Spindle Mount | D1-4 |
| Weight (Lbs.) | 1154 |
| Range of Spindle Speeds (RPM) | 70 - 2,000 |
| Spindle Taper with Sleeve | MT-5 (MT-3) |
| Number of Longitudinal and Cross Feed Rates | 40 |
| Range of Longitudinal Feeds (IPR) | .0018 - .0374 |
| Range of Cross Feeds (IPR) | .0006 - .0130 |
| Number of Inch Threads | 38 |
| Range of Inch Threads (TPI) | 3-1/2 - 80 |
| Number of Metric Threads | 23 |
| Range of Metric Threads | .45 - 10 |
| Max Tool Size (In.) | 5/8 x 5/8 |
| Compound Slide Travel (In.) | 2-11/16 |
| Carriage Travel (In.) | 35 |
| Motor (HP) | 2 HP, 230V, 1Ph |
| Tailstock Spindle Travel (In.) | 3-3/4 |
| Taper in Tailstock Spindle | MT-3 |
| Steady Rest Capacity (In.) | 2-3/4 |
| Width of Bed (In.) | 7-3/8 |
| Overall Dimensions (L x W x H) (In.) | 79 x 28-1/2 x 30 |
| Drive | Geared Head |
| Height | 28.5000 |
| Length | 79.0000 |
| Width | 30.0000 |
| Weight | 1236.0000 |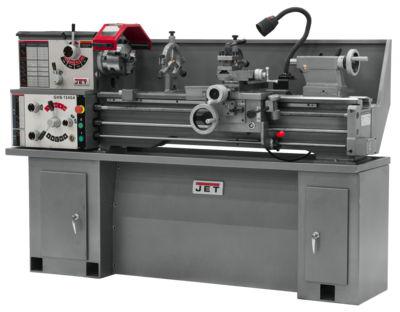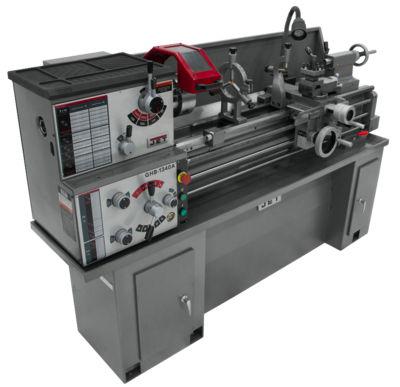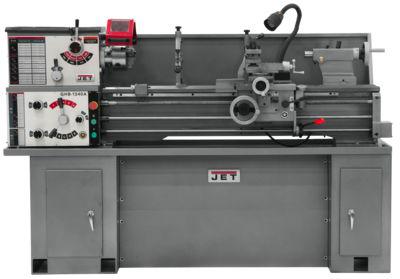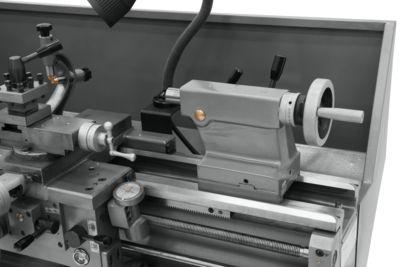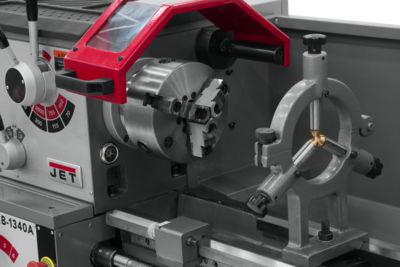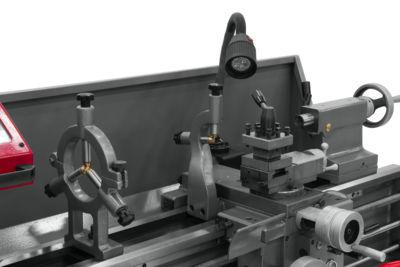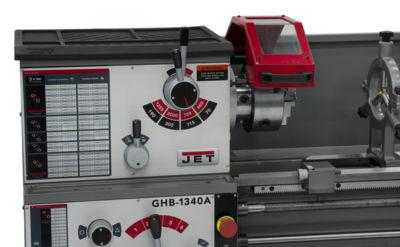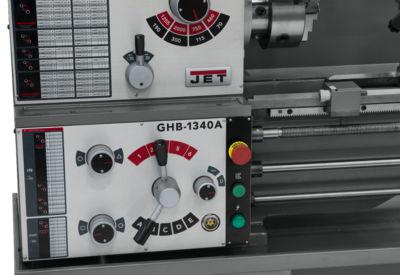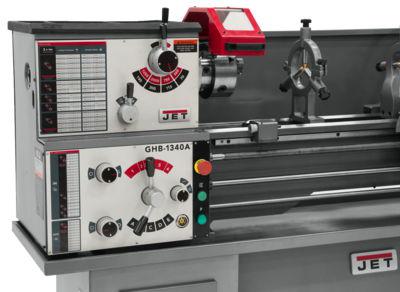 | | | | | | |
| --- | --- | --- | --- | --- | --- |
| WMH321442 | JET — 13GH/BD Taper Attachment for 13 x 40 A Lathes | | 2,969.00 | 1 | |
| WMH321443AK | JET — CBS-1340 Cabinet Stand for 13" x 40" Lathes | | 769.00 | 1 | |
| WMH321514A | JET — Collet Closer 5C for GHB Series Lathes | | 2,129.00 | 1 | |
| WMH650014 | JET — 16-Piece CS-5C Collet Set for Lathes and Grinders | | 219.00 | 1 | |
| WMH650016 | JET — 35-Piece Premium 5C Collet Set with Rack | | 525.12 | 1 | |
| WMH650295 | JET — 200 Series Quick Change Tool Post Set | | 526.79 | 1 | |
| WMH660200 | JET — 22-Piece Turning Tool Kit for 13 in and 14 in Lathes | | 259.00 | 1 | |
Copyright © 2021 Smith-Hamilton, Inc