350020 JMD-18PFN Mill/Drill w/Power Downfeed 115/230V 1Ph offers durability, safety, ease of use. Adj facemill, drill press angle vise, chuck, drawbar. 350020
JMD-18PFN MILL/DRILL WITH POWER DOWNFEED 115/230V 1PH - MADE IN TAIWAN **SHIPS LTL - COMMERCIAL TRUCK & WEIGHT = 740 LBS $$-SOUTHERN TOOL PROMO: BUY A JET MILL DRILL AND GET A FREE STAND 350045. A $399.00 VALUE!
Mfg. item #: 350020
WMH350020
lease to own for as little as:$83 per month!
FREE expedited shipping Plus FREE residential, liftgate and call ahead service. 4
JMD-18PFN Mill/Drill With Power Downfeed 115/230V 1Ph
has a
2 Year warranty
1/2" Drill chuck, chuck arbor
360° head swivel
Adjustable carbide facemill
Base taper allows for easier clean up
Easy to read internal depth gauge
Heavy-duty power downfeed with manual feed (JMD-18PFN)
Mill Drill Stand, p/n 320020, shown in some images, is optional
One-piece cast iron column for added support
Positive quick-stop knob and easy to read internal depth gauge
UL Listed
| | |
| --- | --- |
| Powerfeed | Downfeed |
| Swing (In.) | 15-7/8 |
| Spindle Travel (In.) | 5 |
| Number of Spindle Speeds | 12 |
| Face Mill Capacity (In.) | 3 |
| Table Size (L x W) (In.) | 9-1/2 x 31-3/4 |
| Weight (Lbs.) | 700 |
| Spindle Taper (In. x TPI) | R-8 |
| Max Distance Spindle to Table (In.) | 28 |
| Spindle Travel Auto (In.) | 4-1/4 |
| Range of Spindle Speeds (RPM) | 150 - 3,000 |
| Quill Diameter (In.) | 3 |
| Quill Down Feed Rates (IPR) | 0.0047, 0.007, 0.001 |
| Table Longitudinal Travel (In.) | 20-1/2 |
| T-Slots Number and Size (In.) | 4 and 5/8 |
| T-Slot Centers (In.) | 1-13/16 |
| Work Table Weight Capacity (Lbs.) | 400 |
| Column Diameter (In.) | 4-1/2 |
| Base Dimensions (In.) | 15-3/4 x 23-3/4 |
| Motor (HP) | 2 HP,115/230V, 1 Ph, Prewired 115V |
| Overall Dimensions (L x W x H) (In.) | 47 x 40 x 51 |
| Height | 0.0000 |
| Length | 0.0000 |
| Width | 0.0000 |
| Weight | 740.0000 |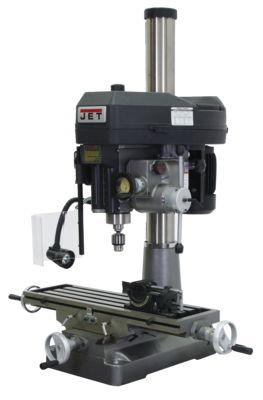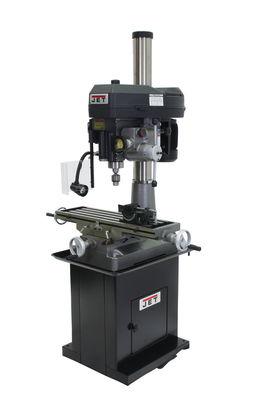 | | | | | | |
| --- | --- | --- | --- | --- | --- |
| WMH350045 | JET — CS18 Cabinet Floor Stand for JMD Series Mill/Drills | | 520.91 | 1 | |
| WMH350401 | JMD-18 Mill/Drill With ACU-RITE 203 DRO | | 5,652.25 | 1 | |
| WMH350402 | JMD-18PFN Mill/Drill With ACU-RITE 203 DRO | | 6,647.56 | 1 | |
| WMH466001 | JET — CCS-1 Mill Chuck and Collet Set | | 630.64 | 1 | |
| WMH630400 | JET — 1-2-3 Block Set with Plastic Case | | 57.98 | 1 | |
| WMH650132 | 6-Piece Premium R8 Collet Set with Rack | CS-R8 | | 162.33 | 1 | |
| WMH660012 | JET — 52 Piece CK12 Clamping Kit for 5/8 in T-Slots | | 139.00 | 1 | |
| WMH660038 | JET — 52 Piece CK38 Clamping Kit for 1/2 in T-Slots | | 149.00 | 1 | |
| WMH660058 | JET — 52 Piece CK38 Clamping Kit for 3/4 in T-Slots | | 169.00 | 1 | |
| WMH660100KT | JET — Milling Accessory Set | | 1,482.22 | 1 | |
| WMH660220 | JET — 24-Piece Milling Tool Kit for R8 Spindle Mill | | 401.30 | 1 | |
| WMHA619 | JET — Flood Coolant System for 230/460V 3-Phase Milling Machines | | 523.57 | 1 | |
| WMHA635 | JET — Adjustable Swing Away Safety Shield | | 147.11 | 1 | |
Copyright © 2021 Smith-Hamilton, Inc