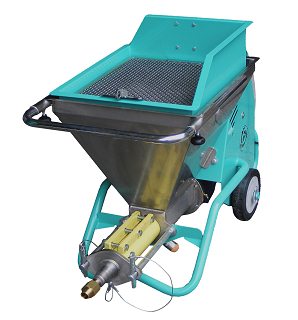 Imer Mighty Small 50 Tuck Pointing Pump
The Small 50 TP shares many of the same components as the Mighty Small 50 with a few major differences. The TP is made to be used for tuck pointing where less volume and slower flow is desired.
The onboard computer has been reconfigured to benefit such demands in conjunction with a different stator which is capable of a 2 GPM output versus the 3.5 GPM of the 2L3 stator on the Small 50. The advantages to this are that the motor can spin faster, since the motor is cooled by a fan, to have a better cooling effect. The motor, since it is operating at a higher speed, can increase the horsepower to the stator since it can run at a higher amperage.
Since the material being delivered will be significantly slower to the end of the line and material consumption is drastically less, the TP utilizes a new vibrating screen that keeps the material moving down the hopper into the stator. This eliminates the need to scrape the sides manually. This vibrating screen is standard on the Small 50 Tuck Point and an accessory on the Mighty Small 50 A hatch is added so as not to disrupt production in case the material needs to been re-tempered manually.
The shaker can filter out particles up to 5/16" in diameter which can cause clogs in the nozzles or tips. A 3/4" garden hose can be used with the TP so that it is lighter to use for the applicator and less volume is needed to fill the hose. The TP can support 25" (~1") cam lever hose which is used with the regular Mighty Small 50. Other uses of the TP can include the application and spray of Thoroseal, elastomeric coatings, paint, acrylic stucco and other materials which are applied with low volume. A gun kit, hoses and compressor can be added for spraying applications.