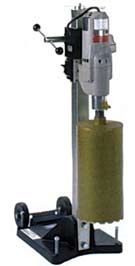 Features of the Drilling Head
Precision rack and pinion gear system.
Single-lever "slip-through" feed handle.
Locking bolt on the carriage locks the head assembly in any position.
Sealed motor switch with ammeter. Extra 115V receptacle for vacuum assembly.
Adjustable and replaceable bronze bearing plates for precise head alignment and smooth in-feed travel.
Easy on/off motor mounts.
Standard maximum bit capacity of 10"; optional spacer available for larger bit capacity.
Optional Milwaukee or Dewalt motors
Features of the Base
Standard 14" x 22" cast aluminum base is rugged, yet lightweight. Base is reinforced for added rigidity.
Four base leveling screws for precise drill alignment, even on rough surfaces.
Center mounting slot accommodates anchor bolts or an optional vacuum assembly.
Features of the Column
Steel column, 42" long x 2-1/2" square, bolts securely into the base.
Built-in jackscrew provides stability for ceiling or wall bracing.
Gear rack is welded solidly to the back of the column.
There are no further details.
There are no further specifications.
There is no further information.
There are no listed accessories.