Specifications
Model
A
B
C
D
E
F
SMH-1/2T
5-1/2
4 5/8
2
1-1/4
7/8
1-3/8
SMH-1T
6-5/8
5 3/8
2-1/8
1-7/6
1-1/8
1-9/16
SMH-1-1/2T
7-3/4
6
2-5/8
1-7/16
1-1/4
1-3/4
SMH-2T
8-7/8
6 1/4
2-5/8
2-1/2
1-3/8
2
SMH-3T
8-1/2
6
3-5/8
2-3/4
1-3/4
2-1/4
SMH-5T
9-1/2
7
4-1/2
3
2
2-5/8
SMH-10T
17-1/2
7
12-1/4
4
3
3-1/2
1/2, 1, 1-1/2, 2, 3, 5 TON HOISTS 10 TON HOIST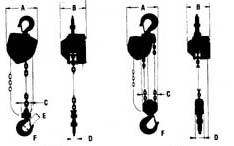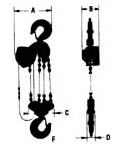 IMPORTANT: Before installation, read owner¹s manual for additional warnings and precautions. Not for use in explosive environment.
NOTE: Custom lifts are available in any length desired. However, custom lift hoists are not returnable. Hand chain drop equals lift length on standard lifts.
CAUTION: Be sure that supporting structures and load-attaching devices used in conjunction with this hoist provide an adequate safety factor to handle the rated load plus the weight of equipment. If in doubt, consult a qualified structural engineer. This equipment is not to be used for lifting, supporting or transporting people, or lifting or supporting loads over people.
---
Specifications

Model
Cap¹y (lbs)
Standard Lifts (ft)
Headroom (in)
No. of Falls
Load Chain (Dia/mm)
Req. Hand Chain (ft) To Lift Load 1 ft.
Lbs Pull to Lift Cap¹y
Net Wt (lbs)
SMH-1/2T
1,100
10,15,20,30
13
1
5
32
49
20,25,29,40
SMH-1T
2,200
10,15,20,30
15
1
6.3
37
80
27,33,38,51
SMH-11/2T
3,520
10,15,20,30
17-1/2
1
7
58
82
41,49,56,69
SMH-2T
4,400
10,15,20,30
18-1/2
1
8
70
91
46,53,60,75
SMH-3T
6,820
10,15,20,30
23-1/2
2
7
116
86
60,71,80,102
SMH-5T
11,000
10,15,20,30
28
2
9
172
97
91,106,122,153
SMH-10T
22,000
10,15,20,30
35
4
9
344
104
177,205,232,287