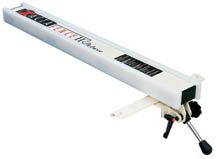 Deluxe XACTA FENCE II

This fence features the same great stability and accuracy as the standard Homeshop and Commercial XACTA FENCE II. We have also added the following key features for added accuracy on setting and ease of changing the sides:

This fence features a convenient micro adjust to dial in the exact measurement you need

The same great HDPE Polyethylene side panels and now easier to install and remove with no tools required. The deluxe side panels simply pop on and off with a simply tap of the hand. Tap the end of the side panel on one end to take it off and the other end to put it back on. This is a patented feature.

This also lends itself to custom-made fences for whatever purpose you need. You can now make the side panel you need to pop right on and off.
The JET Deluxe XACTA FENCE II will not be available
until December, 2002
There are no further details.
There are no further specifications.
There is no further information.
There are no listed accessories.