The LIFT DOLLY ESC
Save time, Safe money, Save Man-power, Reduce stress, Reduce back injuries & Reduce insurance claims
The Lift Dolly ESC is engineered to Lift and Lower heavy objects in addition to functioning in the Transport mode of a traditional dolly. The Lift Dolly ESC will easily and safely handle up to 300lbs. in the Lift/lower mode, and will move up to 600lbs. In the Transport mode.
The Lift Dolly ESC uses mechanical, not electrical, mechanisms which makes it a long-lasting, reliable, cost-efficient tool that is easily portable for any technician.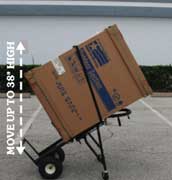 There are no listed accessories.