Click here to download manual
Click here to download product literature
PosiTest magnetic pull-off thickness gage for the non-destructive measurement of non-magnetic coatings (paint, enamel, galvanizing, metalizing, plating, etc.) on steel.
Accurate
Certificate of Calibration showing traceability to PTB included with every gage

Matching Calibration Standards and Procedures available for every model

Highly wear resistant Carbide Probe for longest life and continuous accuracy

Remove center of dial cover for easy calibration adjustment

Conforms to national and international standards
Durable
Extra rugged housing, not affected by mechanical shock, water, acid or solvents

Unique overall design, fully supported, positive positioning, no pivoting tendencies during measurement

Can be used fully supported or with only the front probe area contacting the surface

Functions on a permanent rare earth cobalt magnet

No batteries/electronics

2 year warranty
Easy To Use
Positive visual and audible indicators to designate when thickness reading is established

V grooves in probe housing and Gage base allow correct positioning on cylindrical objects

Compact, lightweight, precisely balanced, independent of gravity can be used in any position

GO/NO-GO button can be pre-set for rapid measurement

Probe contact and dial rotation all in a one-finger operation

Furnished with wrist strap and instructions in a high quality leather case with belt loops for your convenience
PosiTester FM / F / GM / G
FM
PosiTest Instrument with FM Scale
F
PosiTest Instrument with F Scale
GM
PosiTest Instrument with GM Scale
G
PosiTest Instrument with G Scale
Available PosiTest models
For: Hot dip galvanizing, hard chrome metalizing, paint, enamel, plastic coatings on steel.
Scale FM
0-80 mils
Tolerance:
+/- 0.2 mils up to 4 mils
+/- 5 percent of the reading
over 4 mils

For: Electroplating, thin paint films,
phosphating on steel.
Scale GM
0-8 mils
Tolerance:
+/- 0.04 mils up to 0.8 mils
+/- 5 percent of the reading
over 0.8 mils

Scale F
0-2000 µm
Tolerance:
+/- 5 µm up to 100 µm
+/- 5 percent of the reading
over 100 µm

Scale G
0-200 µm
Tolerance:
+/- 1 µm up to 20 µm
+/- 5 percent of the reading
over 20 µm
Magnetic Pull-Off
Magnetic pull-off gages use a permanent magnet, a calibrated spring, and a graduated scale. The attraction between the magnet and magnetic steel pulls the two together. As the coating thickness separating the two increases, it becomes easier to pull the magnet away. Coating thickness is determined by measuring this pull-off force. Thinner coatings will have stronger magnetic attraction while thicker films will have comparatively less magnetic attraction. Testing with magnetic gages is sensitive to surface roughness, curvature, substrate thickness, and the make up of the metal alloy.
Magnetic pull-off gages are rugged, simple, inexpensive, portable, and usually do not require any calibration adjustment. They are a good, low-cost alternative in situations where quality goals require only a few readings during production.
Rollback dial models (PosiTest shown in Fig 2) are the most common form of magnetic pull-off gage. A magnet is attached to one end of a pivoting balanced arm and connected to a calibrated hairspring. By rotating the dial with a finger, the spring increases the force on the magnet and pulls it from the surface. These gages are easy to use and have a balanced arm that allows them to work in any position, independent of gravity. They are safe in explosive environments and are commonly used by painting contractors and small powder coating operations. Typical tolerance is + 5 percent.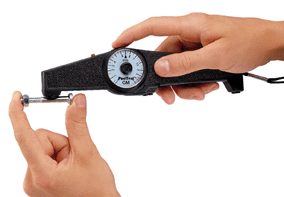 Fig. 2. Roll-back dial magnetic pull-off thickness gauge.