The BR-16E-36 bead roller from Baileigh Industrial is a machine that will change the metal forming industry. It has all the best features that fabricators want, as well as some they didnt know that the needed, until now The BR-16E-36 bead former has a large 36 inch throat depth with integrated depth stop. The Baileigh Industrial BR-16E-36 bead roll has an open concept working area with a unique quick release top die. Unlike most other bead rollers on the market, the BR-16E-36 allows the bottom die to be slid in or out depending on the offset the finished item requires.
A variable speed foot pedal controls the speed of the material feed, but can be locked in at one speed if that is what the operator chooses. An external 110V power outlet is also integrated into the BR-16E-36, allowing the operator to attach a work light for more visibility.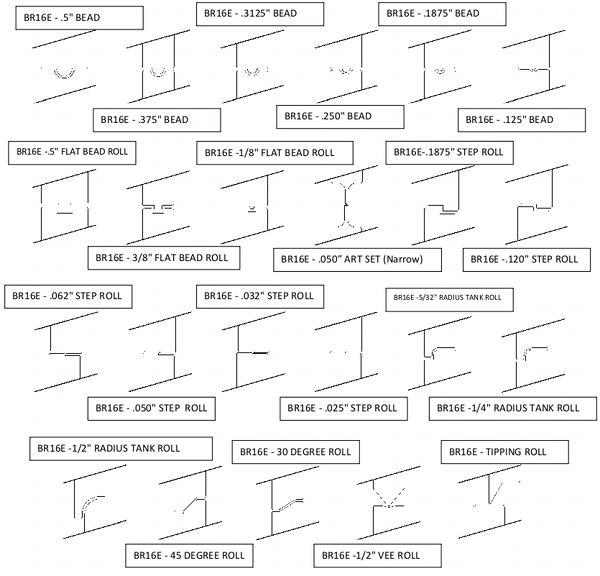 110V 36 THROAT DEPTH BEAD ROLLER, 16 GAUGE MILD STEEL CAPACITY / MADE IN U.S.A. / WGT = 515 LBS / SHIPS LTL TRUCK FREIGHT (SKU 1000862) ADD TO CART NOW TO SEE SOUTHERN TOOLS EXCLUSIVE BROTHER-IN-LAW DEAL & FREE SHIPPING ANYWHERE IN THE LOWER 48 STATES
Mfg. item #: BA9-BR36
BAIBR-16E-36
lease to own for as little as:$145 per month!
FREE expedited shipping Plus FREE residential, liftgate and call ahead service. 4
Call for price. BAIBR16E-.025"STEPROLL
Call for price. BAIBR16E-.032"STEPROLL
Call for price. BAIBR16E-.050"ARTSET
Call for price. BAIBR16E-.050"STEPROLL
Call for price. BAIBR16E-.062"STEPROLL
Call for price. BAIBR16E-.125"BEADROLL
Call for price. BAIBR16E-.1875"BEADROLL
Call for price. BAIBR16E-.250"BEADROLL
Call for price. BAIBR16E-.3125�BEADROLL
Call for price. BAIBR16E-.375"BEADROLL
Call for price. BAIBR16E-.5"BEADROLL
Call for price. BAIBR16E-1/4"STEPROLL
Call for price. BAIBR16E-1/8"FLATBEAD
Call for price. BAIBR16E-3"BLANKROLL
Call for price. BAIBR16E-3"FLATROLL
Call for price. BAIBR16E-3/8"FLATROLL
EGREEROLL}30 DEGREE ROLL SET FOR BR ** CALL FOR PRICING
Mfg. item #: BR16E-30DEGREER
BAIBR16E-30D{00
FREE shipping ONLY when ordered with a machine from this manufacturer otherwise Ground UPS Will Be Added at Order Entry.20
EGREEROLL}45 DEGREE ROLL SET FOR BR ** CALL FOR PRICING
Mfg. item #: BR16E-45DEGREER
BAIBR16E-45D{00
FREE shipping ONLY when ordered with a machine from this manufacturer otherwise Ground UPS Will Be Added at Order Entry.20
6FLATBEAD}5/16 FLAT BEAD ROLL SET F ** CALL FOR PRICING
Mfg. item #: BR16E-5/16FLATB
BAIBR16E-5/1{00
FREE shipping ONLY when ordered with a machine from this manufacturer otherwise Ground UPS Will Be Added at Order Entry.20
Call for price. BAIBR16E-5/16"ROUNDBEAD
PINGROLL}TIPPING ROLL SET FOR BR-16 ** CALL FOR PRICING
Mfg. item #: BR16E-TIPPINGRO
BAIBR16E-TIP{00
FREE shipping ONLY when ordered with a machine from this manufacturer otherwise Ground UPS Will Be Added at Order Entry.20
Call for price. BAIBR16E-.25"FLATBEADROLL
Call for price. BAIBR16E-.5"FLATBEADROLL
Call for price. BAIBR16E-1/2"RADIUSTANKROLL
Call for price. BAIBR16E-1/4"RADIUSTANKROLL
Call for price. BAIBR16E-5/32"RADIUSTANKROLL
Call for price. BAIBR16E-.125"STEPROLL
Call for price. BAIBR16E-.1875"STEPROLL
Call for price. BAIBR16E-.75"ROUNDBEADROL
Call for price. BAIBR16E-1/2"VEEROLL
SUPPORT TABLE FOR BR-16E-36 ** CALL FOR PRICING
Mfg. item #: BR16E-6A078
BAIBR16E-6A078
FREE shipping ONLY when ordered with a machine from this manufacturer otherwise Ground UPS Will Be Added at Order Entry.20
Call for price. BAIBR16E-RUBBERBEAD3"DIAM
EBEADDIES1}1/8 WIRE BEAD DIES FOR B ** CALL FOR PRICING
Mfg. item #: BR16E-WIREBEADD
BAIBR16E-WIR{00
FREE shipping ONLY when ordered with a machine from this manufacturer otherwise Ground UPS Will Be Added at Order Entry.20