Portable Metal Cutting Band Saw BS-128M
The BS-128M bandsaw from Baileigh Industrial is perfect for the home shop or hobbyist. But, just because this is an economical saw, doesnt mean it is short on features. The BS-128M can either be run as a standard horizontal pivot style bandsaw or as a vertical bandsaw, by lifting the head 90 degrees and locking it into that position. This becomes extremely important when trying to do intricate designs and the best part you only need one machine to do it. Hydraulically controlled descent, 60 degree mitering head, bearing blade guides and an easily portable working stand are also part of the package.
The BS-128M bandsaw is no slouch ion the capacity department either, it can cut up to 5 inch round stock at 90 degrees and up to 6 inch rectangle, plus a number of other profiles and shapes. It also allows for the choice of three blade speeds via a step pulley a feature not seen on other saws in this price range.
The BS-128M is typically in stock for quick shipments, give a Southern-Tool representative a call for more information.
American Made Band Saw Blades
We have been manufacturing band saw blades sine 1926!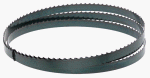 Order custom bandsaw blades here - We have been manufacturing Since 1926!