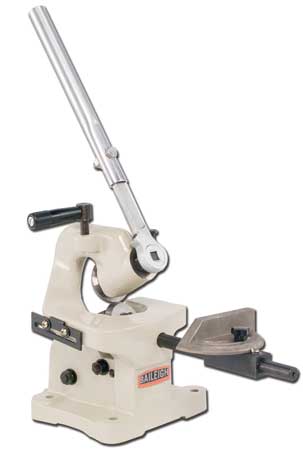 Multi-Purpose Throatless Sheet Metal Shear MPS-1
The MPS-1 throatless shear from Baileigh Industrial is quickly becoming the go to machine for anyone that has to shape and cut sheet metal. The unique design on the blades allows the operator to cut just about any shape they need. The best part is that this little mighty mite only weighs 16lbs, but is strong enough to cut 14 gauge mild steel easily.
The throatless design of the MPS-1 shear makes it easy to cut large panels as well. As the operator cuts the material, the design of the cast base guides the material away from the blade allowing the operator to keep cutting without having to trim, saving a lot of production time.
The MPS-1 throatless shear will be a great addition to any shop and for more information, contact a Baileigh Industrial representative.
MPS-1 Throatless Shear
Model
MPS-1
Shear Capacity
.08 inch
Blade Length
4.25 inch
Power
Manual
Shipping Weight
18 lbs.
Shipping Dimensions
24 x 10 x 13.5 inch
Multi-Purpose Throatless Sheet Metal Shear MPS-3
Ever wonder how those high end fabricating shops get those cool flowing curves cut into their projects? With a rotary shear thats how, and Baileigh Industrial just happens to have one. The MPS-3 rotary metal shear is the perfect complement to any sheet metal fabrication shop. It has two rotating blades that only shear at the point when they are closest together. This allows the operator to turn and manipulate the material in any direction that he or she wants. The body is made from cast iron and is designed in a way that allows the material to pass through the machine and not get stuck. This feature truly does make the MPS-3 a throatless shear. The rotating shear blades adjust for differing material thicknesses and work in conjunction with the fully adjustable material guides to ensure accurate, clean cuts every time.
In order to make the operation easier the MPS-3 rotary shear has a ratcheting device that allows the operator total control over the cut. The body is made of cast iron and has been designed for years of trouble free use under the most demanding conditions.
For more information about the MPS-3 contact a representative today.
Specifications

Model

MPS-3

Shear Capacity

.118 inch

Power

Manual

Shipping Weight

49 lbs.

Shipping Dimensions

13 x 9.5 x 13.5 inch

specifications subject to change without notice.
There are no listed accessories.