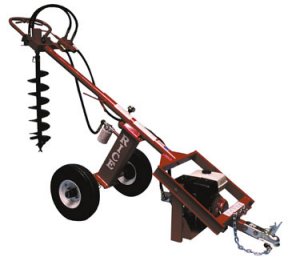 Click Here to download Instruction Manual for 9HON-T

If you've got tough digging conditions but need a compact unit, the new Dirt Dawg torque series one-man hydraulic towable post hole digger is for you! Built with high quality components, this earth auger is another champion in a superior lineup of RICE post hole diggers.
We've doubled the cubic inches of the hydraulic motor and increased the GPM, resulting in a really hungry Dawg that'll gnaw its way through the earth with 311 ft. lbs. of continuous torque, and a digging power of 83 RPM.
Like all RICE post hole diggers, this unit features forward/reverse auger rotation, a swiveling handle assembly for angled drilling, a retractable axle for easy gate access, superior balance, curved handle design for close up drilling, an integrated tow package, and a THREE YEAR FULL PRODUCT WARRANTY
Engine Cradle and Hitch Assembly
9 HP OHV, Oil Alert gas engine, Honda

Engine oil drain hose

Integrated tow package standard on all models, with a 2 inch heavy duty locking steel hitch

Axles extend for digging and towing stability, and retract to 35-1/2 inch for access through standard gates and walkways
Handle and Bit Assembly
Powerful hydraulic motor, up to 311ft. lbs digging torque

Telescoping swivel handle that locks down at virtually any digging angle, for accurate drilling on hills and slopes

Quick disconnect hitchpins enable adjustments and auger bit changes in seconds

Can handle up to 18 inch auger bits
Fluid Tank and Wheel Assembly
Heavy gauge steel fluid reservoir with Oil Sight Glass

Easy access fluid maintenance, filter, breather and drain plug

Weight balanced for maximum control and maneuverability

Heavy duty 18 inch highway rated tires, with Bearing Buddies for reduced maintenance
Specifications
Part Number
DIRTDAWG-9HON-T

Dirt Dawg

Torque Series

9

83

311 ft. lbs.

46 inches

36 inches

4-1/2 Gallon

110x35.5x65 inch

290 lbs.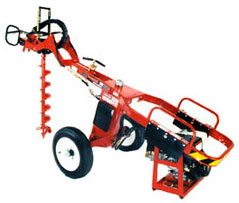 660 DIG-R-MOBILE TOWABLE HYDRAULIC HOLE DIGGER

Designed for increased digging performance and investment return over hand-held type machines. Tows to the jobsite at conventional highway speeds. Digs holes up to 18 inches diameter in the toughest soil conditions. High capacity hydraulic system is designed for maximum heat rejection without the use of an auxiliary cooler. Exclusive design features allow the 660 DIG-R-MOBILE® to also become a cost-effective power source for popular brands of hydraulically-powered hand tools
Number of Operators: 1

Power Source: 13 HP Honda

Maximum Drilling Torque: 276 ft. lb.

Forward/reverse Auger direction

Auger Connection Options: 1-3/8 inch hexagon, 7/8 inch square or STIHL type
One man operation. Tows at legal highway speeds. Includes quick attach towbar with adjustable ball coupler and 4.80 x 12 wheels and tires with separate hubs. High performance, 8 GPM hydraulic system also operates popular HTMA Class II hydraulic tools for added versatility. Features the largest oil reservoir in its class for maximum system cooling. Exclusive Snap-Lok® Auger Storage system eases maneuvering on the jobsite. Forward and reverse auger direction.
Specifications:

Model

M660H

Power Source

Honda

Horse Power:

13HP

Starter:

Mechanical rewind

Fuel:

Gasoline, unleaded automotive grade

Transmission

Totally-enclosed, grease- lubricated

Nominal Auger Rotation Speed:

3600 RPM, no load

Drive shaft Connection:

1-3/8 inch (35mm) Hexagon (General), 7/8 inch (22mm) Square (Ground Hog), or STIHL- type

Maximum Drilling Torque:

276 ft. lbs.

Auger Diameter:

2 in (51mm) to 18 in (457mm)

Extention:

Flighted and Non-flighted plain tube, depth to 45 in(1143mm)

Hydraulic System Configuration:

Open Type

System Flow:

8 GPM (30 lit/min) at 2000 PSI

Reservoir Capacity:

5 US Gallons (19 lit/min)