Free Standing, Economical and Professional Part Washers
Full-sized free-standing units offer professional features in an economical package. Ideal for general maintenance and repair in industrial, automotive, marine, or farm applications.
H42RN and 2R Features
Abrasive-resistant pump; motor is not exposed to the cleaning solution - eliminates need for pump seals

720 GPH flow rate

Flexible Stay-Put metal flush hose for directable hands-free flushing action

Removable internal work shelf for easy manual cleaning and parts visibility

Bottom drain for easy fluid change-outs

Fusible safety link closes lid in event of fire

16 gauge steel tank with powder-coat finish for durability and long-life

Freeboard compliant (H42RN only)

Optional external drain shelf to drain cleaned parts

Best used with Graymills Agitene products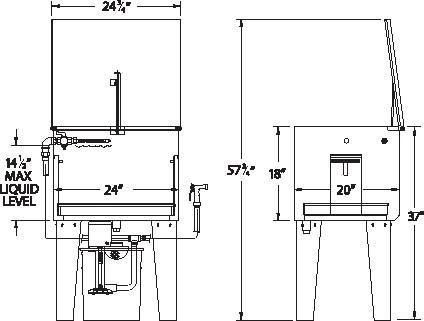 | MODEL NO | TYPE | OPERATING FLUID CAPACITY | OPERATING VOLTAGE |
| --- | --- | --- | --- |
| H42RN | Free-Standing | 3 - 5 Gallons | 115V/60 Hz/1 |
| 2R | Soak Tank | 25 Gallons | 115V/60 Hz/1 |
L-61
16 gauge steel shelf mounts to side of Flo-Bac, HK-150, and all Handi-Kleen models. 15"L x 18"W
3BG
Standard brush with 2-1/2" polypropylene bristles
5D
Double brush with 1-1/2" and 2-1/2" nylon bristles
6A
Flow-Thru brush flushes part as it cleans. Solvent flows through core of handle; 2" Connecting hose, 2-1/2" nylon bristles, and a rubber connector that slips over nozzle of flexible metal hose of parts cleaner
7A
Flat Angular Flow-Thru cleaning brush can attach to pump nozzle with optional rubber hose
8A
Round Angular handle cleaning brush can attach to pump nozzle with optional rubber hose
L-3
Parts basket permits flushing of small parts while keeping them organized. 10" diameter
L-7
Parts basket hooks over edge of tank or stands on legs. 8"L x 6"W x 4"H
L-8
Parts basket with expanded metal on sides and bottom. 13"L x 12"W x 5"H
5B-1
Parts basket sized and bracket for use with standard five gallon pail.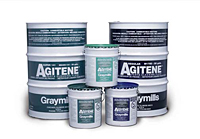 Need Solvents? Click Here