The Tempest Series of aqueous cabinet parts washers uses 600 psi of high-pressure aqueous cleaning solution power to scrub parts clean no abrasives to damage precision machined parts.
The ultimate in operator comfort, the Tempest 10/20S keeps the operators hands clean and out of cleaning solution. Operator simply slips hands into gloves and directs up to 600 psi fluid stream of heated cleaning detergent at parts.
Fast heat-up, illuminated cabinet and window-clearing blower are standard on both units. Flexible neoprene gloves, safe and convenient air-actuated on/off foot pedal switch, and ergonomic working height maximize user comfort and result in increased efficiency. Adjustable hand-held spray nozzle can be set to a wide fan or pinpoint stream to direct cleaning power where needed. 150 mesh filter traps chips and solids and continuously filters fluid.
Standard Features (All Models):
Up to 600 PSI and 180 GPH, 1 HP pump delivers cleaning power directly onto parts

Heated (up to 120 degree F) aqueous fluid that cleans without grit

Enhanced window blow-off utilizing air-knife technology for viewing cleaning process

Hinged front opening door allows full access to entire cleaning chamber

Variable output nozzle can be set from a wide fan to a pinpoint stream to allow operator to adjust cleaning force as needed
Standard Features (Tempest 10/10S):
Standard Features (Tempest 20S):
WATER-BASED, HEATED, HIGH PRESSURE SPRAY CABINET SERIES
TEMPEST-10
High pressure aqueous liquid spray cabinet, 600PSI, 115V, 1p, 20 amp fuse required
TEMPEST-10S
Stainless steel high pressure aqueous liquid spray cabinet, 600PSI, 115V, 1ph, 20 amp fuse required
TEMPEST-20S
Large capacity, stainless steel, high pressure, aqueous liquid, spray cabinet, 600PSI, 115V, 60Hz, 1ph, 30 amp fuse required
TEMPEST 20S OPTIONS
TEM-ABO

Shop air blow-off
TEM-OSK

Oil Skimmer
TEM-DSF
Drain Shelf
TEMPEST REPLACEMENT GLOVES
605-27346
Replacement gloves, one pair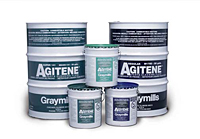 Need Solvents? Click Here