There are hundreds of different models of individual Hilman Rollers. Standard Hilman Roller model capacities range from 1/2 Ton to 1000-Tons. If you require capacity in excess of 1000-metric tons from a single, individual Hilman Roller we encourage you to contact us to discuss your application in greater depth. There are several different models available with the same capacity, with different dimensions and suitable for different applications. Please review the different series of Hilman Rollers below to learn more about each series and view the different capacities. As well visit the page about how to select your rollers. Some things, in general, to remember about Hilman Rollers.
All Hilman Rollers are rated in metric tons.

Nearly All Hilman Rollers can be used inverted with the load bearing plate below the contact surface.

All Standard Hilman Rollers carry at least a 1-year warranty against manufacturer defects.

All Hilman Rollers models have been tested and, under ideal conditions, maintain a coefficient of when under load better than 5 percent.
Hilmans ERF Series Rollers are essentially the same rollers in our OT/T/NT Series Rollers, without any top plate. This series allows users to weld their own top plate on or affix them to an existing steel structure (suggested for vertical loading only). Hilman offers standard ERF Series Rollers up to 125-ton capacity
Hilman's ERF Series Rollers are essentially the same rollers in our OT/T/NT Series Rollers, without any top plate. This series allows users to weld their own top plate on or affix them to an existing steel structure (suggested for vertical loading only). Hilman offers standard ERF Series Rollers up to 125-ton capacity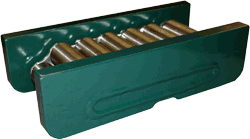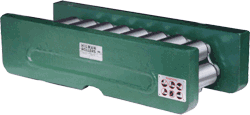 HILMAN ERF Series Rollers
1-ERF
1-ton capacity ERF Series roller
4-ERF
4-ton capacity ERF Series roller
12-ERF
12-ton capacity ERF Series roller
30-ERF
30-ton capacity ERF Series roller
65-ERF
65-ton capacity ERF Series roller
100-ERF
100-ton capacity ERF Series roller
125-ERF
125-ton capacity ERF Series roller