The "Spider" HM1212 - the Industry's Top Horizontal Mitre Band Saw
Roll-In Saw's horizontal miter band saws are ideal for your precision-cutting needs. Both models are fast and accurate for straight and angle cuts at 60° in both directions. Whether you select the HM1212 or the HW1212 wet saw, you will be purchasing the highest capacity saws in their class. The heavy duty Roll-In Saw design assures you years of reliable and efficient service.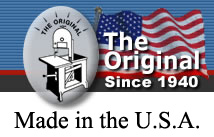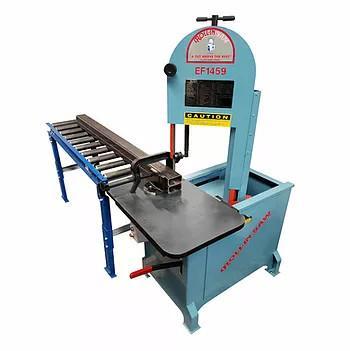 Summary: Coming in 5ft and 10ft lengths, the Roll-In Saw conveyor systems allow you to load long and heavy pieces of materials into any of our saws.
Compatible Saws: EF1459, JE1320, JM1220, DT1340, HM1212, HW1212, HS1418
ROLL-IN SAW HM1212 and HW1212
Horizontal Dual Miter Bandsaw
Replacement Parts List
Effective Feb 13, 2019
Please Give Machine Serial Number With Order
Minimum Charge $20.00 Handling Charge $20.00
Call 216-459-9001 for Parts
PART NO.

DESCRIPTION

3A36
FRONT WHEEL - complete with axle and bearings
3A37
REAR WHEEL - complete with axle and bearings less 80 tooth spur gear
167
BEARING, for front and rear wheels (2 required per wheel) ea
6A48
GUIDE ASSEMBLY - complete upper and lower, includes housing, stem, 4 rollers, 4 bearings
169
GUIDE ROLLER BEARING - (4 required per saw) ea
179
1" GUIDE ROLLER - (4 required per saw) ea
6A56
GEARBOX - complete (includes 24 tooth outside gear)
162
80 TOOTH SPUR GEAR, for rear wheel
163-A
24 TOOTH SPUR GEAR, for output shaft on gearbox
4109
TOGGLE CLAMP, for motor
170
MOTOR, 1HP, 110V/220V, single-phase
4106
PULLEY, 2-3-4" step x 5/8" bore, for motor
4107
PULLEY, 2-3-4" step x 3/4" bore, for gearbox
4108
V-BELT - 34" O.D.
359
CHIP BRUSH
654
BLADE, 1" x 5/8T x 11'-8" (bi-metal)
633
LONG BLADE GUARD (front)
634
SHORT BLADE GUARD (rear)
465
HYDRAULIC CYLINDER
643
FLOW CONTROL VALVE
466
DIRECTIONAL CONTROL VALVE
476
START/STOP BUTTON
632
TABLE, 13" X 26" Blanchard ground
6A49
QUICK ACTION VISE
4110
COOLANT PUMP
477
ON/OFF SWITCH - COOLANT