Roll-In Saw Model JE1320 Vertical Bandsaw Offers High Speed and Economy
When your projects call for consistent and precise cutting from a vertical bandsaw that is economically priced, the Roll-In Saw JE1320 Journeyman is the saw for the job. The digital speed control delivers reliable blade travel by enabling you to set the blade speed for the performance you want and the material you are cutting (at standard factory settings). The rigid, precision ground steel table is the ideal work surface for every job.
Whether you need a band saw for industrial use or home hobbies, the trouble-free JE1320 from Roll-In has the features you've always wanted.
Special Features
Adjusto-Blok - guides for 1/4" to 3/4" blade widths, blade safety sheild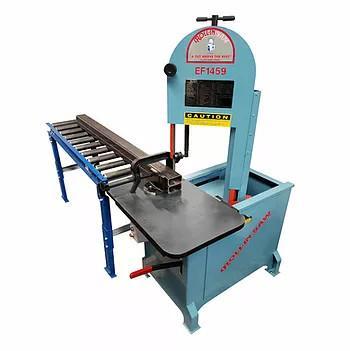 Summary: Coming in 5ft and 10ft lengths, the Roll-In Saw conveyor systems allow you to load long and heavy pieces of materials into any of our saws.
Compatible Saws: EF1459, JE1320, JM1220, DT1340, HM1212, HW1212, HS1418
ROLL-IN SAW JE1320 & JM1220
Vertical Band Saw
Replacement Parts List
Effective Feb 13, 2019
Please Give Machine Serial Number With Order
Minimum Charge $20.00 Handling Charge $20.00
Call 216-459-9001 for Parts
| PART NO. | DESCRIPTION |
| --- | --- |
| 2A08U | UPPER WHEEL- complete with axle, bearings, snap rings and stud |
| 2A08L | LOWER WHEEL |
| 167 | WHEEL BEARING - for upper wheel (2 required) ea. |
| 223-A | WHEEL AXLE, for lower wheel-(also serves as gearbox shaft) |
| 282 | UPPER WHEEL AXLE |
| 2A175 | GEARBOX - complete |
| 2A13 | GUIDE ASSEMBLY - complete upper and lower, includes 2 housings, 4 guide blocks, 2 bearings |
| 221 | GUIDE BEARINGS - (2 required per saw) ea. |
| 261 | GUIDE BLOCKS - (4 required per saw) ea. |
| 1131 | V-BELT - 33" O.D. |
| 234 | 3-1/2" PULLEY, 1 step X 3/4" bore for gearbox |
| 269 | 1-3/4" PULLEY, 1 step X 5/8" bore for motor |
| 1A41 | ANGLE PLATE, graduated work block |
| 203 | TABLE |
| 248 | LONG BLADE GUARD |
| 249 | SHORT BLADE GUARD |
| 253 | MOTOR, 2HP, 60 Cycle, three-phase, 220V/440V |
| 263 | MAGNETIC STARTER 3PH, 220V |
| 264 | MAGNETIC STARTER 3PH, 440V |
| 174 | WORK LIGHT with shade |
| 1A95J | CHIP DUST BLOWER |
| 1134 | HYDRAULIC CYLINDER |
| 2114 | BLADE, 3/4" x 10T X 12'-10" (carbon) |
| 2115 | BLADE, 3/4" X 10T x 12'-10" (bi-metal) |