TF1420 - Tilt-Frame
Like our EF1459 model, the TF1420 is actually a horizontal band saw on a vertical frame. This all-purpose saw handles all metals, plastics, and woods in a wide variety of cuts.
​Quickly tilt the frame to make 45 deg miter or beveled cuts; use control panel to quickly adjust feed rate, pressure, and blade speed; then pull the lever to start the gravity feed and allow your saw to cut your material for you.
The TF1420 will provide decades of efficiency, durability, and automation at a price that is less expensive than comparable saws in its class
Features:
Combining large capacity and versatility, the TF1420 makes quick work of large and small jobs

Quickly makes miter or beveled cuts by easily adjusting the frame up to 45 deg

Offers power, speed control, and feed pressure required to ensure maximum accuracy and efficiency

Extends the life of blades via the blade cleaning brush and blade misting coolant system

Fast and accurate all-purpose saw, with the benefits of both a vertical and horizontal saw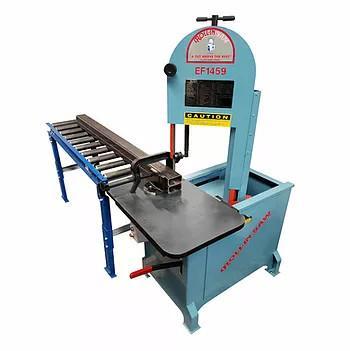 Summary: Coming in 5ft and 10ft lengths, the Roll-In Saw conveyor systems allow you to load long and heavy pieces of materials into any of our saws.
Compatible Saws: EF1459, JE1320, JM1220, DT1340, HM1212, HW1212, HS1418
ROLL-IN SAW TF1420
Vertical Tilt-Frame Band Saw
Replacement Parts List
Effective Feb 13, 2019
Please Give Machine Serial Number With Order
Minimum Charge $20.00 Handling Charge $20.00
Call 216-459-9001 for Parts
PART NO.
DESCRIPTION

3A36

UPPER WHEEL - complete with axle and bearings

3A37

LOWER WHEEL - complete with axle and bearings less 80 tooth spur gear

167

BEARING, for upper and lower wheels (2 required per wheel) ea.

3A48

GUIDE ASSEMBLY - complete upper and lower, includes housing, stem, 4 rollers, 4 bearings

169

GUIDE ROLLER BEARING - (4 required per saw) ea.

179

1" GUIDE ROLLER - (4 required per saw) ea.

162

80 TOOTH SPUR GEAR, for lower wheel

163-A

24 TOOTH SPUR GEAR, for outer gearbox; short shaft

1A164

TENSION ADJUSTMENT HANDLE - (2 required per saw) ea.

1A150

FLAT TRACK ROLLER, with stud - (2 required per saw) ea.

1A151

GROOVED TRACK ROLLER, with bearing and hex head stud - (2 required per saw) ea.

301

TABLE INSERTS (consists of 2 pcs.)

302

TABLE PLATE - (bolts to vise)

304

BACK PLATE - (bolts to back of table)

3A43

QUICK ACTION VISE

195

FEED FORCE

336

PULLEY GUARD

337

BLADE GUARD

340

4" PULLEY, 1 step X 7/8" bore for motor

341

2" PULLEY, 1 step X 3/4" bore for gearbox

342

V-BELT - 31" O.D.

354

MOTOR, 2 HP, 230V/440 V, three-phase

356

BLADE, 1" x 5/8T x 12' 11" (bi-metal)

358

SPRING, 7/16 x 2-1/2 x .047

359

CHIP BRUSH

377

PRESSURE GAUGE

379

HYDRAULIC CYLINDER

381

FILTER

382

DIRECTIONAL CONTROL VALVE

3101

TILT HANDLE

3109

MIST SYSTEM

6A56

GEARBOX - complete (includes 24 tooth outside gear)