Click here to download Installation and Data Sheet
Click here to download Specifications
AI Series, Industrial Digital Smart Phase Converter - AI Industrial was designed specifically for the demands of industrial and agricultural applications. Our AI Industrial digital phase converter is perfect for your industrial applications, including grain drying and irrigation machinery.
AI Industrial can save you thousands of dollars a year over utility and diesel generated power sources.
American Rotary engineers the entire phase converter system to provide optimum performance. Our variable impedance generator (VIT) and MicroSmart controller combine to make the most powerful and precise rotary phase converter on the market.
American Rotary has been making premium rotary phase converters for more than a decade. For more than 10 years, American Rotary has led the industry in innovation and design. We have introduced, field-tested, and proven several technologically advanced features which have driven increases in the reliability and precision voltage balancing capabilities of phase conversion unmatched in the industry.

We provide 24/7 telephone support for technical, application and sizing issues. We stand behind our products with the best warranty in the industry. We use premium components to ensure that our products perform for you. American Rotary is a UL Certified Control Panel Builder, and our rotary phase converters are available UL Listed to US and Canadian Safety Standards. We have partnered with Baldor Electric one of the world's largest and most respected manufacturers to supply our custom-engineered idler/generators. The engineers at American Rotary worked with the engineers at Baldor for over a year designing a custom induction generator for phase conversion, which reduced the inrush current on start-up so drastically (83 percent reduction...a stock motor requires 600 percent more inrush) that American Rotary's induction generator was granted a Soft Start rating, and a resulting reduction in operating cost!

American Rotary is listed with D andB as well as the Better Business Bureau, and we are committed to high ethical and privacy standards.
Features:
480V and 240V

3R Rain Proof

Super Quiet, Perfect for Indoor and Outdoor Installation

-29 deg C to +50 deg C

3-300 HP

Sun Shield

Harmonic Free, Utility Friendly

Rodent Screens

Automation and Wireless Control Options

Pure Sinewave Analog Output ad Digital Precision
| | |
| --- | --- |
| | Easy Control Interface - American Rotary's illuminated rotary switch makes it easy to start or stop your unit. The two light indicators are a quick reference on your single phase input and start circuit operation |
| | Heavy Duty Mounting Base - American Rotary's heavy duty mounting base is strong and functional. They allow you to easily move the unit with a forklift, mount the device to concrete pad or flooor and keep the unit off the ground and away from any moisture. |
| | Fully Enclosed VIT Generator - The American Rotary/Baldor VIT Generator is protected with a ptent pending custom built NEMA 3R enclosure. American Rotary's proprietary design allows for easy plug and play with your three phase equipment. |
| | Wash Down Air Filter - Easy to remove and wash down, this filter will protect against dust, dirt and other harmful particles protecting your VIT generator and keeping you runit running at peak effeciences. |
We get calls from our customers wondering what the differences are among all the different phase converters on the market. Granted they all do the same basic job of turning your single-phase power into three-phase power, but the quality of the power and the efficiency isn't always there. With American Rotary's industry leading designs and technology, you will be producing the cleanest and most balanced three-phase on the market and you will be doing it very efficiently and cost effectively as well.

There are a lot of features that set an American Rotary Phase converter apart from the rest. American Rotary's team is constantly doing research and development to constantly make sure that our phase converters are providing our customers with the best alternative three phase solution as well as making sure it is compatible with new equipment. We also take feedback from our customers to hear on ways the converter would work better for them. Here are just some ways how American Rotary is on the leading edge of phase converter technology.

VIT Generator- American Rotary worked with Baldor directly to design and engineer a custom soft starting idler generator. This idler features Variable Impendence Technology that uses a 1/3 of the inrush current of a comparable three phase motor of its size. This is a true soft starting feature that will make the phase converter much easier to start on your single-phase utility power. The idlers are also designed to produce a true three phase sine wave providing your equipment with a true three phase signal. By having a true three phase sine wave, this prevents harmonics from being in the line that are caused by distorted sine waves. On top of all this, the VIT Generator will run quieter, cooler, and more efficiently than a phase converter that is using a modified three phase motor as the idler. The custom designed VIT generator will operate at greater than 98 percent efficiency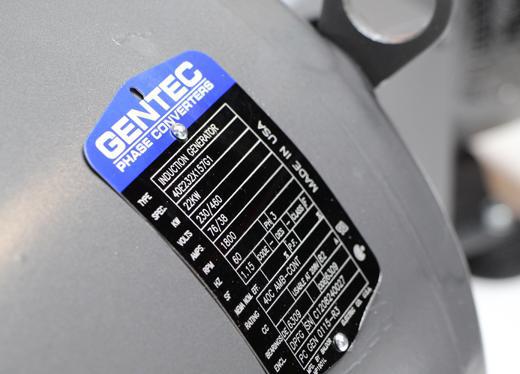 | | |
| --- | --- |
| | MicroSmart Controller- The American Rotary Digital Series (AD, ADX, AMP, AI) all feature our patented Digital MicroSmart Controller. This device monitors and controls the voltages across the three legs of power to ensure that clean balanced power is being produce and provided to your equipment. With the having the MicroSmart Controller, the phase converter will produce a three-phase power signal that is at a 5% or greater voltage balance across the three legs compared to standard utility that is typically around 10% balance. This is an ideal feature to have on your equipment, the cleaner the power is that your equipment is being provided, the more efficiently it will run. The more efficiently it runs, the less stress it is under and will last longer. This is an especially important feature to have when running voltage sensitive equipment such as CNC machines, Welders, Compressors, and other computer controls. |
| | |
| --- | --- |
| | CTR Technology- Featured on the ADX and AI series phase converter the CTR Coil allows higher currents to flow through the phase converter which will produce more torque and still maintain your current and voltage balance. This is an important feature to have when starting high torque or high inertia loads that have a hard start. This can be seen on air compressors, vacuum motors, elevators, and hoists just to name a few. With CTR Technology and allowing the more current to flow, this will help shorten the start time of your equipment which in turn puts less strain on your equipment. |
| | |
| --- | --- |
| | Expandable Design- With American Rotary phase converters you have the option to expand if your needs change. As time goes on and our businesses grow so does the number of machines required to run your business. With an American Rotary phase converter, we have designed the units so that you can expand your phase converter as your needs change. |
Customer support- One of the most important features that American Rotary has to offer is our industry leading support. During the sizing process one, of our Application Engineers will help guide you through finding which American Rotary phase converter will work best for your needs. But it doesn't stop there, American Rotary stands behind our products with the best warranties in the industries. You are able to reach a member of the American Rotary team during our after-hours support should any questions arise. American Rotary is available to our customers through many different channels; phone, email, social media, and online chat just to name a few.

As you can tell, there are many benefits with choosing American Rotary for your three-phase power needs. These are features that will make for an easy buying process for your phase converter, easy hook up, easy operation, and more importantly run your equipment safely how it is designed to be ran. Give American Rotary a call to see how these features will benefit you and the operation of your equipment. American Rotary is always here to help you make your American Dreams your Reality.