The Cycle Dolly
The Cycle Dolly is a one-person user-friendly motorcycle stand/mover. One person can load, move, and unload a motorcycle in a matter of minutes. Most people who own a motorcycle have to share a garage with a car or other items, the Cycle Dolly allows a person to put their cycle in a corner or up against a wall with a push of their hand! See our video on this page for a demonstration of how easy it is to walk-on and walk-off.
This is your Premium Top-of-the-Line Dolly
The really great thing about this dolly is the fact that the V Channel is set only ¾" off the ground, which makes for easy loading/unloading, and the V Channel holds almost any size tires so the thought of tipping is virtually non-existent.

You will not find a better Dolly anywhere.
The Cycle Dolly has an adjustable kickstand plate and will hold anything from a small Honda 150 to a full dress Harley Davidson. It is also made of ¼" steel with the Poly casters and will hold up to a 1500 lb. bike.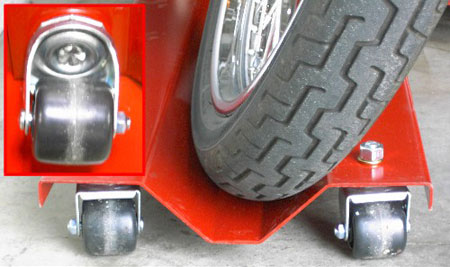 Durable all-steel V-channel construction secures the tires and kickstand preventing tip overs, while its 1800-pound capacity is distributed evenly over 10 ball-bearing swivel casters that allow for easy movement in any direction.
With an overall length of 82 inches and the adjustable kickstand arm, this will fit almost any bike. Perfect for short- or long-term storage. Works on smooth concrete surfaces as well as semi-rough pavement.
Cycle Dolly Features and Benefits:
All Steel construction

Fits almost any motorcycle

V-Channel sits just 3/4" off the ground

Walk your bike on with ease

1,500 lb. capacity

10 ball-bearing poly swivel casters

V Profile holds tires securely

Fully adjustable kickstand plate

Powder Coat finish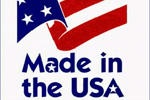 The Auto Dolly products and Specialty Tools are made right here in the USA. That means that we can make our products from the rugged materials necessary, without worrying about how much it will cost to move those materials across an ocean. This allows us to deliver a far more durable product and get it into your hands faster.