| | | |
| --- | --- | --- |
| | | |
| The engine stand has heavy duty, easy rolling casters attached to it for easy control of the stand | It tips-up to make post-crankshaft installation operations much easier. | The engine stand folds-up to save you valuable floor space in your shop or garage |
Fold and Tilt Engine Stand
We wanted an engine stand that would do two things: Fold-up into a small, easily transportable unit AND tilt-up to make many engine rebuilding and painting operations easier. A logical desire, except for one thing: Nobody made one. So we made one for ourselves. It worked so well, and offered so many advantages that when a racing friend saw it, he had to have one.
Features:
Folds-up for space-saving storage and portability

Can hold the engine: vertically, horizontally, and at a 45 degree angle

5 ball detent pins: 2 for the folding legs, 1 for the fold-down/up mast, 1 for the engine mount tip back, 1 for the engine mount rotation angle

Heavy duty, easy rolling casters

Fold out radius of legs: 32 inch

Fold up distance tot op of engine stand plat: 40 inch

Folded Down dimensions: 14 X 40 x 18 inch

Approximately 125 lbs.
The Fold-up Engine Stand is a tremendous improvement over traditional engine stands in two important ways:
It tips-up to make post-crankshaft installation operations much easier. Installing the pistons and connecting rods and engine painting are just a few of the operations that you will find become so much easier in the tip-up position.

When not in use, it folds-up to save you valuable floor space in your shop or garage. Two of the support legs fold up against the third leg (with casters still in contact with the ground for easy rolling. Then fold the support stalk down and the entire engine stand can be hung on a wall, or leaned up against a wall out of your way.
"I've never seen an engine stand where it has an option to raise it vertically. It's great to be able to look at the whole engine without having to bend over. Plus, you can rotate the engine to get access to any area."
Folding Engine Stand: M998088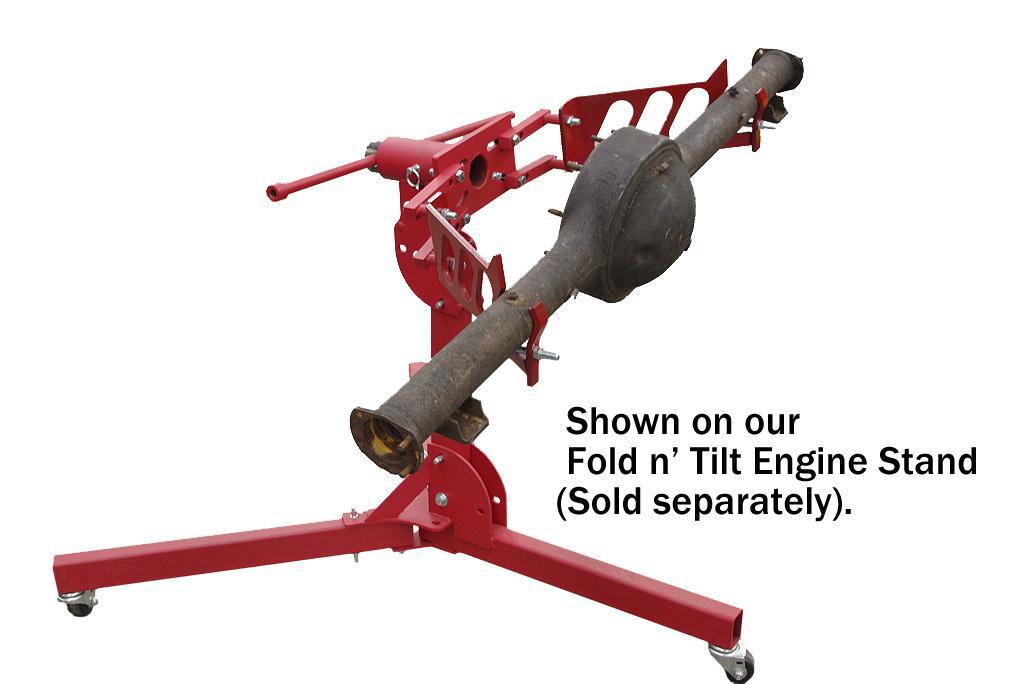 Rear Axle Adapter
The Rear End Axle Adapter allows you to convert any ordinary engine stand into a powerful and versatile axle workstation. Get double duty from your engine stand! The Engine Stand Axle Adapter allows you to securely hold an axle or transaxle at a comfortable height. Pivot the axle or rotate it within it's holder to facilitate easy access to the part on which you are working or painting. Fits virtually every engine stand available. Just bolt it on and go to work!
Attach to any standard engine stand to have a fully functional axle workstation
Jaws adjust to hold almost any axle configuration
Features:
Holds work securely at comfortable working levels and angles

Jaws adjust to hold almost any axle configuration

Takes advantage of the flexibility and manuverability of your engine stand

Allows you to inspect and service rear gears, wheel bearings, brakes and replace components without getting down on the shop floor.
Specifications:
Includes all necessary hardware

Made of rugged 1/4 inch plate steel
"This axle adapter is well made, simple solution for all your rear end rebuilding needs. Before I purchased this product, I was using a home made wooden stand which was stationary. Now, with this adapter, I can get every angle of the axle and move it around the garage with ease."
Rear Axle Adapter: M998084
| | | |
| --- | --- | --- |
| | | |
| Attach the Hood Picker to any Cherry Picker for one-person installation of a car hood. | Folds up for easy storage when not in use. | Hood Picker will attach easily to your cherry picker (cherry picker not included). |
Hood Picker
Attach the Hood Picker to your engine hoist and one person can easily remove (and install) vehicle hoods and trunk decks. Position the "fingers" and adjust the pivoting tilt and then remove the bolts. The hood or trunk is now held securely by the Hood Picker. Roll it out of your way. Reinstall by reversing the steps. Your life just got easier!
Features:
Universal design: installs on most cherry pickers

Easy installation

One-man operation

Heavy Duty construction

Adjusts to nearly any hood

Useful for both hood removal and installation
Specifications
Length (open): 60 inch

Length (closed): 35-7/8 inch

Maximum width (open): 36 inch

Weight: 12 lbs
Hood Picker: M998090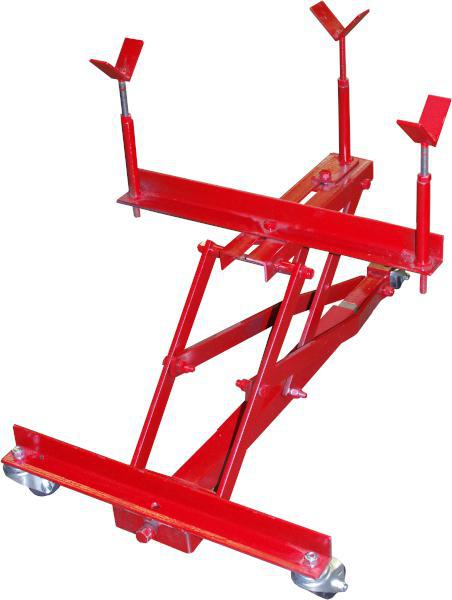 Axle Lift
Tired of trying to balance a differential on your chest or a jack because there is nothing made to hold it. The new Axle Lift can take a load off for you!
Position the Axle Lift under any differential with a weight less than 350lbs and using a regular drill or impact, run the lift up to the differential and drop the differential onto the lift.
The Axle Lift has adjustability for offset pumpkins and variable height adjustment. Work Smarter Not Harder with our Axle Lift. Sits on 3 heavy duty 2 inch casters with an adjustable height of 5 to 19 inch for the Axle Lift and an additional 6 - 10 inch of adjustment on the V cups.
As always all of our products are made in the U.S.A.
Features:
Holds up to 300 lbs.

Use any standard drill or impact to raise or lower quickly

American Made

Holds most sizes of axles
Axle Lift: M998068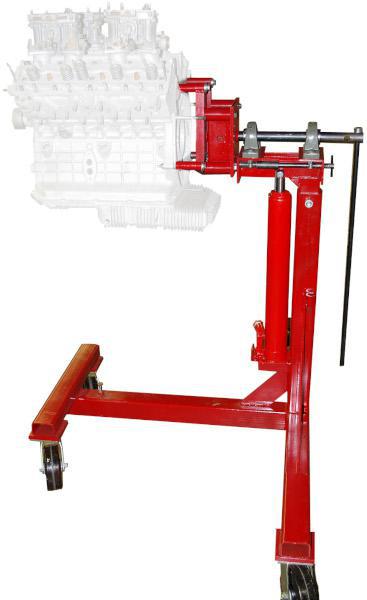 Engine Stand Adapter for Rotisserie
The Engine Stand attaches to a Base Stand Assembly to hold virtually any engine out there. The 4 arms are independently adjustable for virtually any bolt hole configurations. Takes advantage of all of the features our our E-Z Spin system. Rotate your work to the easiest angle. Makes painting engines a breeze!
Two Base Stand Assemblies are included in our Auto Rotisserie, but if you do not own an Auto Rotisserie or do not want to break it down in order use one of the other accessories.
Features:
Mounts easily on the E-Z Spin Auto Rotisserie

Full 360 degree angle capability

12 Multi-Angle Positioning Stops - 30 degree intervals
Engine Stand Adapter (for rotisserie): M998082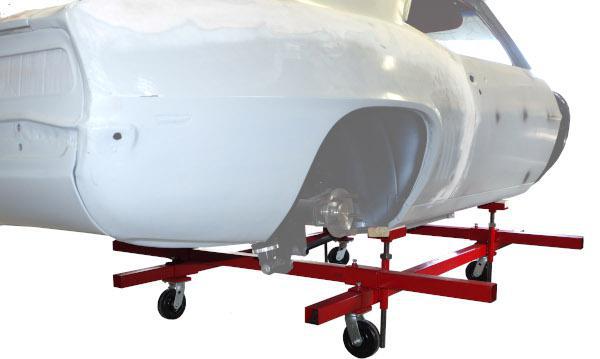 Merrick Body Cart
The Merrick Auto Body Cart allows you to easily move your auto body around your shop, garage, or anywhere else. The cart is specifically made to keep the bodies square and secure while you move it.

The Merrick Auto Body Cart works well with the E-Z Spin Auto Rotisserie. Easily lower your car from the
rotisserie to the Body Cart.
Features:
Adjustable width: 0 to 7 feet
Adjustable length: 0 to 8 feet
Adjustable height: 18 to 24 inch
4, 6 inch Phenolic Casters
1800 lb. weight capacity
Painted red
Body Cart: M998091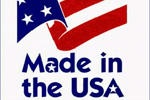 The Auto Dolly products and Specialty Tools are made right here in the USA. That means that we can make our products from the rugged materials necessary, without worrying about how much it will cost to move those materials across an ocean. This allows us to deliver a far more durable product and get it into your hands faster.