The Super Duty Dolly
Originally designed for a customer who need to move an over-sized load, the Super Duty Dolly is a specially reinforced version of our 16 inch Dolly that also features SIX high capacity casters.
Like all of our casters for The Auto Dolly, the standard caster contains a mar-resistant polyolefin wheel that also features a crown profile. The crown profile wheel means less rolling resistance in contact with the ground. The wheel profile also helps to pinch small debris out of the path, rather than coming to a screeching halt.
Like the entire line of The Auto Dolly, the Super Duty Dolly is made of super-strong 1/4 inch steel not flimsy stamped steel. Unlike the Standard and Heavy Duty Dolly, the Super Duty Dolly is given an extra layer of strength and two more casters. This means that an individual Super Duty Dolly has a weight capacity of a whopping 1500 lbs (3000 lbs per pair, 6000 lbs per set of 4).
The Auto Dolly has quickly become one of the handiest tools in garages, shops, and showrooms across the country. It was designed to allow one-person to move automobiles, trucks, boats and trailers, lawn mowers, jet skis, motorcycles, airplanes, and most other heavy vehicles with ease. Gain precious floorspace by moving items right up against a wall or into a corner!
The Auto Dolly is placed under each tire of the vehicle, making the vehicle a rolling cart that will now roll in any direction with ease. The large roller bearing casters make it simple for anyone to move the vehicle in any direction.
The Auto Dolly is available in 8, 12, and 16 inch widths and with either standard casters or higher capacity Heavy Duty casters.
The All-Steel Super Duty Dolly Features and Benefits:
4,200 lb. capacity per dolly

6 Heavy Duty Polyolefin casters won't mar floors

Fully assembled

Durable powder coat finish

Made of 1/4" steel plate

Sold as singles

Made in the USA

Shipping weight: 75 lb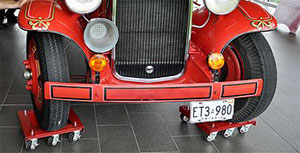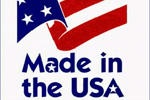 The Auto Dolly products and Specialty Tools are made right here in the USA. That means that we can make our products from the rugged materials necessary, without worrying about how much it will cost to move those materials across an ocean. This allows us to deliver a far more durable product and get it into your hands faster.