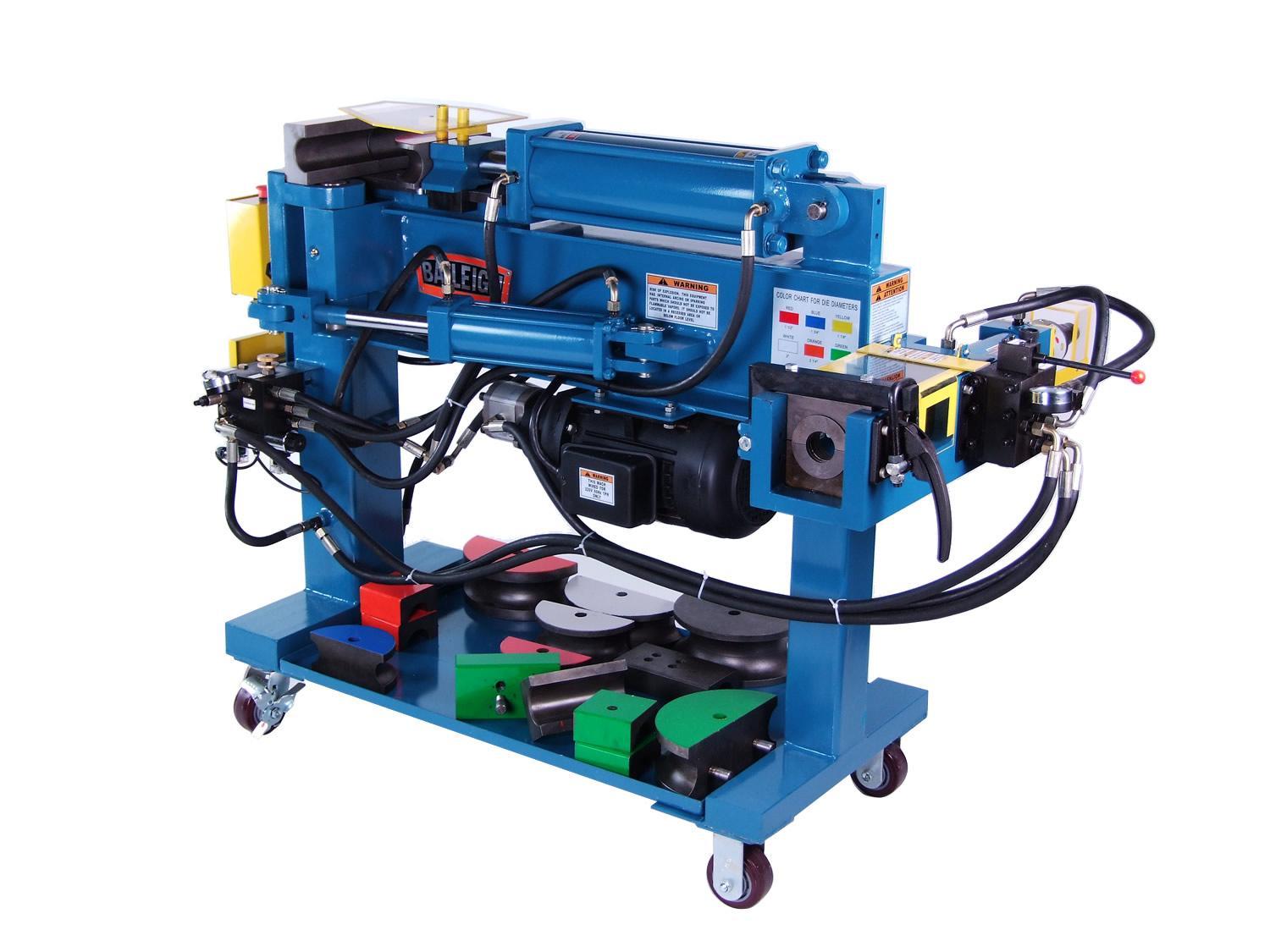 Includes Full Tooling Set Click here for details
EB-300 Exhaust Bender
Have an automotive repair shop that is constantly outsourcing your exhaust jobs because you don't have the right tube bender for the job? If that is the case look, at the EB-300 exhaust bender from Baileigh Industrial. This just might be tool you need to add profitability back to your jobs. The EB-300 exhaust pipe bender comes with everything you need to get started.
For bending, the EB-300 exhaust bender comes with standard radius tooling from 1-1/2 inch up to 3 inch OD (for 2-1/4 to 3 inch OD tubing 12 gauge mild steel wall thickness is required). The EB-300 exhaust pipe bender is considered a compression bender as it uses one large hydraulic ram to push the inside radius die into the compression assisted outside counter dies. The outside dies have two hydraulic cylinders that applies pressure at the point of bend on the inside radius die. The end result is that the machine can bend light gauge tubing without folding the material in half. The EB-300 exhaust pipe bender requires 220 volts of single phase power is operated using knee controls, allowing hands to be kept free for material control.
This exhaust tube bender also comes equipped with tube end forming station. This station includes tooling to expand, flare and swage the tubing. It also allows the operator to create ball joints and flanges.
The EB-300 exhaust tube bender comes filled with hydraulic fluid and has an oil sight glass to ensure the proper level is maintained at all times. A useful tooling tray is standard as well so the tooling stays with the machine instead of getting lost in a busy auto shop.
Baileigh Industrial exhaust pipe benders are well built to last for decades of profitable production. For more information contact a Baileigh Industrial representative.
EB-300 Specifications
Item Number
EB-300
Motor Hp
4 hp
Degree of Bend (Max)
17210
Capacity Round OD (Mild Steel)
1-1/2 up to 3 inch OD (for 2-1/4 to 3 inch OD tubing 12 gauge mild steel wall thickness is required)
Max. Clr
5 inch
Power
220V / 1-phase
Shipping Weight
1640lbs
Shipping Dimensions (Inches)
69x32x53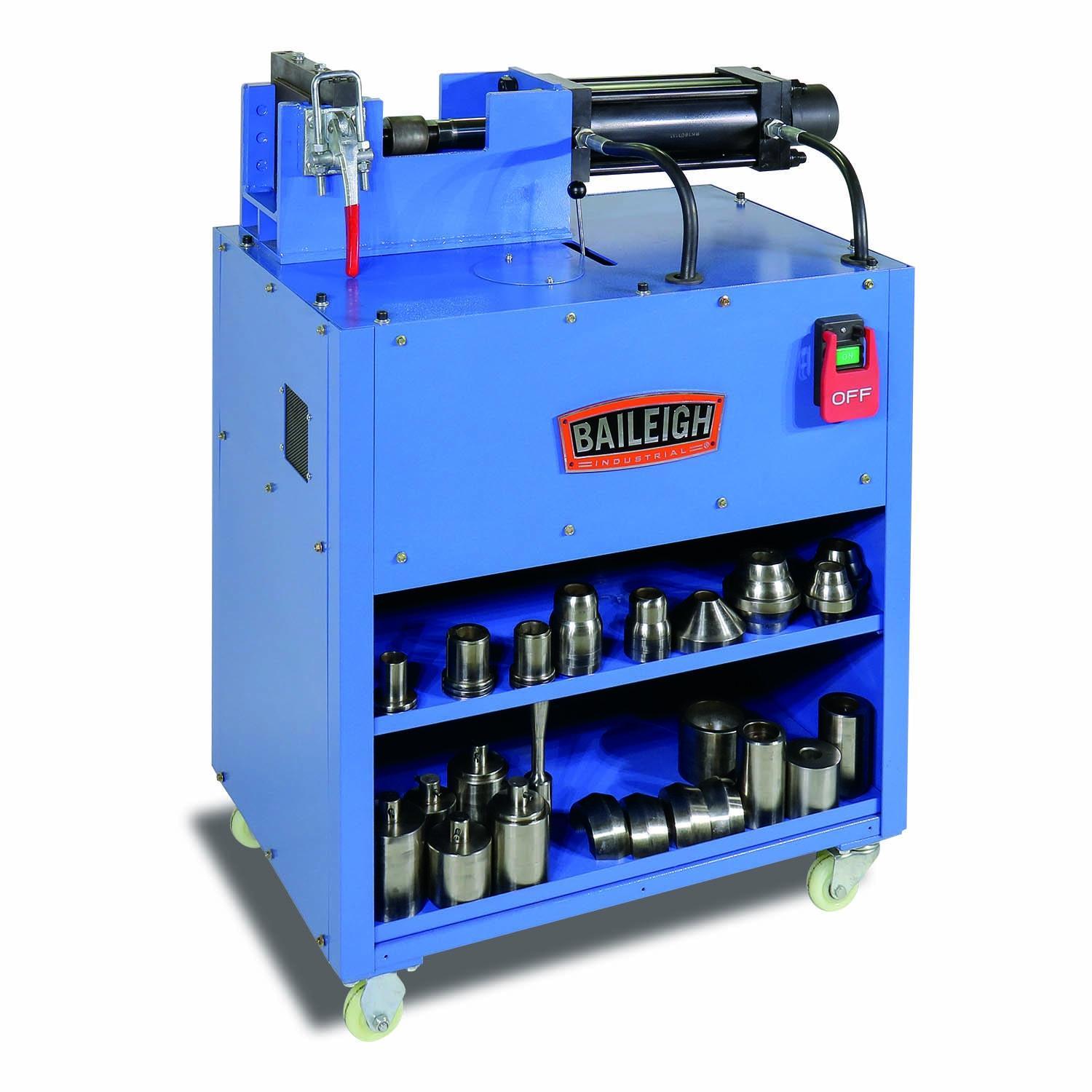 TE-300 Exhaust Tube Endformer
The TE-300 tube end-forming machine is a stand alone tool that will assist with end-forming on all types of light weight tubing and exhaust. This stand alone pipe forming machine is the perfect compliment to a busy repair shop that wants to end-form at the same time as bend, by allowing a second operator to do the forming function.
Features:
Perfect for Swaging, Expanding, Flanging, Reducing and Ball joints.
All tooling included.
Maximum capacity of 3" OD tube.
Sturdy tube clamping system for ultimate security.
Large 5hp motor helps with tougher jobs.
Easy-to-use numbered tooling to help get the job done quickly.
Convenient operation lever controls the movements of the machine.
Built on wheels for portability, push out of the way when not in use.
Backed by a 1-year parts warranty and lifetime technical support.
Included Tooling

1-1/2 inch

1-3/4 inch

2 inch

2-1/4 inch

2-1/2 inch

3 inch

Lock Collar/Collet

1 Set

1 Set

1 Set

1 Set

1 Set

1 Set

Reducer

1 PC

1 PC

1 PC

1 PC

1 PC

1 PC

Swage Expander

1 PC

1 PC

1 PC

1 PC

1 PC

1 PC

Deep Segment Expander

1 PC

1 PC

1 PC

1 PC

1 PC

1 PC

Flanger

1pc: 1-1/2 to 3 inch

Male Ball Joint

4pc: 1-3/4 inch, 2 inch, 2-1/4 inch, 2-1/2 inch

Female Ball Joint

2pc: 1-3/4 to 2 inch, 2-1/4 to 2-1/2 inch

Domer

1pc: 1-3/4 to 2-1/2 inch
TE-300 Specifications

Item Number

TE-300

Motor Hp

3 hp

Capacity Round OD (Mild Steel)

1-1/2 up to 3 inch OD

Power

220V / 1-phase

Shipping Weight

500lbs

Special Notes

All Tooling is Included!

Shipping Dimensions (Inches)

48x45x49