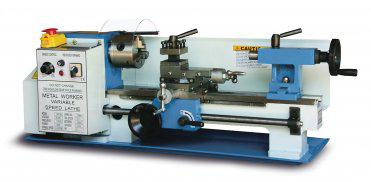 Bench Top Lathe - PL-714VS
The Baileigh Industrial PL-714VS, variable speed bench top lathe, is the perfect lathe for anyone who is working on small projects, but still wants the accuracy and precision of a larger lathe. The PL-714VS has a 7 inch swing and 14 inch between the centers making it one useful tool.
This little mighty mite is loaded with features, 110V, 3 and 4 jaw chuck, steady and follow rests, splash guard, digital readout for spindle speed, and much more. Even better, it is priced at a point that anybody with a home garage shop can afford.
Contact a Southern-Tool representative for more information.
Specifications

Model

PL-714VS

Chuck Diameter

3.15 inch

Tool Slide Travel

1.378 inch

Spindle Accuracy

.001 inch

Range Of Metric Threads

0.5 - 2.5 mm

Spindle Bore

.75 inch

Range Of Inch Threads

12 - 52 T.P.I.

Motor

3/4 hp

Spindle Speed

100 - 2500 rpm

Spindle Taper

MT 3

Taper Of Tailstock Quill

MT 2

Max. Swing Over Bed

7 inch

Cross Slide Travel

2.559 inch

Power

110V / 60Hz

Shipping Weight

93 lbs.

Distance Between Centers

14 inch
specifications subject to change without notice.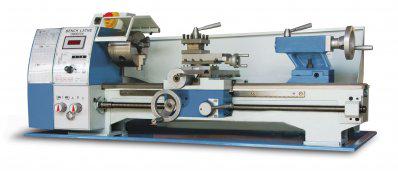 Baileigh Industrials PL-1022VS variable speed bench top lathe was developed from the MLD-1030. The PL-1022VS lathe features adjustable RPM from 50-2000 and includes a digital read out for accurate cutting speed. The PL-1022VS also features a powerful 110V 1HP motor that allows you to operate anywhere there is a standard electrical outlet. Steady rest, follow rest, three jaw chuck, and four jaw chuck are just a few of the options that come standard on this bench top lathe.
Built for years of use, the PL-1022VS has ground and hardened ways. All components on this bench top lathe are of the highest quality.
In stock and ready to ship the PL-1022VS table top metal lathe should be on any small machine shops list of must haves. For more information on any of the great Baileigh Industrial products, contact a knowledgeable sales representative
Specifications

Model

PL-1022VS

Spindle Speeds

50-2000 rpm (Variable)

Chuck Diameter (in)

4.92

Tool Slide Travel (in)

1.89

Spindle Accuracy (in)

.001

Range Of Metric Threads

0.4 - 3.4 mm

Spindle Bore (in)

1

Range Of Inch Threads

8 - 56 T,P.I.

Motor

1 hp

Taper Of Tailstock Quill

MT 2

Swing Over Bed (in)

9.75

Power

110V

Shipping Weight

403 lbs.

Shipping Dimensions

46x22x23