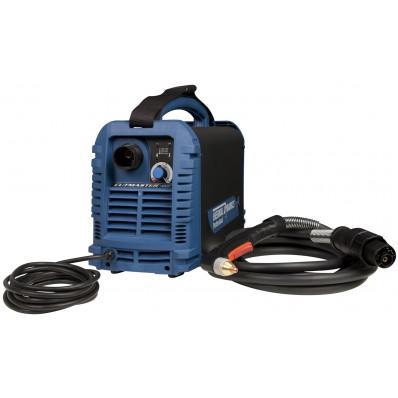 PT-Cutmaster 42M
Made in United States
5/8 inch Maximum Cut
The Thermal Dynamics Cutmaster 42 Plasma Cutter is one of the most affordable, highest quality 1/4 inch cutting capacity plasma systems available. The Cutmaster 42 has the power to cut all day long at its recommended cutting capacity but gives you that extra cutting punch when you need it.
Features
Industry leading 4-YEAR warranty

The only plasma cutter in its class that provides increased output power when switching from 120 volt to 230 volt input.

Competitively priced for the 1/4 inch (6mm) market, but with the cut capacity of a larger machine.

Features the new SL40 torch, based on the proven Surelok platform.

Vent2Shield allows the use of considerably smaller air compressors compared to similar 40 amp plasma cutters.

Greater cutting capacity than any 1/4 inch (6mm) plasma cutter. Cuts all day at 1/4 inch with the power to cut 5/8 inch.

Compact and lightweight, only 26 lbs. (11.8kg) for serious portability.

Only 40 amp unit on the market with quick disconnect torch and lead extensions.

Features two power plugs, one for the standard 120 volt outlet and another plug for a 230 volt outlet.
Comes complete with
Cutmaster 42 Plasma Cutter

All new SL40 torch with 15ft leads

Safety gloves and glasses

Instructional plasma cutting DVD

Extra spare parts

Heavy-duty carrying case

Power plug adapters