Band Saw BS-20SA-DM
Made in Taiwan
The BS-20SA-DM semi-automatic band saw has now evolved to the model that you see today. Many innovative features are now offered in this great package. The BS-20SA-DM is a dual mitering saw with capabilities to miter 45 degrees left and 60 degrees right with just flick of the wrist and a push or pull of the head. The BS-20SA-DM band saw also offers a great floor plan with a heavy duty in feed table and out feed table.
Available in 220V or 440V three phase, the BS-20SA-DM horizontal band saw requires a 1.25 inch band saw blade, making it an extremely accurate and fast cutting. This horizontal band saw comes standard with an inverter drive allowing for infinite blade speed adjustments for 69 to 306fpm. This allows the user to fine tune the proper speed for different materials like mild steel, bronze or aluminum.
The hydraulic descent pressure can be adjusted by the operator achieving faster cut times and longer blade life, depending on what material the operator is cutting. The return position of the metal cutting head can be altered to achieve faster cycle times between cuts, when cutting smaller dimensioned pieces.
Baileigh Industrial horizontal band saws are built to the highest quality standards on the market and will offer any fabrication or machine shop decades of precision sawing. Call a Southern Tool representative today!
Specifications

Return

Hydraulic

Miter Adjustment

Dual Miter Swivel Head

Miter Angle

0 - 60 degrees, 45 degrees L

Motor

3 hp

Capacity Rectangle 90 degrees

13 x 18 / 13 x 10.6 / 12.4 x 7.7

inch

Capacity Round 90 degrees x 45 degrees x 60 degrees

13 x 12 x 8.5

inch

Capacity Square 90 degrees x 45 degrees x 60 degrees

13 x 12 x 8.5

inch

Blade Guide

Carbide / Roller

Blade Size (H x W x L)

1.25 x .042 x 162.6

inch

Blade Speed (fpm)

60 - 306 Inverter Driven

Descent Control

Pressure Assist Hydraulic

Drive

Inverter Direct

Power Requirements

220V / 3-phase

Shipping Weight

2,156 lbs.

Shipping Dimensions

88.6 x 35.5 x 61.4 inch
* specifications subject to change without notice.

Looking for a good bio-degradable cutting fluid for your saws? We think we have what is the best, Code named B-Cool, this is the first saw coolant good enough for Baileigh Industrial to sell. B-Cool is a flood coolant formulated to assist in most metal cutting and machining operations on ferrous, non-ferrous and specialty alloys. B-Cool cutting fluid is non-chlorine, non-sulfur, non-phenol and non-nitrate based formula. Unlike other cutting fluids on the market Baileigh Industrial's B-Cool is a non-petroleum based product formulated with bio-degradable ingredients making cleanup a breeze.
Available in both 1 and 5 gallon quantities, B-Cool saw coolant will last longer than others on the market as well. It has a 20-1 mixing ratio, meaning more coolant for the money. The results of this cutting coolant have been superior and have allowed Baileigh Industrial to feel comfortable putting our name on it. B-Cool is designed for any machine that uses a flood coolant system for cooling.
American Made Band Saw Blades
We have been manufacturing band saw blades sine 1926!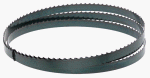 Order custom bandsaw blades here - We have been manufacturing Since 1926!