Semi-Auto Bandsaw BS-260SA
Made in Taiwan
Based on the BS-260M the BS-260SA semi-automatic band saw offers more production and faster turnaround times. The reason that a semi-automatic saw is good for more production runs is that the clamping of the material as well as the raising a lowering of the saw head are automatic and controlled by a foot pedal. This is all controlled by a industrial grade hydraulic system that runs on 220 Volt Single phase power.
The BS-260SA is a variable speed saw that has an AC inverter to control the speed of the motor. This is big improvement over the old DC driver board set up. Inverters offer more reliability and longer life.
The gear driven BS-260MSA is a 9 inch Band Saw is the perfect saw for cutting at 90 degrees or miter angles. This saw has a dual angle head capable of cutting 0-60 degrees (R) and 0-45 (L), making it one of the most versatile saws on the market. Quick releases head lock allows the operator to change the miter angle in seconds.
Built rock solid the BS-260SA has a full cast iron bow and pivot head and heavy duty reinforced sheet metal base. When combined these features make for an extremely rigid platform that will ensure the straightest cuts. A coolant system and hydraulic blade break switch are also standard on the BS-260SA
The BS-260SA semi-automatic band saw will give you years of productivity on any condition. For more information on the BS-260SA band saw, contact a Southern Tool Industrial representative.
Resources Click on a link to download resources.

Horizontal and Vertical Band Saw Catalog
Specifications
Return
Hydraulic
Miter Adjustment
Dual Swivel Head
Miter Angle
0 - 60 degree, 45 degree L
Motor
High Torque 1.1Kw (AC)
Motor Hp
1.5
Capacity Round 90 x 45 x 60 x 45L
8.93 x 5.9 x 3.54 x 4.33 inch
Table Height
35 inch
Capacity Rectangular 90 X 45 X 45L
10.59 x 4.33 x 7.87 x 4.92 x 6.3 x 4.33 inch
Capacity Square 90 x 45 x 60 degree
8.66 x 5.7 x 3.34 x 4.33 inch
Blade Guide
Carbide x Roller
Blade Size (H x W x L)
1 x .035 x 96.85 inch
Blade Speed (fpm)
66 - 280 Variable
Descent Control
Pressure Assist Hydraulic
Drive
Gear
Power
110 / 220V, 1-phase
Shipping Weight
890 lbs.
Shipping Dimensions
62 x 44 x 63 inch
specifications subject to change without notice.

Looking for a good bio-degradable cutting fluid for your saws? We think we have what is the best, Code named B-Cool, this is the first saw coolant good enough for Baileigh Industrial to sell. B-Cool is a flood coolant formulated to assist in most metal cutting and machining operations on ferrous, non-ferrous and specialty alloys. B-Cool cutting fluid is non-chlorine, non-sulfur, non-phenol and non-nitrate based formula. Unlike other cutting fluids on the market Baileigh Industrial's B-Cool is a non-petroleum based product formulated with bio-degradable ingredients making cleanup a breeze.
Available in both 1 and 5 gallon quantities, B-Cool saw coolant will last longer than others on the market as well. It has a 20-1 mixing ratio, meaning more coolant for the money. The results of this cutting coolant have been superior and have allowed Baileigh Industrial to feel comfortable putting our name on it. B-Cool is designed for any machine that uses a flood coolant system for cooling.
American Made Band Saw Blades
We have been manufacturing band saw blades sine 1926!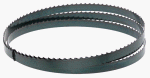 Order custom bandsaw blades here - We have been manufacturing Since 1926!