Semi-Automatic Band Saw BS-330SA
Made in Taiwan
The BS-330SA semi-automatic bandsaw from Baileigh Industrial is based off of the BS-330M that has has been a mainstay in our lineup since it was introduced in 2005. Because of its great history, this saw will provide years of trouble free use in any environment. The BS-330SA uses an industrial grade hydraulic system to clamp the vise, lower the head, and raise the head back up after the cut is done. This system greatly improves productivity.
The blade is powered by a 3 hp motor the t runs on 220 volt 3 phase power for the best reliability on the market. The Blade speed on the BS-330SA is variable form 82 to 270 feet per minute. This allows the operator to set the speed at the perfect fpm for the material being cut. With its maximum capacity of 13 inch OD round and up to 13 x 18 1/2 inch rectangle when stood upright, the BS-330SA will handle just about any task. A large 1-1/4 inch blade runs through tungsten carbide blade guides for a more precise cut, both are standard issue on the BS-330SA.
The BS-330SA semi-automatic bandsaw features a mitering head that can go to 45 degrees. Like most bandsaws from Baileigh Industrial, the mitering head and bow are made from heavy duty cast iron to reduce vibrations during the cutting process. A laser pointer and large capacity flood coolant system round out the list of impressive features on the BS-330SA.
Contact a Southern Tool Industrial representative for more information. The BS-330SA is typically in stock for quick deliveries.
Resources Click on a link to download resources.

Horizontal and Vertical Band Saw Catalog
Specifications

Return

Hydraulic

Miter Adjustment

Swivel Head and Vise

Miter Angle

0 - 45 degree

Motor

3 hp

Capacity Rectangular 90 x 45 x 45L

13 x 18.9 x 11 x 10.04 inch

Table Height

30.5 inch

Capacity Round 90 x 45 degree

13 x 8.86 inch

Capacity Square 90 x 45 degree

13 x 8.86 inch

Blade Guide

Carbide x Roller

Blade Size (H x W x L)

1.5 x .043 x 161.4 inch

Blade Speed (fpm)

82 - 270

Descent Control

Pressure Assist Hydraulic

Drive

Belt x Pulley

Power Requirements

220V / 1-phase

Shipping Weight

3,650 lbs.

Shipping Dimensions

90 x 37 x 61 inch
specifications subject to change without notice.

Looking for a good bio-degradable cutting fluid for your saws? We think we have what is the best, Code named B-Cool, this is the first saw coolant good enough for Baileigh Industrial to sell. B-Cool is a flood coolant formulated to assist in most metal cutting and machining operations on ferrous, non-ferrous and specialty alloys. B-Cool cutting fluid is non-chlorine, non-sulfur, non-phenol and non-nitrate based formula. Unlike other cutting fluids on the market Baileigh Industrial's B-Cool is a non-petroleum based product formulated with bio-degradable ingredients making cleanup a breeze.
Available in both 1 and 5 gallon quantities, B-Cool saw coolant will last longer than others on the market as well. It has a 20-1 mixing ratio, meaning more coolant for the money. The results of this cutting coolant have been superior and have allowed Baileigh Industrial to feel comfortable putting our name on it. B-Cool is designed for any machine that uses a flood coolant system for cooling.
American Made Band Saw Blades
We have been manufacturing band saw blades sine 1926!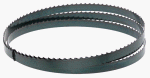 Order custom bandsaw blades here - We have been manufacturing Since 1926!