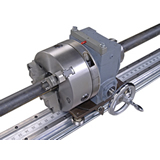 Rotary Indexing Table
What is the perfect complement to any computer controlled Baileigh Tube and Pipe Bender? A rotary indexing table, of course.
A Baileigh Industrial tube bender fitted with a rotary positioning table allows for accurate bends in varying planes, as well as consistent measurements between bends. Available for the RDB-250, 325, and 350-TS, the tables are available in lengths of 5, 10, 15, and 20', there is a table perfect for any size shop. Only have some jobs that would require the rotary indexing table, it can be attached or taken off of the pipe bender with ease.
The table comes with an 8" three jaw chuck with 2-1/2 inch thru hole that allows for longer pieces of tubing than the table length. Chuck can handle up to 4-1/2 inch OD. The minimum OD is 1/4 inch. The table has a linear indicator strip so the operator can set up accurate distances between bends. Mechanical stops can be positioned for the start of each bend. Using the mechanical stops is very beneficial for repeatability on bigger production runs. Another nice feature of the table is that the positioning carriage rolls on a precision V block rail and rides the rail using V-block bearings. These bearings are placed on eccentric shafts, which allows for tolerance adjustment allowing the most accurate results.
For more information, please contact Baileigh Industrial at 800-458-3687
Click on part number below to be directed to pricing table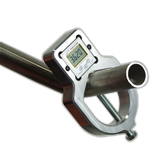 Angle Finder AF-360D
ANGLE FINDERS INSTANTLY IMPROVE ACCURACY WHEN TUBE BENDING ON VARYING PLANES! WORKS WITH ANY BRAND OF BENDER!
The AF-360D angle finder or tubing bender plane of bend degree indicator is a must for any fabricator who is working with hand railing, auto chassis, etc., anything that requires an accurate rotation of the previous bend completed, before performing the next bend. A tube or pipe bender that has a positioning table is complimented with the attachment of an AF-360D angle finder. When bending complex exhaust with multiple bends on varying planes (if you can imagine rotating the tube up into the air and then down again to clear a drive shaft or suspension). There is also a benefit when bending hand railing to rotate pipe 32° for the stairwell pitch. Knowing where the plane of bend is exactly saves time and materials, and increases profit to the tubing bender
Attach the AF-360D to the following end of tube or pipe before bending, complete a bend and rotate material accurately to desired degree and before next bend.

Digital indicator accurately detects where plane of bend is within total 360 ° rotation in 180° increments.

Fits 3/4" OD, up to 3.5" OD

Ensures that pipe or tube stays on a level plane.

Immediate payback due to material savings when tube bending.

Perfect for all applications that require more than one bend in material.
Click on part number below to be directed to pricing table
Angle Finder / Radius Gauges
ORG-3600
Outside Radius Gauge
IRG-3600
Inside Radius Gauge
AF-360D
360 deg. Digital Angle Finder

(must be purchased with AF-360D-Holder)

AF-360D-HOLDER
Clamp and Holder for AF-360D Angle Finder
Universal Bending Plate
These types of machines can bend with standard tooling and be limited to bend only up to 206 degrees when standard tubing and pipe dies are being used. However, if the fabricator needs to bend solid bar or rounds to into various shapes, then the RDB electric programmable controllers can bend in either direction using the UBP-1200 universal bending plate.
The UBP-1200 universal bend plate is made from solid steel for long life and comes with the plate that gets bolted to the drive plate on the universal bender. It comes with a round center die, removable pin for start and stop of bend, as well as the roller counter die assembly. With multiple holes drilled and tapped throughout the plate the fabricator has endless capabilities on one simple tooling set.
Call your Baileigh representative to find out more about the universal bend plate option for your universal bender with electronic programmable controllers. We typically have this in stock for same day shipments. Of course confirm that this option will work with your model of machine before ordering.
Click on part number below to be redirected to pricing table
Bend Tech - Tube and Pipe Bending Layout Software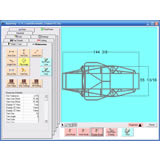 Baileigh Industrial now offers two versions of its popular Bend Tech® tube and pipe bending layout software, Bent Tech-Pro® and Bend-Tech SE®. This tube bending software helps the fabricator design profitable pipe and tubing designs, saving set up costs (material waste) on any brand of bender, but is esspecialy helpful when using our RDB line of benders. This layout software can be learned in minutes and will save the any shop that has to bend tube and pipe tons of money in material savings.
Some of the features of the Bend-Tech line are as follows:
Easy Design Input
Pick Points for Dimensional Placement
Parametric Style Interface
CLR or Inside Radius (adjustable for each bend)
Bend Allowance and K-factor available Rotate Sections to Create a True 3D Part
Material Data Base
Parts are Placed in a Data Base for Future Retrieval
Graphical Part Recall
Help Functions are Fully Video Scripted (Learn BEND-TECH in 30 Minutes)
3D Shaded Model can be Rotated Dynamically
Create prints of the Dimensional Model, Shaded Model, Flat Layout and Title Block/li>
Flat Development for Cut Length and Bending Locations
Dimension; Start of Bend, End of Bend and Center of Bend, from either Direction.
Dimension with Decimals or Fractions
Flat Includes Bending Data, such as, Bend Angles, CLR or Inside Radius, Rotation Angle, and Bend Order
Preferences; Colors, Text Sizes and Arrow Sizes are Saved in User Definable Databases
Our tube bending software (program) helps the fabricator layout (design) profitable pipe and tubing designs saving set up costs (material waste) on any brand of pipe bender.
Another nice feature of Bend-Tech is its tube notching templates. Bend-Tech creates cutting wrappers for your notching. The wrappers are created from your assembly design, using your printer, showing the fishmouthing profile and calibration lines for linear and rotational placement around the tube allowing for precise notches every time.
Click on part number below to be redirected to the pricing table
B-LUBE - TUBE AND PIPE BENDING LUBRICANT
Available in 8, 16, and 32 oz bottles

B-Lube is a synthetic gel formulated as a lubricant for draw bending tube and pipe. It forms a high strength lubricating film on the mandrel and ID of the tube that will not slump or run off, even under high temperatures. B-Lube was developed for bending and end-forming automotive exhaust tubing. It is recommended for use on steel, stainless steel, 409 SS, and 409 aluminized SS tubing. For bending aluminum mix one part of petroleum oil or vegetable oil based drawing compound to 2-3 parts B-Lube.
USAGE
B-Lube should be used as a concentrate for difficult bending operations. For lighter duty bending, it may be diluted up to 3 to 1 with water. It can be applied by hand or through automatic mandrel rod lubrication systems capable of pumping higher viscosity fluids or greases. It is important to maintain sufficient lubricant on the tool to keep it liquid and to prevent it from "drying-out". B-Lube is easy to clean in a mild cleaner.
BENEFITS
Contains No Hazardous Ingredients

Contains No Petroleum Oil

Does Not Contain Chlorine or Sulfur

Spreads Evenly and Does Not Run From High Temperatures

Cleans Easily in Low Temperature Water Base Solutions

Can be Welded Through Without Cleaning

Is Environmentally and Operator Friendly
Click on the part number below to be redirected to the pricing table
Bend Lubricant
B-LUBECP
8oz Biodegradeable Bend Lube
B-LUBEPT
16oz Biodegradeable Bend Lube
B-LUBEQT
32oz Biodegradeable Bend Lube