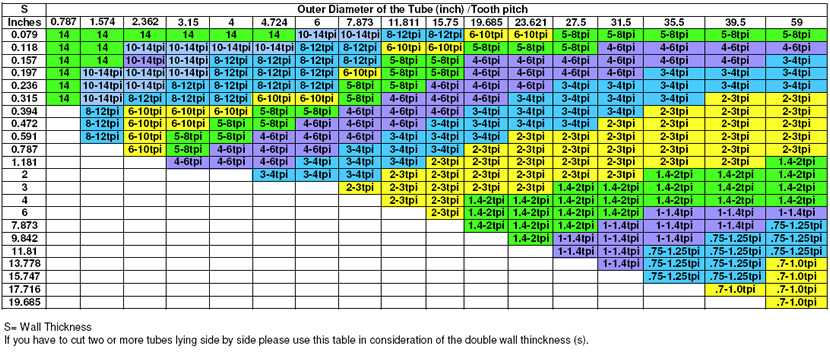 Southern Tool
Call Toll Free:
1-800-458-3687


Since 1926!

Custom welded bandsaw blade price calculator

Please use this Bandsaw Calculator for Bandsaw Prices.
Minimum Size 64 1/2" Blade.
We require minimum order of 3 pieces.
(Ground UPS) Add $12.50 for Freight (on 3 blades) Plus $1.50 for each additional blade.
(Second Day Air) Add $29.95 for Freight (on 3 blades) Plus $1.75 for each additional blade.
(Next Day Air) Add 39.95 for Freight (on 3 blades) Plus $2.50 for each additional blade.
Take 10% off on 15 or more blades.
Blades Ship Usually Within 48 Hours!
Print Results Page & Call or E-mail your Order TODAY!
Bandsaw Grades and Styles

Flexback

The most common and inexpensive material. The teeth are hardened but the edge opposite the teeth (the back) is not hardened. Hence "flexback". Good for Ferrous Metals, Wood, Plastic, Aluminum and other non-ferrous metals.

Hardback

Same as flexback except the back is hardened. Useful in applications where there is heavy feed, particularly on horizontal metal-cutting machines. Good for Ferrous Metals, Wood, Plastic, Aluminum and other non-ferrous metals

Bimetal

The edge where the teeth are created first has a strip of High Speed Steel electron beam welded to it. Then the teeth are milled or ground leaving the HSS only on the points but not in the gullets where its hardness would cause the blade to break. Useful in high production or difficult to cut materials. Good for all materials - particularly Stainless Steel.

Bimetal M42 or Cobalt

Same process as above except the HSS is of a grade that has more wear and heat resistance. Although it is often called "Cobalt" both grades have the same percentage of cobalt but the element that actually makes the difference is unpronounceable. Best for Stainless Steel and other hard to cut materials.

Knife edge

Needs no explanation except that it is Used on paper, foam and similar materials.

Wavy Edge

The cutting edge has a sinusoidal like shape. Useful on foam.

Scolloped

A wide, shallow "U" shape that comes to a point. Useful as above but the points make it more aggressive. Useful on foam.

"V"

Really aggressive on foam. Instead of having one tooth every inch as Wavy or Scolloped there are 10 or 14 teeth every inch. Useful on foam.

"V" double edge

Same as above except there is no smooth edge. Useful for making intricate patterns requiring backing out. Useful on foam.

Carbide grit, Diamond grit

The application for these types is abrasive materials when nothing else will work. Diamond should not be used on ferrous metals because the affinity of the carbon in the diamond and metal microscopically dissolves the diamond! Used on ferrous metals

Butcher and Fish band

A thin blade that is distinctively shiny and is not protected with any oils.
Cutting mild steel or annealed material you would want no less than 3 teeth touching the material or no more than 24. The ideal amount of teeth touching the material at one time would be 6-12. When picking the correct tooth count you also want to consider the wall thickness too aggressive of a tooth count will case the teeth to get catch in the side walls and you will break your teeth. Too fine of a tooth count will only cause a problem when you are cutting through the top or bottom of your material. This can cause premature blade wear or motor failure.
Conditions that will influence pitch selection:
Soft materials require less teeth and more gullet capacity.
Hard materials require more teeth to share in the work and less gullet.
Machine capabilities. Constant feed machines can use a coarser pitch. Gravity feed machines will require a finer pitch.
Please remember that there are Proper Techniques for All Types of Shapes.
Please Call 800-458-3687 for help in choosing the correct blade for you application.
Diagnosing Cutting Issues with Band Saw Blades
Premature and Excessive Tooth Wear
Feed pressure too light, increase it Lower band velocity
Improper tooth selection, use a finer pitch
Improper break-in with new band. Velocity and feeding should be reduced the first few cuts
Teeth are running the wrong direction. Be sure teeth are pointing in proper direction
Incorrect saw guide insert size for the band, allowing them to strike teeth
Band Stalls in Work
Feed pressure too great - decrease feed
Teeth too coarse, use finer tooth blade
Blade Making Belly-Shaped Cuts
Increase tension
Adjust guides closer to work piece
Teeth too fine - use a coarse pitch
Decrease feed force
Teeth dull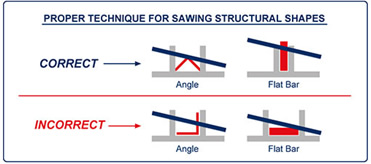 There are no further details.
There are no further specifications.
There is no further information.
There are no listed accessories.