Click here to download product manual
Click here to download product literature
Shore Hardnesss Durometer
The PosiTector SHD Shore Hardnesss Durometer is a handheld electronic instrument that measures the indentation hardness of non-metallic materials. Two durometer models are available for different hardness ranges - Shore A and Shore D.
Simple
Easy-to-read digital display

User-adjustable measurement time with onscreen countdown to conform to national and international standards

Flashing display - ideal for noisy environments

Enhanced one-handed menu navigation

RESET feature instantly restores factory settings
Durable
Solvent, acid, oil, water and dust resistant weatherproof

Shock-absorbing, protective rubber holster with belt clip

Hardened steel indentor

Two year warranty on body AND probe
Accurate
Certificate of Calibration showing traceability to NIST included (Long Form)

Auto Ignore mode disregards hardness readings below 20 and above 90 per international standards

Hi-RES mode increases displayed resolution to 0.1

Includes test block to verify operation

Conforms to national and international standards including ISO and ASTM
Versatile
Universal gage body accepts all PosiTector 200, 6000, DPM, SPG, and UTG probes easily converting from a coating thickness gage to a dew point meter, surface profile gage or wall thickness gage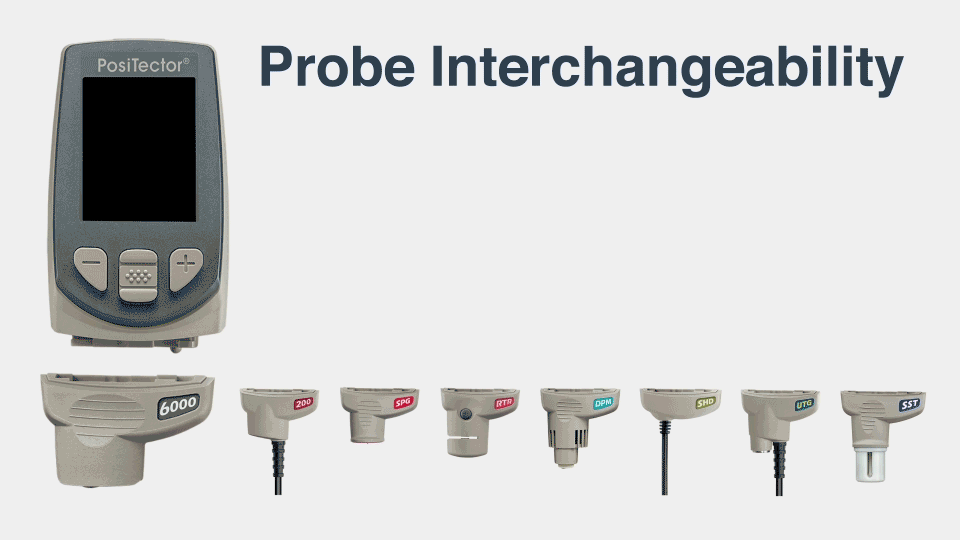 High contrast, reversible color LCD with backlit display

Selectable display languages

Flip display enables right-side-up viewing

Uses alkaline or rechargeable batteries (built-in charger)
Powerful
Continually displays/updates average, standard deviation, min/max hardness and number of readings while measuring

Screen Capture save screen images for record keeping and review

HiLo alarm audibly and visibly alerts when hardness measurements exceed user-specified limits

USB port for fast, simple connection to a PC and to supply continuous power

Software Solutions for viewing, analyzing and reporting durometer data:

PosiSoft USB Drive - stored readings and graphs can be accessed using universal PC/ Mac web browsers or file explorers. No software required

PosiSoft Desktop - desktop software (PC/Mac) for downloading, viewing, printing and storing measurement data. Available as a free download.

PosiSoft.net account - a free web-based application offering secure storage of thickness readings

PosiTector App - (Advanced models only) - Mobile app connects PosiTector Advanced instruments to your iOS or Android smart device.

Every stored shore hardness measurement is date and time stamped

Software updates via the internet keep your gage current
Shore A
Shore D
Order Code
SHD A1
SHD A3
SHD D1
SHD D3
Included Body

Standard

Advanced

Standard

Advanced

Included Probe

PRBSHDA

PRBSHDD

Typical Applications

Soft to hard materials such as soft rubber, elastomers, neoprene, silicone, etc.

Medium to extra hard materials such as hard rubber, epoxies, hard plastics, PVC, acrylic, etc.

Measurement Range

0 - 100

Accuracy
+ 1
Resolution

0.1
All Gages Come Complete with test block, protective rubber holster with belt clip, wrist strap, 3 AAA alkaline batteries, instructions, nylon carrying case with shoulder strap, Long Form Certificate of Calibration traceable to NIST, protective lens shield, USB cable, PosiSoft Software, two (2) year warranty.
Body Size: 137 x 61 x 28 mm (5.4 x 2.4 x 1.1 inch)
Weight: 185 g (6.5 oz.) without batteries
Conforms to ASTM D2240, ISO 868/7267/7619 and DIN 53505