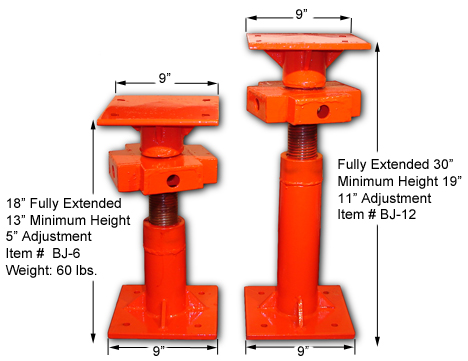 For a rugged and durable piece of hardware in the Ellis line, none get it done like the Ellis Bridge Jack / Modular Building Jack. With top and bottom plates measuring 1/2x 8x8 inch (BJ-3) or 1/2 x 9 x 9 inch (BJ-6 & BJ-12) for support, the Acme Screw is 2 and a 1/2 inch in diameter and greased for easy turning and capable of extending a full 2.5in (BJ-3), 5in (BJ-6) or 11in (BJ-12). For extra leverage, a 1 inch steel rod can also be used when turning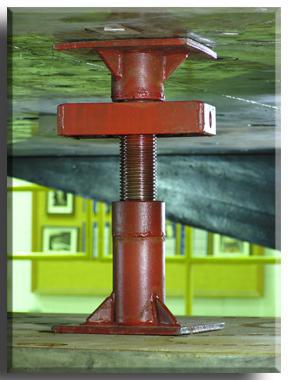 the screw. The Ellis Bridge Jacks while weighing 45 lbs. (BJ-3), 60lbs (BJ-6) and 70lbs (BJ-12) can support loads up to 80,000 lbs. The top plate has been attached to swivel freely, allowing the screw to be turned with ease. For added support, gussets on the top and the bottom plate have been added with full length welds. Also, 4 - 9/16 inch holes (spaced 1-1/2 inch OC from each edge) have been added to the Base and Top Plates to make securing it easy.

We tested the Bridge Jacks to over 200,000 lbs. before failure occurred! Pictured right is the BJ-6 inside the testing lab.

Although the Bridge Jacks were tested to over 200,000 lbs., we recommend applying a 2.5 to 1 safety factor when gauging the load capacity of these jacks. Therefore, DO NOT EXCEED 80,000 lbs. with either of the two Bridge Jacks. With this kind of hardware, it's no surprise that the Ellis Bridge Jack / Modular Building Jack can support loads up to 80,000 pounds. A favorite of contractors, they fit directly under concrete slabs or beams in tight spots, under homes or modular buildings as well as with timbers for shoring projects. Just install the Bridge Jack at its closed height of 10in (BJ-3), 13in (BJ-6) or 19in (BJ-12) and use the 2.5in (BJ-3), 5in (BJ-6) or 11in (BJ-12) of adjustment to screw it into position.

Search and Rescue teams also know the value of the Ellis Bridge Jack. With it's ability to fit in tight spaces to stabilize concrete slabs or steel beams, the Ellis Bridge Jack is a versatile tool for downed buildings and reinforcement in small areas. It is strength in a small package, when time is of the essence.
Models

Item Number

Item Name

Weight

BJ-3

Bridge Jack 10 - 12.5 inch

45.0 lbs.

BJ-6

Bridge Jack 13 - 18 inch

60.0 lbs.

BJ-12

Bridge Jack 19 - 30 inch

70.0 lbs.
There are no listed accessories.