CH140
EASY TO OPERATE * POWERFUL CHIP DISCHARGE * EASILY SERVICED
* INTERCHANGEABLE FEED CHUTES
Durable Design
The Valby CH 140 is the machine for people who have use for a small durable chipper. You know this machine was built to last because of the hefty 600 lb. weight. The heavy cutter disk carries a lot of inertia, which helps the chipper run smoother, is easier on the tractor, and enables bigger pieces to be chipped without stalling the tractor. The quality spherical roller bearings enable the chipper to be used at any PTO speed, up to 1000 RPM.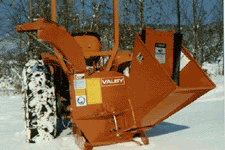 CH 140F with a direct feed
Ease of Operation
The low feeding point ensures effortless feeding of the chipper. The operator can stand with a straight back. The chipper stands by itself on the ground and is easy to hook up or remove from the tractor.
Safety Features
The Valby chippers do not have any knife motion toward the operator. This reduces risk of material flying back through the feed chute. The discharge height is under 4 feet so the chips fly out below eye level. To accomplish safe operation in various wind directions, the Valby chipper's discharge direction is adjustable 360 degrees. An adjustable deflector bonnet enables placing the chips near or far. The chipper feeds the material smoothly and does not jerk it from the operator's hands. The knives are counter sunk into the disk for safety.
Ease of Service
The upper-housing of the chipper folds up for easy access to the knives. The knives can be sharpened about 50 times before replacement. The changing of the knives takes about 10 minutes. The knives are easy to get to, and no special tools are needed for the change.
The discharge chute is low so the chipper can be stored in low buildings.