New! 680ES Petrol-Powered Concrete Chain Saw




Deep Cutting, Petrol Powered Saw
Built to meet the operation and flexibility demands of the general construction user, the 680ES stands alone in terms of reliability and value. Easy to start with a new multifunction lever to control choke, run, and stop functions. The distinctive black powerhead houses specially designed carburetion and ignition systems that work together to ensure easy starting, cooler operation and dependable performance at just about any elevation. Available with 12-inch (30 cm) and 14-inch (35 cm) guidebars and the entire line of MAX series diamond chain.
Polyester air filter designed specifically for wet cutting

Operates Euromax Bar and chain consumables up to 14 inch (35cm)

Multifunction lever controls choke, throttle advance, run and stop modes

Extended drive sprocket adapter offers easy chain assembly

Deep cutting solution for obstructed or small openings

Cut squares as small as 4 inch x 4 inch (10 cm x 10 cm)

Easy-to-start in all weather
Specifications

Engine Type

2-stroke, Air Cooled

Displacement

76.5 cc (4.7 cu-in)

Horsepower

3.7 kW (5 hp) at 9,500 rpm

Torque

4.1 Nm (36.3 in-lbs) at 6,500 rpm

Engine Speed

11500 +/- 500 rpm (max) / 2,800 - 3,200 rpm (Idle)

Chain Speed at Maximum Power

34.5 m/s (6800 ft /min)

Weight

9.5 kg (21 lbs) powerhead only

Dimensions

46 cm (18 in) length / 29 cm (11.5 in) height / 25 cm (10 in) width

Starter

Dust and water resistant

Ignition

Special water resistant electronic ignition

Fuel ratio

4 percent (25:1) gasoline-to-oil

Fuel Capacity

0.88 liter (0.23 gallon)

Water Supply Requirement

Minimum: 1.5 bar (20 psi)

Water Flow Requirement

Minimum: 4 lpm (1 gpm)

Guaranteed Sound Power Level, Lwa (1)

117 dB(A) (Kwa=3.0 dB(A))

Equivalent Sound Pressure at the Operator's Ear Lwa

101.0 dB(A) (K = 2.0 dB(A))

Vibration, ahv eq Concrete Cutting (2)

7.2 m/s2 (K=1.0 m/s2) Front Handle / 8.5 m/s2 (K=1.0 m/s2) Rear Handle
The Technology
ICS Concrete Chain Saws let you make deeper, cleaner and more accurate cuts, in less time. Deeper cuts and square corners means getting the job done with fewer steps. No more trying to match up cuts from both sides. No more impact tools that risk damage to the surrounding concrete or masonry. No more over-cutting corners. Eliminating over-cuts reduces patchwork. Cut deep. Cut fast. Cut all the way through from one side.
Principal Technology Advantages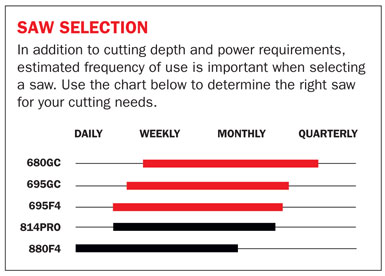 | | | |
| --- | --- | --- |
| | 573285 | Portable Water Tank - PDX |
Click here to download datasheet
When water isnt readily available, this corrosion resistant poly tank provides the solution. Able to hold up to 25 gallons, this tank offers the required pressure and flow that ICS saws require. The diaphragm High-Flo pump provides 1.8 gpm at 60 psi and comes with molded alligator clips for 12v battery hookup. Comes with a whip fitted with a standard hose end, ready for any regular hose you desire.
Features:
Portable

Easy to transport

Fits a regular hose

Battery operated
Specifications:
Capacity: 25 gal

Pump Output: 1.8 GPM / 60 PSI

Power Supply: 12 volt, gator clip hookup

Tank Construction: Corrosion Resistant Poly