The Jet 26x80 GEARED HEAD ENGINE LATHE 4-1/8 inch BORE has a 2 Year warranty
4-1/8 inch Spindle Bore

Clutch operated headstock with all headstock gears hardened and ground

Universal gearbox allows inch, metric, diametral and module pitch threads, no change gears required

Meehanite Castings are used for added durability.

Bed ways are induction hardened and ground for durability.

Full Length Splash Guard

Heavy-duty tailstock and quill

Rapid power traverse to cross slide and carriage

Siemens Electrics

Standard Equipment:

Drive Plate

12 inch 3-Jaw scroll chuck with top reversing jaws

Face Plate

2 Steady Rests with Roller Bearings

Follow Rest

Large capacity steady rest with ball bearing tips

5pc. Quick change tool post set

Micro-carriage bed stop

Fully Integrated Coolant System

LED work lamp

Electronic Chuck Key Holder

Fitted top mats to hold tooling

E-Stop on Carriage for added safety

Large easy to use foot brake
23-piece Turning Tool Kit for all ZX Series Lathes 660210
Set consists of the following:

1/2 x9 inch Double end boring bar

5/8 x 10

inch

Double end boring bar

3/4 x 12

inch

Double end boring bar

Parting tool holder

Adjustable turning tool holder

Knurling tool with three pairs of knurls

MT4 half dead center

MT4 carbide tipped dead center

MT4 heavy duty live center

MT5x MT4 adapter sleeve

2pcs. 3/16 x 2

inch

square tool bits

4pcs. 1/4 x 3

inch

square tool bits

1pc. 1/2 x 3

inch

square tool bit

1pc. 3/8 x 2-1/2

inch

square tool bit

1pc. cutoff blade

4 Hex Keys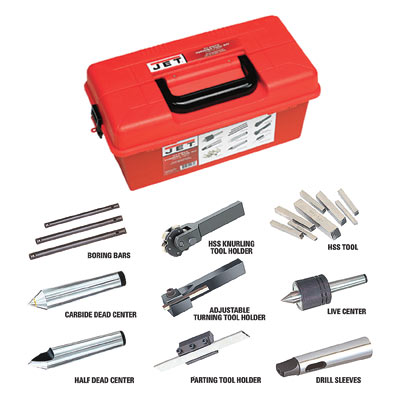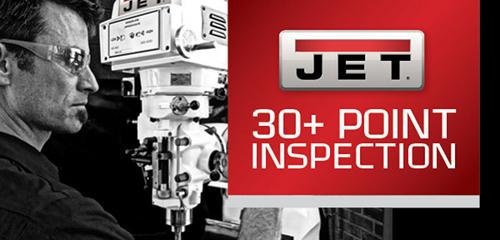 JET METALWORKING'S NEWEST INNOVATION IN PROCESSES AND TECHNOLOGY
You have always counted on JET for Product innovation which we continue to do, but now we are expanding into our processes and technology. With this, we now launch our exciting new program, JET's 30+ Point Machinery Inspection.

JET's 30+ Point Milling and Turning machine process falls under the JET Red Assurance guarantee program. This is the ultimate premium service and quality assurance program offered only by JET, which includes Operational and Visual inspection of every aspect of your machine. It will save many hours of cleaning and getting the machine prepped as it is already done in our Nashville, TN headquarters and no longer on your shop floor. We put it through a complete inspection, and a signed checklist is sent with every machine inspected which will be tracked by serial number and records kept in our Tech Service department.
ALL LARGE INDUSTRIAL MILLS AND LATHES ARE INSPECTED
Operations Checked: All oil levels are checked and filled, all switches, brakes, work lamps and power settings are checked. While under power, all accuracies, gear changes, pumps, spindles and feeds are checked

Visual Inspection: Paint and finish, electrical components and connections, levers and handles

Optional Equipment and Accessories: Installed and tested
ROGRAM BENEFITS:
Builds dealer confidence that his customer will receive a machine that is inspected, cleaned and ready for operation.

Machines are inspected in our Nashville, TN headquarters.

End Users will save hours in preparing machines for use.
Rest assured, JET stands behind all of our metalworking machinery; supporting our dealers, their users and the shops they're used in. You can rely on JET for industry-leading 2 year warranty; USA based customer and tech support and over 40,000 parts in stock. 30+ point inspections are just another way JET Stands Behind Your Work.