The JET Electric Pipe Notcher provides fast and clean 90° notches in schedule 40 pipes to maximize productivity. The 220-volt single-phase machine is designed to for durability and ease of operation.
ESN-40 Electric Schedule 40 Pipe Notcher has a 2 Year warranty
CSA/US: Folloing strict guidelines and electrical requirements, this JET Notcher is CSA/US certified

Magnetic Switch for Low Voltage Motor Protection

Safety Guarding surrounding all notching diesInsert the end of the pipe, notch one side, rotate pipe 180°, reinsert to notch the other side

Replacement dies available in wide range of sizesBenchtop mounting fits on almost any bench in your shop
2 YEAR WARRANTY AND SERVICE


WMH Tool Group, Inc., warrants every product it sells. If one of our tools needs service or repair, one of our Authorized Service Centers located throughout the United States can give you quick service. In most cases, any of these WMH Tool Group Authorized Service Centers can authorize warranty repair, assist you in obtaining parts, or perform routine maintenance and major repair on your Jet tools. For the name of an Authorized Service Center in your area call 1-800-274-6848.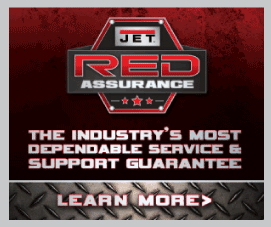 At JET not only do we warranty every product we develop, but we ensure that our after sale service and support is number 1. Our customer rated 9 out of 10 Customer Service, Technical Support, 40,000 plus unique parts in stock, and leading warranties guarantee we have the industrys most dependable service and support program.
If a JET tool needs service or repair, one of our 750 Authorized Service Centers located in all 50 states can assist you. In most cases Authorized Service Centers can perform a warranty repair, assist in obtaining replacement parts, perform routine maintenance, and perform a major repair on your JET Tool. For the name and locationof an Authorized Service Center in your area call 1 (800) 274-6848.
From here forward, look for our JET RED Assurance stamp. Whenyou see this logo you can rest assured that behind every product isdecades of Reliability, Expertise, and Dependability.