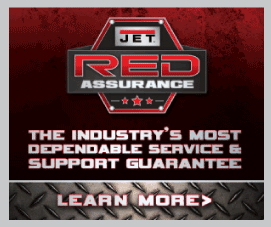 At JET not only do we warranty every product we develop, but we ensure that our after sale service and support is number 1. Our customer rated 9 out of 10 Customer Service, Technical Support, 40,000 plus unique parts in stock, and leading warranties guarantee we have the industrys most dependable service and support program.
If a JET tool needs service or repair, one of our 750 Authorized Service Centers located in all 50 states can assist you. In most cases Authorized Service Centers can perform a warranty repair, assist in obtaining replacement parts, perform routine maintenance, and perform a major repair on your JET Tool. For the name and locationof an Authorized Service Center in your area call 1 (800) 274-6848.
From here forward, look for our JET RED Assurance stamp. Whenyou see this logo you can rest assured that behind every product isdecades of Reliability, Expertise, and Dependability.
Warranty and Service
JET warrants every product they sell against manufacturers defects. If one of our tools needs service or repair, please contact Technical Service by calling 1-800-274-6846, 8AM to 5PM CST, Monday through Friday.
Register Online!
Register your JET Machinery right here at jettools.com. Click here to register your product now.
More Information
JPW Industries Inc. is consistently adding new products to the line. For complete, up-to-date product information, check with your local JPW distributor or this website.
Warranty Period
JThe general warranty lasts for the time period specified in the literature included with your product or on the official JET-branded website.
JET products carry a limited warranty which varies in duration based upon the product. Accessories carry a limited warranty of one year from the date of receipt.

Consumable items are defined as expendable parts or accessories expected to become inoperable within a reasonable amount of use and are covered by a 90 day limited warranty against manufacturers defects.
90 Day Warranties

Lathe Accessories, Machine Accessories, Mobile Bases, Safety Equipment, Specialty Items, Vise Accessories

1 Year Warranties

Air Tools - Contractor, Air Tools - Industrial, Air Tools - Light, Industrial, Lubrication

2 Year Warranties

Body Repair Kits, Bottle Jacks, Cable Pullers, Cold Saws, Hoists-Air, Hoists-Electric, Metalforming, Mill/Drills, Milling Machines, MW Bandsaws, MW Drill Presses, MW Finishing Equipment, MW Lathes, MW Precision Vises, Pallet Trucks, Rigging Equipment, Service Jacks, Stackers, Surface Grinders, Tapping, Trolleys - Air, Trolleys - Electric, Web Slings, Winches - Electric

3 Year Warranties

JET Elite Mills, JET Elite Lathes, JET Elite Bandsaws

5 Year Warranties

Beam Clamps, Chain Hoist - Manual, Lever Hoists, Pullers - JCH Models, Scissor Lift Tables, Trolleys - Plain, Winches - Manual, Woodworking Air Filtration, Woodworking Bandsaws, Woodworking Buffers, Woodworking Drill Presses, Woodworking Dust Collectors, Screw Jacks, Trolleys - Geared, Woodworking Dust Filters, Woodworking Dust Fittings, Woodworking Jointers, Woodworking Lathes, Woodworking Planers, Woodworking Sanders, Woodworking Shapers, Woodworking Tablesaws

Limited Lifetime Warranties

JET Parallel Clamps, Shop Tools, VOLT Electric Hoists, Warehouse and Dock products, Manual Hoists, Hand Tools, Manual Hoist Accessories