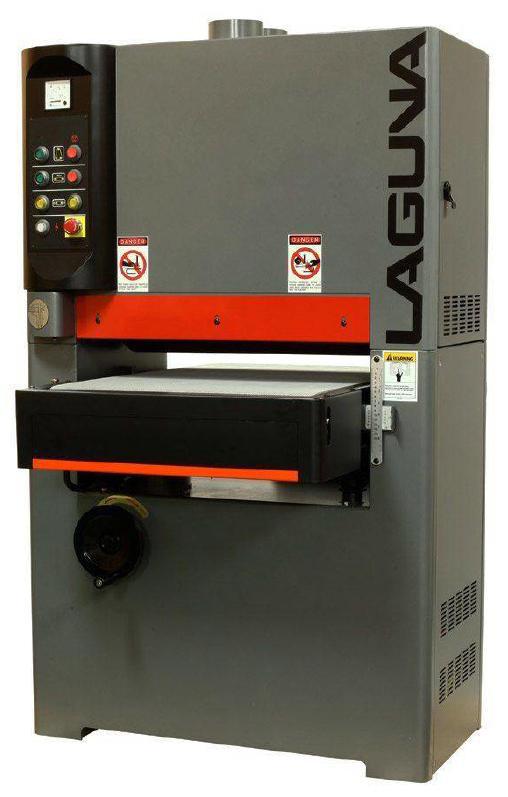 Compact 25 inch 1K Widebelt Sander
Lagunas all new Compact Widebelt Sander is perfect for the shop looking for an industrial quality sander at an affordable price
The Compact is impressive in its offerings: 60 inch belt length with Automatic Pneumatic Oscillation, 2 feed speeds, industrial cast iron bed sitting on 4 Acme threaded screws with center alignment designed for precision results even when handling heavy material.
The bed is adjustable with electronic motor and manual handle for micro movement. Industrial quality carpet offers the perfect balance between grip and rigid support.
The platen is fully adjustable enabling you to run in combination with the 4 inch rubber drum for optimum results. Raise it and use the drum alone to dimension wood. Lower it to sand sensitive material such as veneer without the risk of going through the material.
Dont let the price fool you, this is a serious piece of machinery!
Specifications:
25 inch Compact Widebelt

Volt: 220, 1 phase, 60 Hz.

HP: 7.5 Main Motor

Bed Adjustment: Electric, 0.33 HP Motor

Micro Adjust: Manual Handle

Conveyor: 22 and 49 FPM. Gear Change, 1 HP

Bed Height Min. - Max.: 32 - 38 inch

Max. Capacity: 150 mm / 5.9 inch Thickness

Max. Width Capacity: 24-3/8 inch

Belt Size: 25 X 60 inch

Drum: 4 X 26 inch Rubber Roller

Configuration: Combo Head, Roller plus Platen

Platen: Felt and Graphite, Fully Adjustable w. Scale

RPM: 1750 Drum

Safety Bar: Front of Bed, Stops Belt

Oscillation: Pneumatic, Adjustable

Air Pressure: 75 PSI

Brake: Main motor, Air Disc

Dust Port: 5 inch X 2

Foot Print: 20 X 40 inch

Total Size: 40 Wide X 50 inch Depth

Height Incl. Dust-Ports: 66-1/4 inch

CSA: Fully Certified

Weight, Net/Gross: 1650/1920 Lbs