LTA4512E Specs
Preferred for Moving: Light Load Deliveries - Loads 600lbs. and Under, Appliances

The LTA4512E is the preferred aluminum model for light residential loads and has a 600 lb/272kg weight lift capacity. This model also features a user friendly detachable battery pack. One clip located on the top of the battery pack quickly releases, so you can remove the entire battery pack without removing your load from the LECTRO-TRUCK. The extension handle is 10 inch long and has four different settings to obtain better leverage when using your LECTRO-TRUCK. The adjustable strap bar can easily be attached, moved and detached without the use of any tools. Each unit includes one strap bar and a free standing battery charger.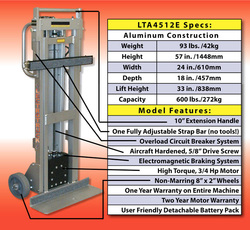 Click Here To See How The Lectro Truck Works
Industries: Residential Plumbing, Residential HVA/C, Appliances, Schools, Wood Stoves, & More
Specifications

Capacity

600 lbs

Construction

Aluminum

Total weight

93 lbs

Height

57 inch

Depth

18 inch

Toeplate width

24 inch
Print out a single spec sheet PDF.