Preferred for Moving: Light Commercial Deliveries such as Grills, Spas and Stoves.

The LTA5512E is the preferred aluminum model for moving grills, spas, and stoves. It has a 1200 lb/544kg weight lift capacity. The built-in leverage bar allows you to obtain better leverage when using your LECTRO-TRUCK. Adjustable strap bars can easily be attached, moved and detached without the use of any tools. This model also features a user friendly detachable battery pack. Two clips located on the sides of the battery pack quickly release, so you can remove the entire battery pack without removing your load from the LECTRO-TRUCK.The battery pack also has a built-in battery charger, so all you need to do is bring the power cord to your battery pack. Each unit includes two strap bars and a battery charger.
Industries: Residential Plumbing. Residential HVA/C, Vending, Safe Movie, Schools, Wood Stoves, & More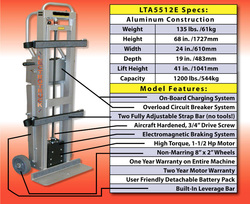 Specifications

Capacity

1200 lbs

Construction

Aluminum

Total Weight

135 lbs

Height

68 inch

Depth

19 inch

Toeplate Width

24 inch
Print out a single spec sheet PDF.