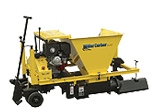 MC550 - Recoil Start
MC650 - Electric Start
PRODUCT OVERVIEW
For over fifty years the Miller MC Series Curbilders have offered unequaled performance and versatility for the placement of freestanding curb. These simple and efficient self-propelled machines operate on the extrusion principle and provide the most economical means available of constructing small to mid-sized continuous curb from either concrete or asphalt. This quick and efficient process drastically reduces the high labor costs associated with hand formed and poured curb and produces high quality, extremely dense curb at a rate of up to 15 fpm (up to 30 fpm for MC900). Miller's exclusive interchangeable extrusion auger assemblies give each Curbilder the capacity to extrude more shapes and sizes than any machine in its class, from 3-1/2â€Âù to 18â€Âù high curb. A wide variety of options allow these machines to meet the toughest specification work.
05 - Curbilder product category
13 - horsepower of motor
HR - motor type, H for Honda, K for Kohler, second digit R for recoil, E for electric start
650 - series of Curbilder
06 - auger diameter
S - type of auger, S for solid, H for hollow
S - type of wheels, S for solid rubber, P for pneumatic
MC550/650/ Specifications
PRODUCT SPECIFICATIONS
MC550
MC650
Operating Weight
668 lb.
718 lb.
Height (Steering handle down)
38"
Width
32.25"
Length with Form (steering handle up)
77.5"
Wheelbase
52.75"
Hopper Capacity
6.1 cubic feet
Standard Tire Configuration
(9) 8" dia. x 2" solid rubber
Engines

13 HP Honda
14 HP Kohler

Engine Starting System
Recoil
Electric
Fuel Capacity
1.6 gal.
Standard Auger Configuration
(2) cast 6" dia. x 9" lg.
Optional Auger Configurations
(2) cast 5" dia. x 9" lg.
(1) welded 8" dia. x 18" lg.
Hollow Auger Shaft (to extrude rebar)
Optional
Drive System
Automatic centrifugal clutch to enclosed 8:1 gear reducer; final auger drive chain & sprocket
Extrusion process provides self-propulsion
Steering
Tie rod with 40" steering handle
Brake
Friction pad on steering handle
OTHER AVAILABLE MODELS:

MC655 Same as MC650, but with modified frame allowing extrusion under existing guardrail.
MC750 Same as MC650, but with two continuously turning auger assemblies, one mounted on the left and one on the right, allowing immediate changeover from right to left hand extrusion.
05 - Curbilder product category
13 - horsepower of motor
HR - motor type, H for Honda, K for Kohler, second digit R for recoil, E for electric start
650 - series of Curbilder
06 - auger diameter
S - type of auger, S for solid, H for hollow
S - type of wheels, S for solid rubber, P for pneumatic
Models and Accessories
05-14KE-650-08HS

Landscape Curbers - MC650 8

inch

hollow auger - 14HP Kohler electric start Gas Engine

Machine price does NOT include curb form (Curb Forms are sold separetely)

05-13HE-650-08HS

Landscape Curbers - MC650 8

inch

hollow auger - 13HP Honda electric start Gas Engine

Machine price does NOT include curb form (Curb Forms are sold separetely)

05-14KE-650-08SS

Landscape Curbers - MC650 8

inch

solid auger - 14HP Kohler electric start Gas Engine

Machine price does NOT include curb form (Curb Forms are sold separetely)

05-13HE-650-08SS

Landscape Curbers - MC650 8

inch

solid auger - 13HP Honda electric start Gas Engine

Machine price does NOT include curb form (Curb Forms are sold separetely)

05-14KE-650-05HS

Landscape Curbers - MC650 5

inch

hollow auger - 14HP Kohler electric start Gas Engine

Machine price does NOT include curb form (Curb Forms are sold separetely)

05-13HE-650-05HS

Landscape Curbers - MC650 5

inch

hollow auger - 13HP Honda electric start Gas Engine

Machine price does NOT include curb form (Curb Forms are sold separetely)

05-14KE-650-05SS

Landscape Curbers - MC650 5

inch

solid auger - 14HP Kohler electric start Gas Engine

Machine price does NOT include curb form (Curb Forms are sold separetely)

05-13HE-650-05SS

Landscape Curbers - MC650 5

inch

solid auger - 13HP Honda electric start Gas Engine

Machine price does NOT include curb form (Curb Forms are sold separetely)

05-14KE-650-06HS

Landscape Curbers - MC650 6

inch

hollow auger - 14HP Kohler electric start Gas Engine

Machine price does NOT include curb form (Curb Forms are sold separetely)

05-13HE-650-06HS

Landscape Curbers - MC650 6

inch

hollow auger - 13HP Honda electric start Gas Engine

Machine price does NOT include curb form (Curb Forms are sold separetely)

05-14KE-650-06SS

Landscape Curbers - MC650 6

inch

solid auger - 14HP Kohler electric start Gas Engine

Machine price does NOT include curb form (Curb Forms are sold separetely)

05-13HE-650-06SS

Landscape Curbers - MC650 6

inch

solid auger - 13HP Honda electric start Gas Engine

Machine price does NOT include curb form (Curb Forms are sold separetely)

05-14KR-550-06HS

Landscape Curbers - MC550 6

inch

hollow auger - 14HP Kohler recoil start Gas Engine

Machine price does NOT include curb form (Curb Forms are sold separetely)

05-13HR-550-06HS

Landscape Curbers - MC550 6

inch

hollow auger - 13HP Honda recoil start Gas Engine

Machine price does NOT include curb form (Curb Forms are sold separetely)

05-14KR-550-06SS

Landscape Curbers - MC550 6

inch

solid auger - 14HP Kohler recoil start Gas Engine

Machine price does NOT include curb form (Curb Forms are sold separetely)

05-13HR-550-06SS

Landscape Curbers - MC550 6

inch

solid auger - 13HP Honda recoil start Gas Engine

Machine price does NOT include curb form (Curb Forms are sold separetely)

CCF8

Commercial Curb Forms for 8

inch

Miller Augers

CCF5

Commercial Curb Forms for 5

inch

Miller Augers

CCF6

Commercial Curb Forms for 6 inch Miller Augers