NOVA SWING AWAY ACCESSORY


Code: 9007 - Notes: Only compatible with DVR XP and NOVA 1624-44 bed. Only recommended to use on lathe mounted on NOVA stands.
The NOVA Swing Away Accessory is an additional accessory unit for the Lathe Bed Extension Accessory. It enables the user to quickly and easily swing away extra bed lengths and/or the tailstock of the lathe if not in use.

Made from high quality cast iron, this is the perfect companion to both the Nova 1624 and the Nova XP DVR lathes and Bed Extensions, enabling the user to very quickly swing away extra bed extensions and bring them back to position as needed.
Features and Benefits

Space Saving. Attach an extra bed extension accessory to your NOVA lathe (1624 or DVR XP) for longer projects, use the Swing Away Accessory to swing the extra bed piece out of the way when not required. Saves you space when you are not needing the extra capacity, without having to remove the extra bed length.

Easy to Swing Away. Simply move the tailstock to the end of the lathe bed, and then swing the bed and tailstock away to allow full access to the NOVA lathe headstock. Really useful for some operations like deep hollowing of vases.

Perfect accessory for bowl turners. Bowl turners in particular often struggle with tailstocks - essential for some operations they can get in the way for others! While NOVA lathes have a fantastic full swivel headstock, sometimes you need to have your lathe head aligned along the bed. This attachment allows you to quickly and easily move your tailstock out of the way without needing to remove it from the lathe altogether, or worry about getting the heavy tailstock back on!

Dependable Performance. Solid cast iron, CAD designed and tested for optimum strength. The pieces are cast from a high grade cast iron with solid section thickness, designed to withstand extremely high stresses with practically no distortion.

Great permanent addition to your NOVA lathe. Saves time when using extra bed extension, easily swing away the bed/tailstock when not in use. No need to keep mounting and un-mounting your extra bed extension and/or tailstock.

Product Technical Specification

Weight: 4.61kgs/10.16lbs

For NOVA 1624 and DVR XP lathes only

203mm/7.99 inch Radius, 180 degrees of swing

Standard Equipment
NOVA Tailstock Chuck Adaptor
Code: 5016

The Tailstock Adaptor is a brand new accessory for the Nova Live Centre System.

Allows for perfect alignment when remounting work to turn the other side in dead or live mode, saving you time and material normally wasted in truing work piece up

In live mode it can also be used to support work with a chuck e.g. in conjunction with vacuum chucking.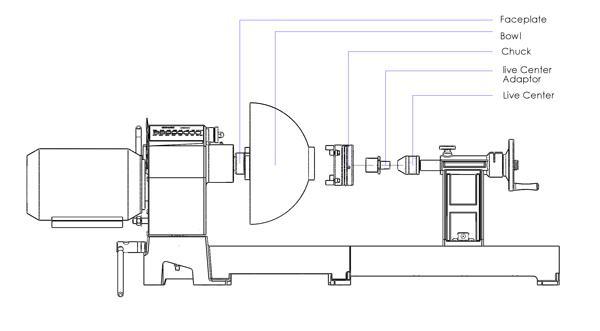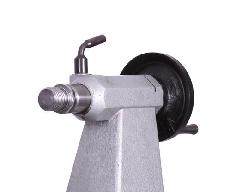 Features and Benefits
Ensures the most accurate remounting of projects.

Fits all NOVA chucks and NOVA lathe tailstocks, tailstocks with 2MT internal shafts.

Fits the NOVA Live Centre System – or can also be used individually as a dead centre.

Quick mounting.

Made from medium tensile carbon K1045 steel to provide maximum structural strength.

2 year warranty
Specifications
1 1/4 inch 8TPI RH (USA, Canada, Australasia and UK)

Material: Carbon Steel

Fits all 2MT tailstocks – only for use when the lathe is not powered
NOVA BED EXTENSION LATHE ACCESSORY
NOVA Bed Extension Accessory in Black adds between centre capacity for your NOVA DVR 2024, DVR XP, 1624 and 1624II Lathes. Each extension adds 20 inch between centre capacity. Add as many extensions as you require for your project. Easy to install. Made from solid cast iron, with CAD designed webbing throughout, providing rigid strength and stablity. In the new Black color, with new decaling designed to work best with the 1624 II lathe, but able to be used on the older lathe models mentioned above. Comes with instructions and fastenings.
Features:

Adds 20 inch between centre capacity to your NOVA lathe

Webbed design for extra strength

Vibration dampening

Soild Cast Iron

For DVR 2024, XP, 1624 and 1624 II Lathes

WARRANTY: 2-Year Full Replacement
80mm Faceplate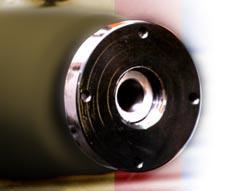 Code:SFP80(specify thread size)
Made out of a solid steel billet, this faceplate is strong and robust. The small faceplate is often convenient for initial workholding or even quite large pieces. One of the advantages they offer is their small contact area allowing maximum freedom while shaping behind a bowl. But because they are a small faceplate with reduced contact area, they do need to be made strong. The NOVA 80mm faceplate does deliver with its quality solid steel design. The faceplate is coated with a rust protective black finish.
NOVA Toolrest Collar Ring
Code: 27007
The Nova Toolrest Collar ring can be locked onto the tool shaft for maintaining your tool rest at the fixed height. Therefore you don't need to worry about the height of your toolrest, when you adjust your toolrest to a different direction.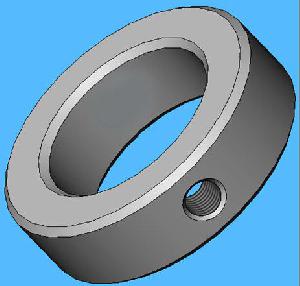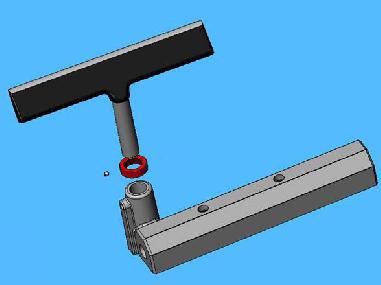 Features at a glance
A simple collar to provide a fixed height for the Toolrest, saving the turner from having to find the same height again each time.

Enables the turner to return to a preset height again instantly.

Gives a consistent, reliable, set height where height accuracy is critical.

1 inch internal diameter collar, for all NOVA lathes as well as other lathes with a 1 inch Toolrest shaft, which encompasses a majority of the lathes on the market.

Made from quality steel with chamfered edges for users protection.
Uses
Indexing (see pictures below)

Bowl profiling

Great for beginner turners especially - you can set it to the correct height setting for different chisels.
Example of using the unit for indexing: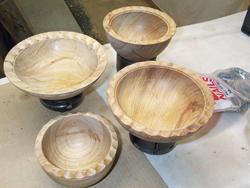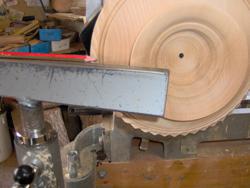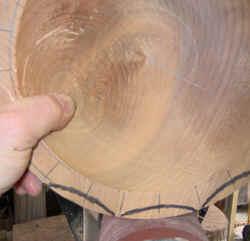 Standard Equipment:
Collar Ring

Grub Screw

Fibre wash

Allan key