The worlds first smart Drill Press combines the best features of Drill presses with state of the art technology to make your project work more efficient, fun and safer. The NOVA Voyager DVR Drill Press is the most versatile Drill Press on the market, easily able to handle Wood, Metal, Plastics and Glass. It combines the proven technology with some great new features with intelligent Striatech ADAPTIVE CONTROL software that works for you to produce optimum conditions for your specific projects. The most innovative advancement since motors were first added to Drill Presses almost a century ago!
Warranty 2-Year Full Replacement Motor and Controller, 5-Year Full Replacement all other parts
Benefits:
Unique DVR technology - The direct drive motor is incredibly smooth with no pulleys or belts to vibrate
Intelligent Striatech Control - Easy to operate, the NOVA DVR range of machines are the only SMART machines on the market using Adaptive Control TM Software.
High Torque Power - Instant power when you need it. With its 1.75HP/2HP high torque motor, exceptional structural strength and smart design, the NOVA Voyager has the power and capacity to handle a wide variety of projects with ease.
Faster, more efficient drilling - NOVA Voyager DVR drill press delivers incredible turning smoothness. With no belts to cause vibration, a computer that automatically adjusts performance and solid cast iron construction, the Voyager is one smooth and quiet operator. This delivers the ability to drill faster and more efficiently.
Plug n Play - Easy to use, with a push button electronic variable speed with forward and reverse.
Power saving - Smart computer controlled motor only draws as much power as it needs for the project being worked on. The Striatech DVR motor can save up to 50 percent energy and emissions over conventional motors.
Low Maintenance - Industry grade electronics
Features:
Intelligent Speed Selection to get the correct speed for the application

50-5500rpm variable speed for variety of projects (default is 50-3000rpm, option in settings to increase to 5500rpm)

No belts, quiet and smooth operation.

Slow Start Pilot Hole Function

Tapping Assist Function

Digital speed readout

Electronic Braking

Load Readout

Self Starting Function

Digital Quill Depth Readout

Dial Knob for precise speed adjustment

Forward/Reverse Functionality

6 inch of quill travel in 2 revolutions of the handle

Sensors for superior safety, use and maintenance

Adjustable mechanical stop coupled with digital readout for accurate and repeatable actions
First in a line of exciting accessories for the NOVA Voyager, this fence accessory will allow you to drill consistent holes along the same plane every time, as well as provide support for larger pieces of wood.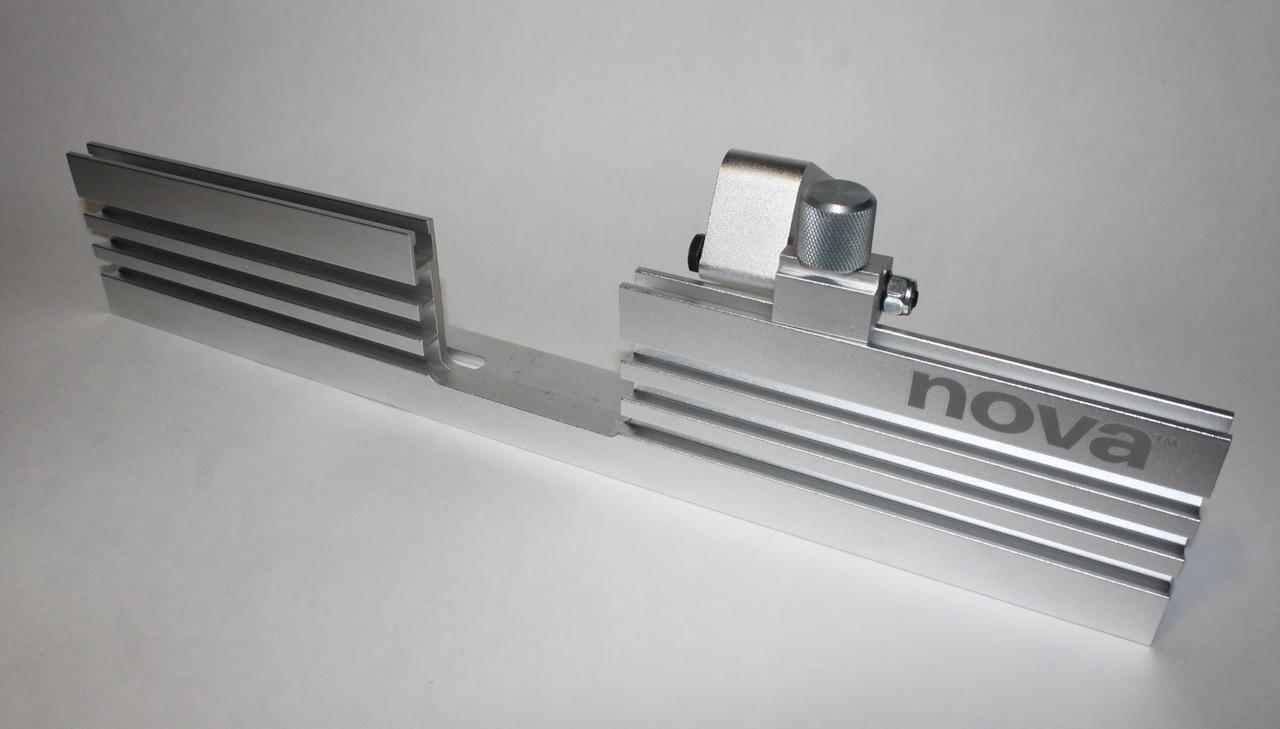 Features Include:
Heavy duty aluminium extrusion insures stability and flatness along the length of the fence

Cut away center section allows the user to drill with smaller bits very close to the fence so that auxiliary blocks are not needed as frequently.

T-slots on the face and top to allow for the addition of hold downs and other devices to support the work piece.

Flip stop for consistent positioning in repetitive drilling situations.

Ratchet style locking handles to permit quick positioning and solid locking of the fence.

Fits most Drill Presses (Check your specific machine specs to be sure)

Presented in a full color box
Standard Equipment:
Extruded Aluminum Fence

Flip Stop

Handle and Fastenings

Instructions

Unit lenght: 15.5 inch / 393.7mm

Unit Height: 3 inch / 76.2mm

Unit Depth: 2 inch / 50.8mm

Packed Weight: 2lbs / 907gms

1 complete unit to a box

Boxed Dimensions 16 x 3 x 3.5 inch

2 Year Full Replacement Warranty on all parts