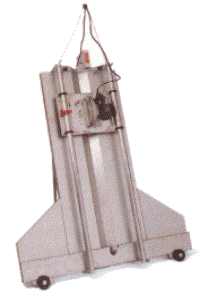 Panel Pro is a new kind of saw that makes it easy to handle those big sheets and cut them accurately. It's so unique that the design is patented. This new tool is a smart addition to your shop.

Safer than other methods. If you have tried to cut big panels with a hand-held saw, you know that the panel can bind and kick back the saw. If you cut big panels on a small table saw, you know that it is hard to support the sheet and push it through safely and accurately, while the running sawblade is exposed above the surface of the sheet.

With Panel Pro, the running sawblade is always behind the panel, and the vertical frame supports the panel safely while you do the cutting.

Panel Pro was developed to give professional woodworkers, amateurs, and home hobbyists a tool that lets one person cut large sheets safely, accurately, and in a small space.

Panel Pro won't replace your table saw for all jobs, but it is the ideal tool for cutting large panels to size. The accuracy of the Panel Pro's cuts mean that many jobs can be finished-cut right to the Panel Pro, without the need to re-cut on a table saw. Plus, the functionality and portability of the Panel Pro means you can take it right to the job, where a table saw would be inconvenient

Pros and hobbyists alike use the Panel Pro for:
Furniture making
Cabinet Work
On-site building construction
Home projects
and many more!!!
Features
4 foot vertical cross-cut capacity
8 foot horizontal rip cut capacity
1/32" cut accuracy straight & square
Dust-free nylon graphite roller bearings
Quick change rotating saw head
Factory aligned guide system
16 gauge steel frame
12 amp Bosch saw motor with blade
A carbide-tipped saw blade is included with the Panel Pro.