The award winning PM2000B table saw sets a new standard for innovation with an array of patented features and massive body design. It boasts the heaviest cast iron base in its class that virtually eliminates table vibration. The cast iron tables are oversized, and the push button arbor lock is accessible from above the table top to eliminate the need for dual arbor wrenches. The quick-release riving knife design helps reduce the chance of kickback. The blade tilt scale has adjustable angle indicators for repetitive bevel cuts. Built-in retractable omni-directional caster system mobilizes your table saw. A wide stance, heavy-duty trunnion and concave teeth on the trunnion gears promote easier raising and tilting of saw blade. Poly-V drive belt system results in quieter, more efficient power transfer from the motor to the arbor with virtually no vibration and less heat build up. Built-in dust collection port with sloped cabinet floor and convenient access to the inside of the saw cabinet make for simple clean-up. The saw has a proprietary safety switch with magnetic interlock, and the stop button can be knee activated.
The Powermatic PM2000B, 3HP 1PH Table Saw, with 50" Accu-Fence System
has a 5 Year warranty
Quick release riving knife greatly reduces binding/kickback risk

Built-in retractable caster system (patent pending) for immediate shop mobility

Push button arbor lock (patent pending) for rapid blade change

Poly-V drive belt system delivers efficient, quiet operation

Wide stance heavy-duty trunnion for stability and smooth blade positioning

Adjustable angle indicators (patent pending) on the blade bevel scale for repeatable bevel cuts

Industrial-duty Accu-Fence® System ensures accurate cuts

Enclosed cabinet with cast iron base for rigidity

Heavy-duty deluxe micro-adjust miter gauge with aluminum extruded 13" extension fence, for good workpiece support and fine angle adjustments.

Precision ground, high luster, cast iron table top with front and rear edge bevel to prevent catching of miter gauge on table edge

Heavy-duty chrome plated handwheels contribute to smooth trunnion/arbor movement

Independent leaf blade guard and anti-kickback pawls promote safe cutting

Industrial magnetic controls, and jumbo stop switch is reachable with the knee

Built-in 4" port for dust collection

Standard Equipment:

TEFC Motor with magnetic controls

Standard left and right cast iron extension wings

Accu-Fence® System with 50" to the right cutting capacity

Melamine-surface extension table and legs

Arbor wrench

Motor cover

Blade, power cord plug not included
PM2000 - 10" Table Saws
PM23130K

PM2000B, 10 inch Tablesaw, 3HP 1PH 230V, 30 inch Accu-Fence System

PM23150K

PM2000B, 10 inch Tablesaw, 3HP 1PH 230V, 50 inch Accu-Fence System

PM23150RK

PM2000B, 10 inch Tablesaw, 3HP 1PH 230V, 50 inch Accu-Fence System, Router Lift

PM23150WK

PM2000B, 10 inch Tablesaw, 3HP 1PH 230V, 50 inch Accu-Fence System, Workbench

PM25130K

PM2000B, 10 inch Tablesaw, 5HP 1PH 230V, 30 inch Accu-Fence System

PM25150K

PM2000B, 10 inch Tablesaw, 5HP 1PH 230V, 50 inch Accu-Fence System

PM25150RK

PM2000B, 10 inch Tablesaw, 5HP 1PH 230V, 50 inch Accu-Fence System, Router Lift

PM25150WK

PM2000B, 10 inch Tablesaw, 5HP 1PH 230V, 50 inch Accu-Fence System, Workbench

PM25330K

PM2000B, 10 inch Tablesaw, 5HP 3PH 230/460V, 30 inch Accu-Fence System

PM25350K

PM2000B, 10 inch Tablesaw, 5HP 3PH 230/460V, 50 inch Accu-Fence System

PM25350RK

PM2000B, 10 inch Tablesaw, 5HP 3PH 230/460V, 50 inch Accu-Fence System, Router Lift

PM25350WK

PM2000B, 10 inch Tablesaw, 5HP 3PH 230/460V, 50 inch Accu-Fence System, Workbench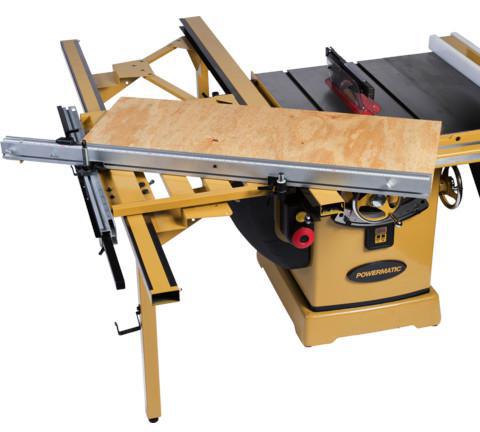 Powermatic PMST-48 Sliding Table Attachment
Maximize your table saws potential with the new Powermatic Sliding Table Saw attachment. This large sliding table bolts to the table saw and enables smooth and precise cuts on large sheets and stock. With its precision bearing track system, the Powermatic Sliding table saw attachment allows for ultimate support and controlled sliding operation while performing straight or angled cuts. The new Powermatic Sliding Table Saw is engineered to ensure precision while maximizing efficiency and performance.
Features:
Extruded Aluminum Cross-Cut Fence slides on table and quickly adjusts to varying angles

Telescoping fence extension supports longer work pieces for a smooth and controlled cut

Maximum table travel is 62 1/2 inch and Miter Angle adjusts from 0 to 50 deg. with six hard stops

Max Rip Capacity with fence in the front position is 41 inch and 49 inch with fence in the rear position

Relocate the power switch box for better access with the added Mounting plate and hardware

Steel constructed main frame, table mounting brackets and Tube legs create a robust platform and supports large materials

Fence holders on tube legs to assist in storing fence when not in use

Quick Locking fence lever easily locks and secures fence in

Sealed Ball bearings roll in a precision bearing track system for controlled operation

Fits PM2000B and PM3000B PowermaticTable Saws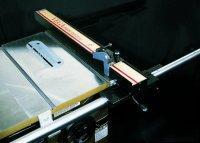 Table Saw Fence
COMPARE PERFORMANCE and PRICE WITH ANY FENCE!
Being able to cut materials safely and precisely on your table saw is essential for fast and accurate Woodworking. Unless saw fences are well designed they make cutting a chore instead of pleasure, resulting in poor quality and inaccu- rate cuts. Most Saw Fence Systems….
Do not lock parallel to saw blade.

Do not have accurate measuring scales.

Have Fence Bars that are too short.

Do not have adequate width ripping capacity.

Require frequent re-alignment.

Lack safety devices.

Are unable to be finely adjusted.
The Vega Saw Fence Systems solve all of these problems (and more!) to assure Accurate and reliable cuts combined with smooth, precise motion.
Product Description
MODEL PRO 26, PRO 40, and PRO 50
The Professional Model features the ruggedness and durability for Commercial production requirement, yet is extremely refined for the serious woodworkers needs and wants. With larger components and greater rigidity, the Professional Model is designed for 10 - 12 inch Saws cutting heavier materials and commercial use. The Vega retrofit Saw Fence System is available with 26, 40 or 50 inch rip capacity to the right of the blade and 10″ to the left, with a standard fence length of 42 inch on models PRO 26, PRO 40, and PRO 50. For saw tables between 34 and 42 inches deep, the PRO 26L, PRO 40L, AND PRO 50L ARE available featuring a 50 inch fence bar.
UTILITY MODEL 26 or 50
Designed for contractors saws, smaller cabinet saws, and 10 inch saws that don't receive extremely heavy use, the Utility Model Fence is simply a small version of the very successful Professional Model. With all the great features of the Pro Model (fast installation, super precision, micro adjustments and more), the Util- ity Fence will upgrade your saw to a very precise cutting machine at a very rea- sonable price.
The Utility Model Vega Saw Fence System is available with 26 or 50 inch rip capacity to the right of the blade and 8 inch to the left.
FENCE ACCESSORIES
Vega manufactures a number of great accessories for the Professional and Util- ity Model fences making them more convenient, productive and safer to use. All accessories are available for both models except the Leg Set which is not necessary for the Utility 26.
You compare the features!
EASY TO INSTALL
No other Fence can be installed on your saw as easily as The Vega Saw Fence, according to American Woodworker Magazine (Oct.92) "I found the Vega Model 50 the easiest to install of all the fences."
Vega Saw Fences are designed to use existing bolt holes (no drilling required) of Delta Unisaws and Contractors Saws, Powermatic Model 66, most Sears 10 inch saws and most other saws having fence rail mounting holes 8 -9 inch on either side of the blade. Other saws may require drilling 2 or 4 holes. Little accuracy is needed as the Fence Mounting System allows full adjustment. (Installation may be as little as 15 minutes.) Features which help make this Fence so easy to install include:
Pre-drilled and tapped holes to fit most saws.

Slotted Front Brackets to allow vertical and horizontal adjustments.

Jacking Plates to assist in leveling the Fence Rails

Easy to follow instructions.
ALUMINUM FENCE HEAD
Extruded from 6005 - T6 high strength aluminum, the Vega fence head closely contours the polished chrome front rail providing excellent fit and nearly eliminating side play in the fence during adjustment. In ad- dition, the combination of the polished chrome tube and the aluminum head produces an almost ideal bearing surface for low friction and long life. The fence head simply lifts off the front rail for quick fence removal and installation.
EXCLUSIVE MICRO ADJUSTMENTS!
The Vega Saw Fences are the only Fences with true Micro Adjustment capability. If you require precise adjustment from your tablesaw, this is a necessary feature. The Micro Adjustment allows you to move the Fence very precisely in either direction, via a threaded rod thumb nut combination. For the final adjustment of only a few thousandths of an inch, Vega provides a threaded mechanism for final, precise setting.
To operate the Micro Adjust:
Press down on the small knob at the right end of the Fence Head to lock the Micro Adjust Cam.

Release the Main Cam.

Rotate the Thumb Nut under the Fence head to move the Fence very precisely… (one full rotation of the nut is 1/16

inch

)

After adjusting is complete, lock the Main Cam.
NO MORE BUMPING…
… and hoping for the best! With other saw fences precise adjustments is achieved using this technique.
MADE OF HIGH QUALITY MATERIALS
Vega has carefully chosen only the highest quality materials to construct their Saw Fences. Three unique precision aluminum extrusions, the highest grade of plating quality tubing and super tough and attractive epoxy coating, combined with meticulous care in fabrication result in a truly superior product.
A. Front Guide Rails
The Front Fence Rail is a precision rolled, plating quality tube with a very thick wall for extreme stiffness. The bar is tapped for attachment of the front mounting brackets, table extension plates, and the Vega leg kit (optional). It is chrome plated and plated and polished to provide an extremely low friction glide path for smooth and easy adjustment of the fence.
B. Rear Guide Rails
The Rear Fence Rail is a 1-1/2 inch square tube predrilled for mounting to the exist- ing holes (in most saws) and tapped to hold the extension table support plates and Vega leg kit (optional). The Rail is epoxy coated for low friction, high durability, and an attractive finish.
C. The Fence Bar
The Vega Fence Bars are aircraft quality aluminum alloy extrusions shaped for extreme stiffness while being relatively lightweight for easy handling. They are very accurate bars with side flatness held to extremely close tolerances, resulting in a very uniform surface to guide material through the saw blade for precision cuts. The Fence Bars have a Black Anodized finish which provides extreme surface hardness and low friction.
D. Mounting Brackets
These extruded aluminum mounts help to make the Vega Saw Fence the easiest and fastest aftermarket saw fence to install. They provide simple and accurate vertical and horizontal adjustment for the front guide rail and simply bolt to the saw table through existing holes (in most saws).
E. Jacking Plates
To further assist in easy and accurate installation, jacking plates (4) are provided at the mounting points of the front and rear rail to make leveling and setting fence clearance easy.
F. Rear Hold Down Bracket
The rear hold down bracket prevents the rear of the fence from raising if the fence issued in conjunction with stock feed systems. It is adjusted to just clear the lower side of the rear guide rail.
Support Plates For Extension Tables
(All Models except Pro 26 and Utility 26) To extend the work surface of your saw, Vega provides four Table Support Plates. These Plates are bolted to the underside of the Front and Rear Fence Rails to support an extension table which can easily construct. In addition, the extension table will strengthen the Saw Fence System.
Vega Fence Models
Model

Rip Capacity Right

Rip Capacity Left

Fence Bar Length

Front Rail Dia.

Vega Utility 26

26

8

36

inch

1-3/4 inch

Vega Utility 50

50

8

36

inch

1-3/4 inch

Vega Pro 40

40

10

42

inch

2 inch

Vega Pro 50

50

10

42

inch

2 inch

Vega Pro 40L

40

10

50

inch

2 inch

Vega Pro 50L

50

10

50

inch

2 inch
Models
72024
Utility Saw Fence 26 inch Rip Capacity 36 inch Fence Bar Still MADE in the USA
72025
Utility Saw Fence 50 inch Rip Capacity 36 inch Fence Bar Still MADE in the USA
72578
Pro 40 inch Rip Capacity 42 inch Fence Bar Still MADE in the USA
72580
Pro 50 inch Rip Capacity 42 inch Fence Bar Still MADE in the USA