Finally there is a practical lift for tight spaces in industrial buildings, offices and even residential.
SAFETY
Reechcraft treats safety as job one. PowerLift was designed for safety as well as convenience and productivity and fully meets ANSI A92.3 safety standards. You cant be productive if you dont feel safe. The fully enclosed personnel basket on the PowerLift provides security and safety. An anchor point for a safety harness is also provided. A hand crank system is provided for emergency lowering if there is a loss of power or the operator is incapacitated.
PRODUCTIVITY
PowerLift is perfect for locations where access is difficult for other lifts such as down stairs and tight spaces. It works great in factories, warehouses, offices, and homes. Its a super lift for outdoor work as well.
PORTABILITY
PowerLift is the lightest mid-range lift on the market. At 278 lbs empty weight one person can easily move it about on its castors. Other mid level lifts weigh more than 650 lbs, too heavy to carry up slopes or stairs.
SIMPLICITY
PowerLift only electrical component is the drill for power(corded or cordless). There are no expensive controls, sensors or switches to go wrong and repair. PowerLift is very simple to operate.
Case Study :
PowerLift conservatively saved our subcontractor approximately 10,000 dollars and about a week's worth of work.
Ron Hansen - John T Jones Construction Co.
Job Description:
Large water treatment facility ceiling sealing project.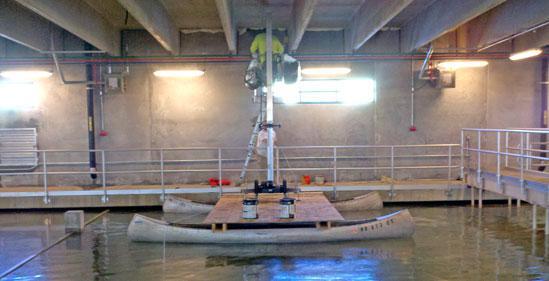 Challenges:
Entire facility only accessible through 36 inch walk-through door.
Ceiling had gradual slope requiring adjustable working height throughout project.
Ceiling located above water with catwalks dividing multiple sections of the bulk storage bunker.
Equipment Options:
A standard push-around manlift weighing 700 lbs was evaluated. Railings would have needed to be removed and require several workers to transfer the lift to the floating platform. Based on the 700 lb weight, the lift would have needed to be located close to the platform center, leaving a large portion of the pool perimeter unreachable. Because the roof sloped, the work was at different heights throughout the project so scaffolding platform heights would have trouble providing effective access to the ceiling. In addition to multiple setups and teardowns, several trips would be required to bring material up and down, compromising safety and efficiency. Ladders would not provide required safety or reach.
Solution:
The PowerLifts compact and lightweight design allowed 2 workers to easily lift it up and over the guardrails and place on the floating platform. With the base anchored to the wood deck, operators were able to safely make several trips to the work. The light weight and 4 swivel casters also allowed the PowerLift to be easily positioned close to the edge of the platform to reach corners and sides of the ceiling above each pool. With ropes tied to the platform, two workers repositioned the work platform to reach the ceiling in all areas above the pool. Job was complete in only two days with a few workers.

The convenient Hitch Hauler eliminates the need for a pickup or trailer to transport the PowerLift. This option allows any vehicle with a type III receiver hitch to transport PoweLift in town or down the highway. Loads, unloads and secures in under 15 seconds. No ropes, chains or straps required!
Load or unload PowerLift in under 15 seconds

Transport PowerLift by any vehicle with a 2 inch receiver hitch

Eliminate the need for trailer

Keep utilization of Pickup box or cargo area