The ReechCraft PowerLift makes access easy and has a large range of applications that are convenient without sacrificing security.
The Power Lift is a triple threat: convenient, secure and easy to use. It provides additional security and safety, while still helping you gain access to difficult-to-reach indoor and outdoor spaces. One person can easily move and operate this equipment up stairs or inclines it's the lightest low-level lift on the market.

1. PowerTrak System
Lifts and lowers with a corded or cordless drill. No electronics or hydraulics to maintain.
2. Emergency Crank
Fail-safe design includes emergency descent crank.
3. Outriggers with Interlocks
Use drill hex drive to quickly level base. Platform releases when outriggers are stabilized.
4. Modular Stacking Masts
Tools-Free mast coupling is fast and safe. Automatically stops platform when not coupled.

1. Swiveling/Lockable Casters
Base has 4 swiveling casters to make moving the ultra light 129 kg system even easier.
2. Push It. Pull It. Spin It.
Moves sideways and rotates easily in any direction.
3. Make It Even Lighter
Ultra lightweight components remove to make moving even easier. The Power Lift system gets lighter and more portable for every component removed.

1. Rough Terrain
Transport wheels roll over the most challenging ground.
2. Up Stairs
Chassis weighs just 62 kg for moving up stairs.
3. Through Doors and Elevators
With a width of only 762 mm, the PowerLift rolls easily through single doors and into any elevator.
4. Transport on Bumper
Use the Hitch Hauler to transport from site to site.
What can PowerLift provide to you?
SAFETY
PowerLift was designed for safety as well as convenience and productivity, having models that meet ANSI A92.3, EN280, CSA354.1 and AS1418.10. The fully enclosed personnel basket on the PowerLift provides security and a hand crank system is provided for emergency retraction.
PRODUCTIVITY
PowerLift is perfect for locations where access is difficult for other lifts such as stairways and tight spaces. It works great in factories, warehouses, offices and homes, both indoors or outdoors.
PORTABILITY
PowerLift is the lightest low-level lift on the market. One person can easily move it on its castors.
SIMPLICITY
This product is very simple to operate! Its only electrical component is the drill for power. There are no expensive controls, sensors or switches to repair.
Case Study :
PowerLift conservatively saved our subcontractor approximately 10,000 dollars and about a week's worth of work.
Ron Hansen - John T Jones Construction Co.
Job Description:
Large water treatment facility ceiling sealing project.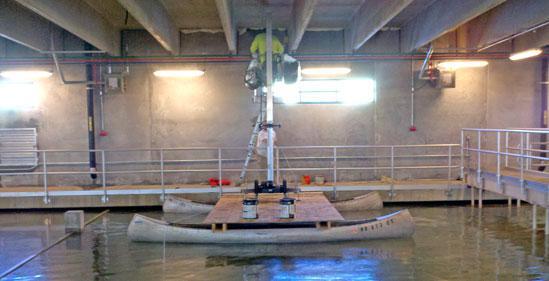 Challenges:
Entire facility only accessible through 36 inch walk-through door.
Ceiling had gradual slope requiring adjustable working height throughout project.
Ceiling located above water with catwalks dividing multiple sections of the bulk storage bunker.
Equipment Options:
A standard push-around manlift weighing 700 lbs was evaluated. Railings would have needed to be removed and require several workers to transfer the lift to the floating platform. Based on the 700 lb weight, the lift would have needed to be located close to the platform center, leaving a large portion of the pool perimeter unreachable. Because the roof sloped, the work was at different heights throughout the project so scaffolding platform heights would have trouble providing effective access to the ceiling. In addition to multiple setups and teardowns, several trips would be required to bring material up and down, compromising safety and efficiency. Ladders would not provide required safety or reach.
Solution:
The PowerLifts compact and lightweight design allowed 2 workers to easily lift it up and over the guardrails and place on the floating platform. With the base anchored to the wood deck, operators were able to safely make several trips to the work. The light weight and 4 swivel casters also allowed the PowerLift to be easily positioned close to the edge of the platform to reach corners and sides of the ceiling above each pool. With ropes tied to the platform, two workers repositioned the work platform to reach the ceiling in all areas above the pool. Job was complete in only two days with a few workers.
Q: What is a PowerLift?
A: The PowerLift is an ultra-light and strong push around lift, making this the most portable powered lift available for indoor and outdoor use.
Q: What is PowerTrak™ Technology?
A: PowerTrak™ Technology is a patented drive system which features a specially designed gearbox coupled to a replaceable steel track.
Q: Is the PowerLift an aerial work platform (AWP)?
A: Yes, the PowerLift can also be known as an AWP, or as a Mobile Elevating Work Platform (MEWP), meeting the respective standards for that category of equipment in the various markets ReechCraft serves.
Q: What safety standards does the PowerLift comply with?
A: We have unique PowerLift models for each of these markets: ANSI A92.3 for US, CSA B354.1-04 for Canada, EN280 for Europe and AS 1418.10-2011 for Australia/New Zealand.
Q: Will cordless drills work?
A: Yes, many people enjoy the convenience of using a cordless drill. However, a corded drill provides more power and speed.
Q: What do I do if I lose power or my battery dies?
A: A manual crank is provided inside the basket to manually lower the unit. It is recommended to keep an extra battery while operating the PowerLift.
Q: Can I use additional masts to go higher?
A: No, it will no longer comply with the current safety standards.
Q: How much does the PowerLift weigh?
A: As different models may vary please refer to the specifications page.
Q: Does the lift mechanism have a fail-safe or clutch system?
A: Yes, the gearbox has a back drive brake and an overload clutch.
Q: Are replacement parts available?
A: Absolutely, contact your local dealer or ReechCraft directly.
Q: Are there any inspection and maintenance requirements?
A: Yes, the process is simple and easy. Please refer to your users manual.
Q: What is the warranty of the PowerLift?
A: 1 year warranty on parts.
Q: How do I get answers to questions that are not in the FAQs on this page?
A: You can contact us via phone at 888-600-6160, email at info@reechcraft.com or on our Contact Us website page.

The convenient Hitch Hauler eliminates the need for a pickup or trailer to transport the PowerLift. This option allows any vehicle with a type III receiver hitch to transport PoweLift in town or down the highway. Loads, unloads and secures in under 15 seconds. No ropes, chains or straps required!
Load or unload PowerLift in under 15 seconds

Transport PowerLift by any vehicle with a 2 inch receiver hitch

Eliminate the need for trailer

Keep utilization of Pickup box or cargo area