Models and Acessories

PowerLift

4027700

PowerLift PL20

4027510
PowerLift PL65

Note: Same as the old PL60 when you add the 4027500

4026833

Powerlift PL65 Fixed Base

4027517

PowerLift PL65 Platform Transport Wheel Kit

4027500

PowerLift PL65 Outrigger Base with Weights

4027365

PowerLift PL65 Straddle Base

4027399

PowerLift PL65 Straddle Base Leg Extensions

4027519

PowerLift PL65 and PL20 Tilt Back Handle Kit

4026236

PowerLift Hitch Hauler

4026408

PowerLift Narrow Platform PL60

4026616

PowerLift Crane Hook Kit
PowerPole

4022800

PowerPole Climbing Unit

4022771

PowerLatch Assembly

4022772

Platform Support

4022179

Platform Support with PowerLatch Connector

4022756

Single Man Basket

4022785

Speedrail Midrail Post (2 Pack)

4022071

Speedrail Endrail (2 Pack)

4022432

PowerPole Standoff Tie

4022178

PowerPole Super Standoff Tie

4022754

PowerPole V-Brace

4022629

PowerPole Extendable V-Brace

4022084

PowerPole 12FT Pole Section

4022435

PowerPole 6FT Pole Section

4022096

PowerPole Coupler

4022465

10IN. X 10IN. Base Foot

4022791

PowerPole Outrigger

PowerMast

4026151

PowerMast Climbing Unit

4026156

PowerMast Platform Support

4027650

PowerMast Side Mount T-Bracket

4026375

PowerMast 5FT Mast

4022906

PowerMast 32IN. Mast

4026377

PowerMast Adjustable Tie

4026648

PowerMast Tie Extension (2 Pack)

4026650

PowerMast Freestanding Tri-Mast Tie

4027185

PowerMast Single Platform Assembly

4026382

PowerMast Base Foot

4026430

PowerMast Freestanding Base

4026795

PowerMast Single Man Basket

4026651

PowerMast 6FT Platform Basket

Bronco

4026200

Bronco Individually Packaged

4027324

Bronco Replacement Feet and Caps Kit
PL50 (Europe), PL52 (Australia / New Zealand), PL53 (Australia / New Zealand) and PL60C (Canada) call for export pricing and freight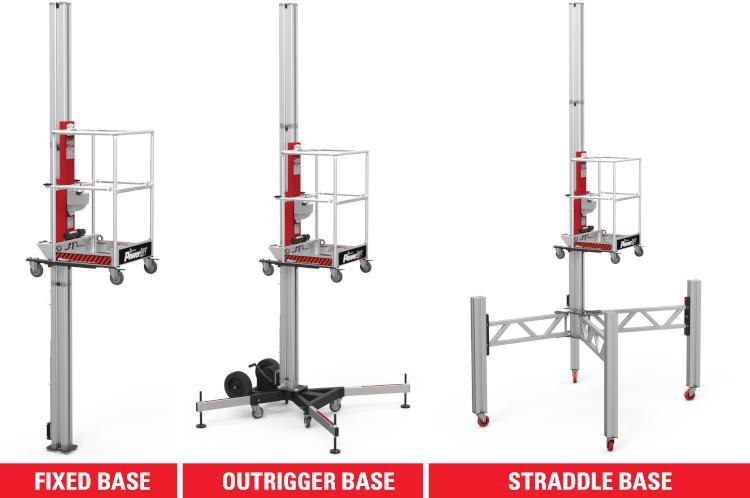 The PowerLift PL65 is the lightest, most versatile lift on the market! With three base options, this three-in-one lift makes reaching difficult places easy! PowerLift PL65 is available with a fixed base for an incredibly small footprint, our standard outrigger base for quick and easy set-up and a straddle base so you can work over obstacles like pews or theater seats. Like all of our PowerLifts, PL65 can easily be moved around on its casters by just one person. All of the components can be carried up slopes or stairs, so you can easily work in auditoriums, theaters, churches, and more. PowerLift's only electrical component is the drill for power (corded or cordless). There are no expensive controls, sensors or switches to repair when they malfunction. PowerLift is very simple to operate. The PowerLift gearbox includes an integrated overspeed brake for added safety. For indoor use only.
Finally, there is a practical 3 in 1 lift that
makes reaching dif cult places easy in schools, churches, auditoriums, theaters, of ces and more.
POWERLIFT PL65 PRODUCT DETAILS:
360 deg turning radius

Extremely portable

Complies with safety standards

Fully enclosed personnel basket

Emergency lowering system

Unlimited possibilities
Specifications

DESCRIPTION

FIXED BASE

OUTRIGGER BASE

STRADDLE BASE

STRADDLE BASE EXTENSIONS

Conforming Standard

ANSI A92.3

ANSI A92.3

ANSI A92.3

ANSI A92.3

Platform Capacity

350 lbs (159 kg)

350 lbs (159 kg)

350 lbs (159 kg)

350 lbs (159 kg)

Power Source

AC or DC Drill

AC or DC Drill

AC or DC Drill

AC or DC Drill

Rated Horizontal Force

52.5 lbs (234 N)

52.5 lbs (234 N)

52.5 lbs (234 N)

52.5 lbs (234 N)

Machine Weight

220 lbs (100 kg)

310 lbs (141 kg)

475 lbs (216 kg)

500 lbs (227 kg)

Swivel/Lockable Caster Diameter

5 in. (127 mm)

5 in. (127 mm)

6 in. (152 mm)

6 in. (152 mm)

Platform Size (L x W)

26 in. x 30 in. (660 mm x 762 mm)

26 in. x 30 in. (660 mm x 762 mm)

26 in. x 30 in. (660 mm x 762 mm)

26 in. x 30 in. (660 mm x 762 mm)

Mast Section Weight

28.5 lbs (12.9 kg)

28.5 lbs (12.9 kg)

28.5 lbs (12.9 kg)

28.5 lbs (12.9 kg)

Rear Outrigger Weight

9.3 lbs (4.2 kg)

9.3 lbs (4.2 kg)

9.3 lbs (4.2 kg)

9.3 lbs (4.2 kg)

Front Outrigger Weight

10.6 lbs (4.8 kg)

10.6 lbs (4.8 kg)

10.6 lbs (4.8 kg)

10.6 lbs (4.8 kg)

Flat Free Transport Wheels

12 in. x 3.5 in. (305 mm x 89 mm)

12 in. x 3.5 in. (305 mm x 89 mm)

12 in. x 3.5 in. (305 mm x 89 mm)

12 in. x 3.5 in. (305 mm x 89 mm)

Drive

Drive Worm Drive with Integrated Drive Gear and Brake

(A) Stowed Length

36.0 in. (914 mm)

53.4 in. (1356 mm)

36.0 in. (914 mm)

36.0 in. (914 mm)

(B) Stowed Width

30 in. (762 mm)

30 in. (762 mm)

30 in. (762 mm)

30 in. (762 mm)

(C) Stowed Height

60.0 in (1524mm)

68.5 in. (1741 mm)

60.0 in (1524 mm)

60.0 in (1524 mm)

(D) Minimum Platform Height

6 in. (152 mm)

12.9 in. (329 mm)

22 in. (559 mm)

22 in. (559 mm)

(E) Outrigger Footprint Width

N/A

67.1 in. (1705 mm)

75 - 91.5 in. (1905 - 2324 mm)

75 - 91.5 in. (1905 - 2324 mm)

(F) Outrigger Footprint Length

N/A

64.4 in. (1635 mm)

72 - 90 in. (1829 - 2286 mm)

2 - 90 in. (1829 - 2286 mm)

(G) Distance from Wall Side

0 in. (0 mm)

18.5 in. (471 mm)

22.5 - 30.5 in. (572 - 775 mm)

7 22.5 - 30.5 in. (572 - 775 mm)

(H) Distance from Wall Front

0 in. (0 mm)

10.3 in. (261 mm)

14.2 - 21.4 in. (361 - 544 mm)

14.2 - 21.4 in. (361 - 544 mm)

(I) Erected Mast Height

20.7 ft (6.31 m)

21.7 ft (6.60 m)

26.2 in (7.98 m)

26.2 in (7.98 m)

(J) Maximum Platform Height

18.5 ft (5.64 m)

19.5 ft (5.94 m)

24.0 ft (7.32 m)

24.0 (7.32 m)

(K) Maximum Leg Offset

N/A

N/A

42 in. (1067 mm)

66 in. (1676 mm)

Maximum Working Height

25 ft (7.64 m)

25.5 ft (7.77 m)

30.6 ft (9.32 m)

30.6 ft (9.32 m)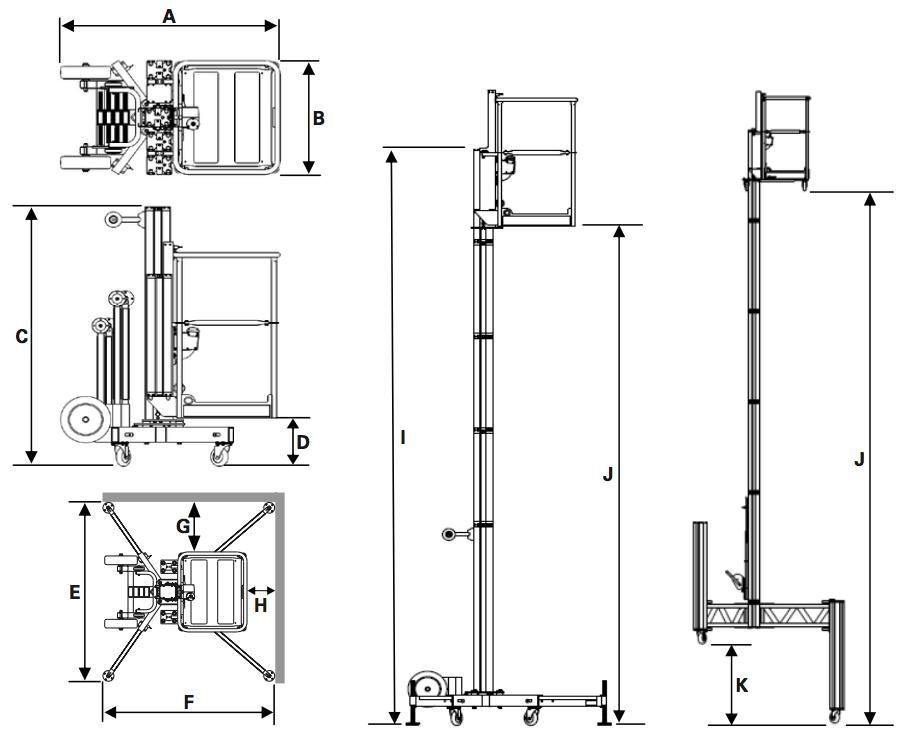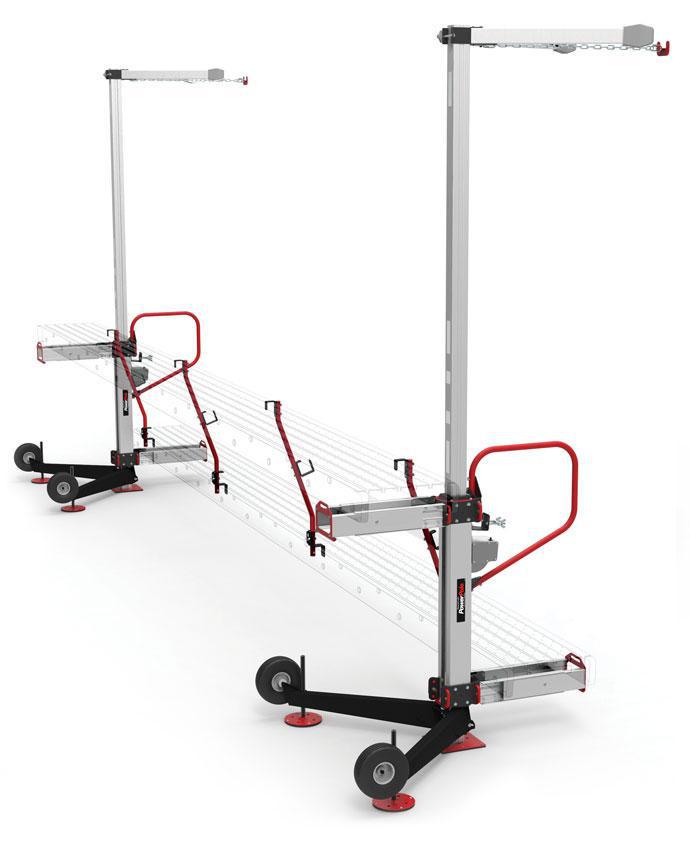 The PowerPole can help you get your equipment between buildings, on rooftops or around landscaping. The time for worrying about the logistics of getting equipment to the job site and in place is over. With incomparable setup costs, portability and a landscape-friendly design, ReechCraft's PowerPole works at the ideal height and can help you reach tight spots.
FAST, SAFE AND EFFICIENT
Easy and fast setup in minutes

Perfect for tight spaces

Accommodates platforms up to 28 in. wide

Landscape-friendly design

Fits in doorways

No roof rigging

Increases efficiency
IDEAL FOR:
Tuckpointing

Waterproofing

Patching and Repair

Wall Coatings

Cleaning

Caulking and Glazing

Siding and Painting

Roofing

Windows
SPECIFICATIONS

Maximum Rated Load on Climbing Unit

650 lbs (1,300 lbs per pair)

Safety Devices

Lock Pawl, Manual Crank

Maximum Climbing Speed at 1/2 Rated Load

25 ft/minMaximum Climbing Speed at Rated Load15 ft/min

Maximum Lowering Speed

30 ft/min

Maximum Platform Height

72 ft

Maximum Work Height

78 ft

Platform Sizes

Up to 40 ft x 28 in.

Basket Size

26 in. x 36 in. x 42 in.

POWERPOLE TILT-UP SPECIFICATIONS

Maximum Midspan Tie Spacing

16 ft

Maximum Untied Work Height (Requires Outriggers)

24 ft

Maximum Height without Midspan Tie (with Outriggers)

32 ft (40 ft)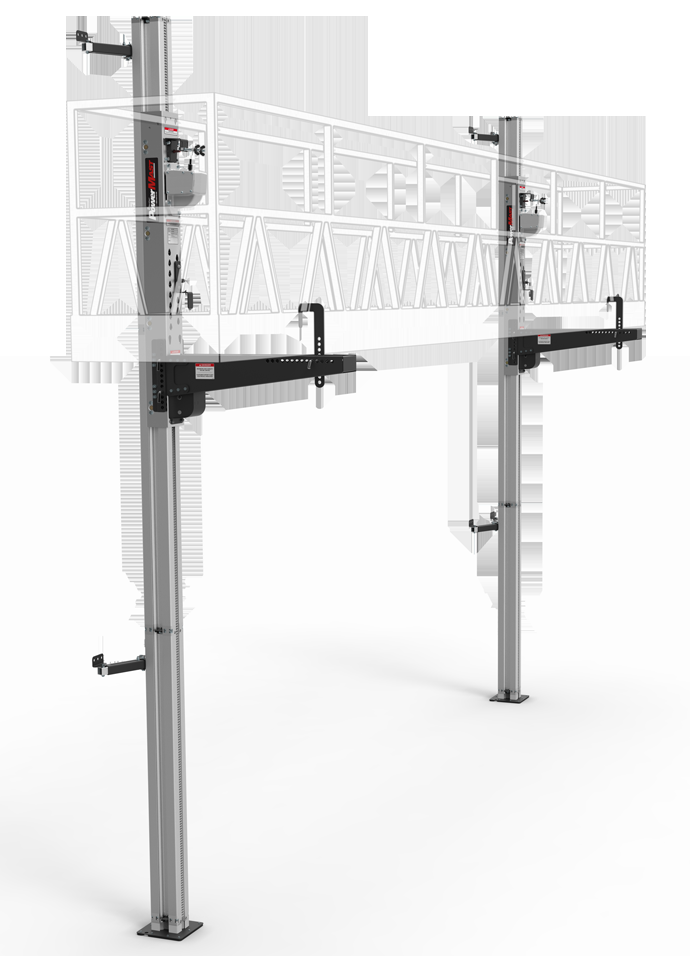 Our PowerMast provides fast setup and fast access for exterior building work up to 200 ft, making it ideal for tuck pointing, water proofing, masonry restoration and more. The PowerMast offers stable access at the range and scale of traditional scaffolds, but with the quick ascent ability of mast climbers
SAFETY
Complies with safety standards

Works with swing stages and walkboards

Freestanding base option
ULTRA LIGHTWEIGHT and PORTABLE
SIMPLICITY
No electronics

No hydraulics

No batteries
Specifications

Platform Support Dimensions (Twin)

Accepts up to 30 in. Wide Platform Deck

Minimum/Maximum Platform Length (Twin)

Any Length within 1500 lbs System Capacity

Basket Dimension (Single)

30 in. x 6.5 ft

Maximum Height

200+ ft

Maximum Load Capacity Twin Mast

1500 lbs (750 lbs per Mast)

Tie Spacing

15 ft

Climbing Speed

Up to 20 FPM (Depends on Load and Drill Size)

Drive System

120:1 Clutch Protected Transmission

Operating System

1/2 in. 8 amp Min Drill Motor

Required Voltage

110 VAC Single Phase

Safety Devices

Drop/Stop Lock Pawl, Overload Clutch, Overspeed

Climbing Unit Weight

65 lbs

5 ft Mast Weight

32 lbs

32 in. Mast Weight

19 lbs

Tie Weight

7 lbs

Tie Pullout Force

750 lbs per Tie

Mast Section

5 in. x 6 in. Aluminum with Galvanized Steel Track

Mast Connection Type

Interference Locking Cam

Base Dimension

10 in. x 10 in. Steel/Rubber Plate

Total Weight on Base Plate

2150 lbs

Surface Area of Base Plate

100 sq in.

Surface Pressure from Base

21.5 psi (2150 lbs/100 sq in.)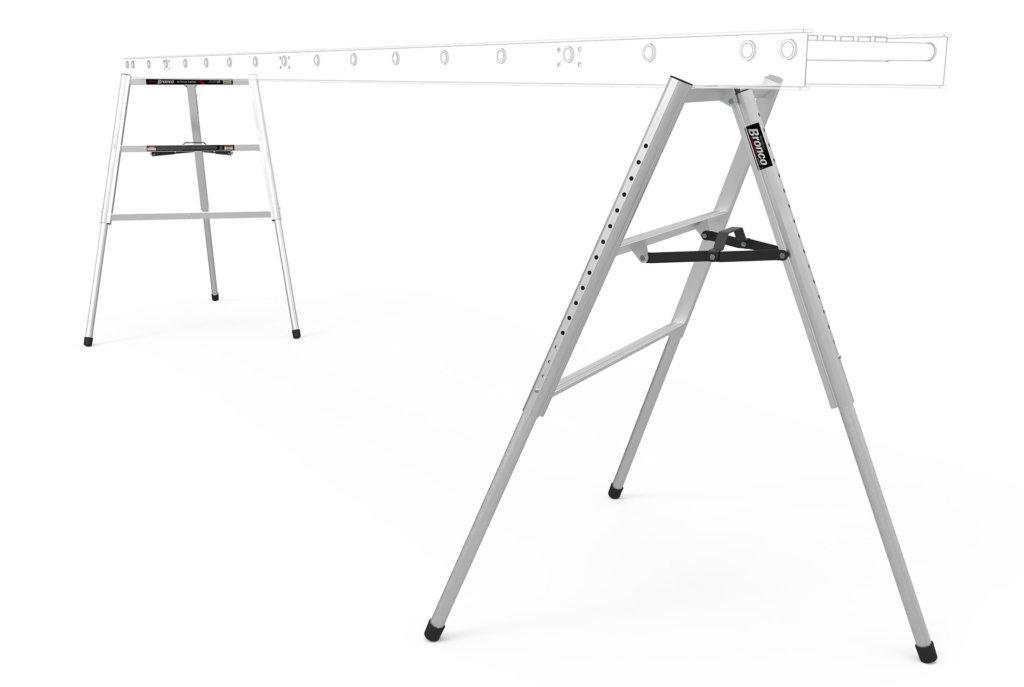 WITH ITS INNOVATIVE AND VERSATILE DESIGN, THE BRONCO IS KICKING UP A LOT OF DUST IN THE CONSTRUCTION INDUSTRY
The ultimate in safety, versatility and strength, the Bronco is the one and only all-terrain scaffold. This tough, three-legged scaffold is ideal for interior and exterior applications with uneven and difficult ground conditions. The extra-wide frame (up to 42 in. base spread) and tapered tripod provide unmatched stability and easy plank access. The Bronco weighs only 16 lbs and folds flat for easy storage and transport. No matter the project - siding, roofing, painting, windows or masonry work - the Bronco will keep you stable on any terrain.
Ideal for exterior applications where uneven and difficult ground conditionsare common

Each pair of Broncos can be set up with a level platform height from 3 ft to 5 ft (Based on a 5 in. thick platform)

Work from 0 ft to 12 ft off the ground

Each pair easily supports up to a 24 in. wide platform and 600 lbs

The extra-wide frame (up to 42 in. base spread) and tapered tripod design provide stable platform access

A solid steel locking spring pin engages every 1.5 in. on each leg to safely accommodate even the most difficult terrains

The aircraft grade aluminum frame folds flat for easy storage

Each Bronco weighs only 16 lbs

Triangular, heavy gauge steel spreader locks the third leg into position with integrated carrying handle

Efficient, everyday tool for building trades professionals or safety-minded homeowners
Specifications

Load Capacity

300 lb

Stowed Base Length

27 in

Extended Base Length

37 in

Stowed Base Width

37.5 in

Extended Base Width

44 in

Folded Length

3.5 in

Top Support Width

24 in

Middle Support Width

28 in

Bottom Support Width

32 in

Stowed Height

31 in

Extended Height

54 in

Adjustment Increments

1.5 in

Weight

16 lb
Case Study :
PowerLift conservatively saved our subcontractor approximately 10,000 dollars and about a week's worth of work.
Ron Hansen - John T Jones Construction Co.
Job Description:
Large water treatment facility ceiling sealing project.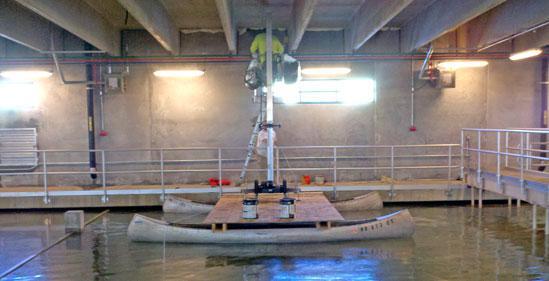 Challenges:
Entire facility only accessible through 36 inch walk-through door.
Ceiling had gradual slope requiring adjustable working height throughout project.
Ceiling located above water with catwalks dividing multiple sections of the bulk storage bunker.
Equipment Options:
A standard push-around manlift weighing 700 lbs was evaluated. Railings would have needed to be removed and require several workers to transfer the lift to the floating platform. Based on the 700 lb weight, the lift would have needed to be located close to the platform center, leaving a large portion of the pool perimeter unreachable. Because the roof sloped, the work was at different heights throughout the project so scaffolding platform heights would have trouble providing effective access to the ceiling. In addition to multiple setups and teardowns, several trips would be required to bring material up and down, compromising safety and efficiency. Ladders would not provide required safety or reach.
Solution:
The PowerLifts compact and lightweight design allowed 2 workers to easily lift it up and over the guardrails and place on the floating platform. With the base anchored to the wood deck, operators were able to safely make several trips to the work. The light weight and 4 swivel casters also allowed the PowerLift to be easily positioned close to the edge of the platform to reach corners and sides of the ceiling above each pool. With ropes tied to the platform, two workers repositioned the work platform to reach the ceiling in all areas above the pool. Job was complete in only two days with a few workers.
Q: What is a PowerLift?
A: The PowerLift is an ultra-light and strong push around lift, making this the most portable powered lift available for indoor and outdoor use.
Q: What is PowerTrak™ Technology?
A: PowerTrak™ Technology is a patented drive system which features a specially designed gearbox coupled to a replaceable steel track.
Q: Is the PowerLift an aerial work platform (AWP)?
A: Yes, the PowerLift can also be known as an AWP, or as a Mobile Elevating Work Platform (MEWP), meeting the respective standards for that category of equipment in the various markets ReechCraft serves.
Q: What safety standards does the PowerLift comply with?
A: We have unique PowerLift models for each of these markets: ANSI A92.3 for US, CSA B354.1-04 for Canada, EN280 for Europe and AS 1418.10-2011 for Australia/New Zealand.
Q: Will cordless drills work?
A: Yes, many people enjoy the convenience of using a cordless drill. However, a corded drill provides more power and speed.
Q: What do I do if I lose power or my battery dies?
A: A manual crank is provided inside the basket to manually lower the unit. It is recommended to keep an extra battery while operating the PowerLift.
Q: Can I use additional masts to go higher?
A: No, it will no longer comply with the current safety standards.
Q: How much does the PowerLift weigh?
A: As different models may vary please refer to the specifications page.
Q: Does the lift mechanism have a fail-safe or clutch system?
A: Yes, the gearbox has a back drive brake and an overload clutch.
Q: Are replacement parts available?
A: Absolutely, contact your local dealer or ReechCraft directly.
Q: Are there any inspection and maintenance requirements?
A: Yes, the process is simple and easy. Please refer to your users manual.
Q: What is the warranty of the PowerLift?
A: 1 year warranty on parts.
Q: How do I get answers to questions that are not in the FAQs on this page?
A: You can contact us via phone at 888-600-6160, email at info@reechcraft.com or on our Contact Us website page.

The convenient Hitch Hauler eliminates the need for a pickup or trailer to transport the PowerLift. This option allows any vehicle with a type III receiver hitch to transport PoweLift in town or down the highway. Loads, unloads and secures in under 15 seconds. No ropes, chains or straps required!
Load or unload PowerLift in under 15 seconds

Transport PowerLift by any vehicle with a 2 inch receiver hitch

Eliminate the need for trailer

Keep utilization of Pickup box or cargo area