Product Details
Simple and "Fool Proof" - describes the unique pressure feed tank accessories. Available in 20 or 40 gallon tank sizes, this heavy duty polypropylene tank allows the pressure feeding of diaphragm pumps, normally requiring suction or gravity feed only. There is an on/off float valve for water level control, and a chemical additive opening on the top of the tank for easy chlorination or other chemical treatment of the test environment. All diaphragm models are tank ready and this accessory can be added at any time!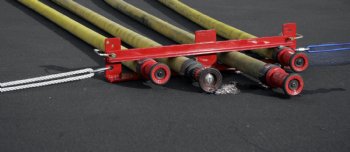 LINECAGE-1, Hose Safety Anchor Device for use in fire hose testing
Product Details
RICE Hydro introduces a brand new, patent pending, safety secure and anchoring device for use in fire hose testing. The Linecage was designed by a Fire Captain, with the safety and well being of his fellow firefighting brothers in mind. Protect yourself, Protect your brothers, and KEEP'M CAGED!, with the new RICE Hydro "Linecage" safety anchor and securement device.
Meets NFPA 1962 7-6.2.6 requirements of "Securing and Anchoring" the fire hose while being tested.

Heavy gauge welded steel frame, powder coated

Locking hitchpins enclose and secure hose to Linecage

Quick links installed for quick and easy ANCHORING of Linecage

Safety – limits the mobility of line when rupture occurs

The Linecage is designed with multiple locking holes to accommodate various hose sizes.